Author and Activist Inspires Saint Mary's Hall Students
On January 26, Saint Mary's Hall welcomed human rights activist Craig Kielburger to speak to Upper School students about empowerment and responsibility within the context of addressing global poverty. Kielburger's charitable organization, ME to WE, partnered with a SMH student-service trip to Tanzania last June. While on the trip, students learned about the ME to WE sustainable development model as they worked on a school-building project in a Maasai community.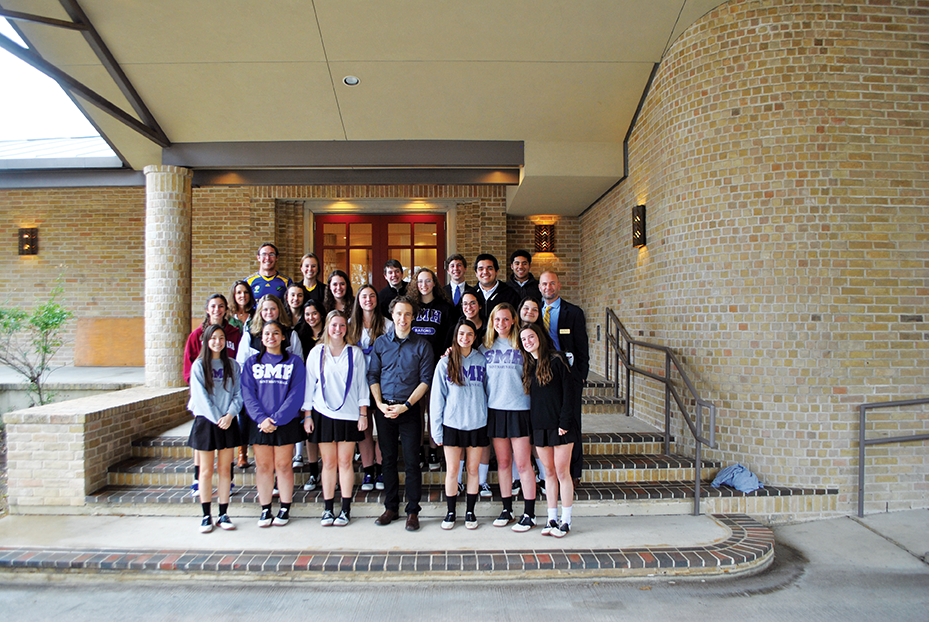 Students were so inspired by their Tanzania experience, they took the opportunity to invite Kielburger to speak, tour the SMH campus, and have lunch with the AP Euro students. In preparation for his visit, Upper School students held several events to create awareness on campus for global issues, including:
• A water walk simulation so the Upper School community could experience the challenges Maasai women face in accessing clean water on a daily basis.
• The Tanzania team partnered with the UNICEF club to sell Rafiki bracelets with proceeds going towards female artisans in Tanzania and Kenya.
Craig's organization provides a holistic development model called WE Villages, helping to lift more than one million people out of poverty in Africa, Asia, and Latin America. Craig has received 15 honorary doctorates and degrees for his work in the fields of education and human rights. He is a New York Times bestselling author who has published 12 books, as well as a nationally syndicated columnist. Craig has received The Order of Canada, the Nelson Mandela Freedom Medal, and the World Children's Prize. His work has been featured on the Oprah Winfrey Show, 60 Minutes, and the BBC.
To continue this humanitarian effort, SMH is planning a service trip to Tanzania in June 2019. A hallmark of Saint Mary's Hall is providing students with educational experiences they simply cannot get anywhere else. A shining example is the many distinguished speakers, like Kielburger, who inspire SMH students.
CHEF in Alamo Heights
Culinary Health Education for Families, CHEF, is excited to work with Alamo Heights ISD to pilot the CHEF program at Cambridge Elementary and at Alamo Heights High School. Funded by a generous grant from the Goldsbury Foundation, CHEF teaches basic nutrition and practical cooking skills to children and families across San Antonio. Since the program began just 12 months ago, CHEF has taught over 6,000 classes in its community teaching kitchens located at the Children's Hospital of San Antonio, the San Antonio Botanical Gardens, The Mays Family Boys and Girls Club and the Mays Family YMCA. This pilot marks CHEF's first foray into San Antonio schools. Ultimately, the vision of CHEF is to be a presence in every school district in the city.
Cambridge will be the first elementary school to pilot the CHEF program. Teacher Beth Murguia and her team of 10 Cambridge Elementary Mayor's Fitness Council Student Ambassadors participated in a half-day CHEF training at the San Antonio Botanical Garden, where students learned how to make delicious meals from ingredients they picked straight from the garden. Murguia also attended an additional day-long training to become a Certified CHEF Instructor. Murguia and her team of Student Ambassadors will bring the CHEF program to all 800 students at Cambridge Elementary, teaching the basics of nutrition and cooking as critical to lifelong health and wellness. Every Cambridge student will participate in a total of eight CHEF classes, preparing and tasting foods that are delicious, nutritious and affordable. A team of CHEF Certified Nutrition Educators from the San Antonio Food Bank will assist Murguia and her team throughout the pilot. Cambridge will also host a CHEF event for parents and teachers sometime during this semester .
CHEF began working with Alamo Heights High School in mid 2007, bringing resources from long-time CHEF partner, The Culinary Institute of America (CIA), to assist the district in designing its bond-funded new teaching kitchen. In Addition, Alamo Heights High School Food Science Teacher, Emily Rangel, completed the training required to become a CHEF-certified instructor and began offering the CHEF program to all five of her food science classes in February of this year. This pilot initiative will assist CHEF in determining its impact on the knowledge, confidence and behavior of participants and will identify ways to strengthen the program to ensure the greatest and most positive impact on students in the future. Like Cambridge, Alamo Heights High School will offer a CHEF event for parents and teachers, introducing the broader Alamo Heights community to CHEF-approved recipes, cooking techniques and basic nutrition tenets.
Alamo Heights High School Makes the List of Cool Schools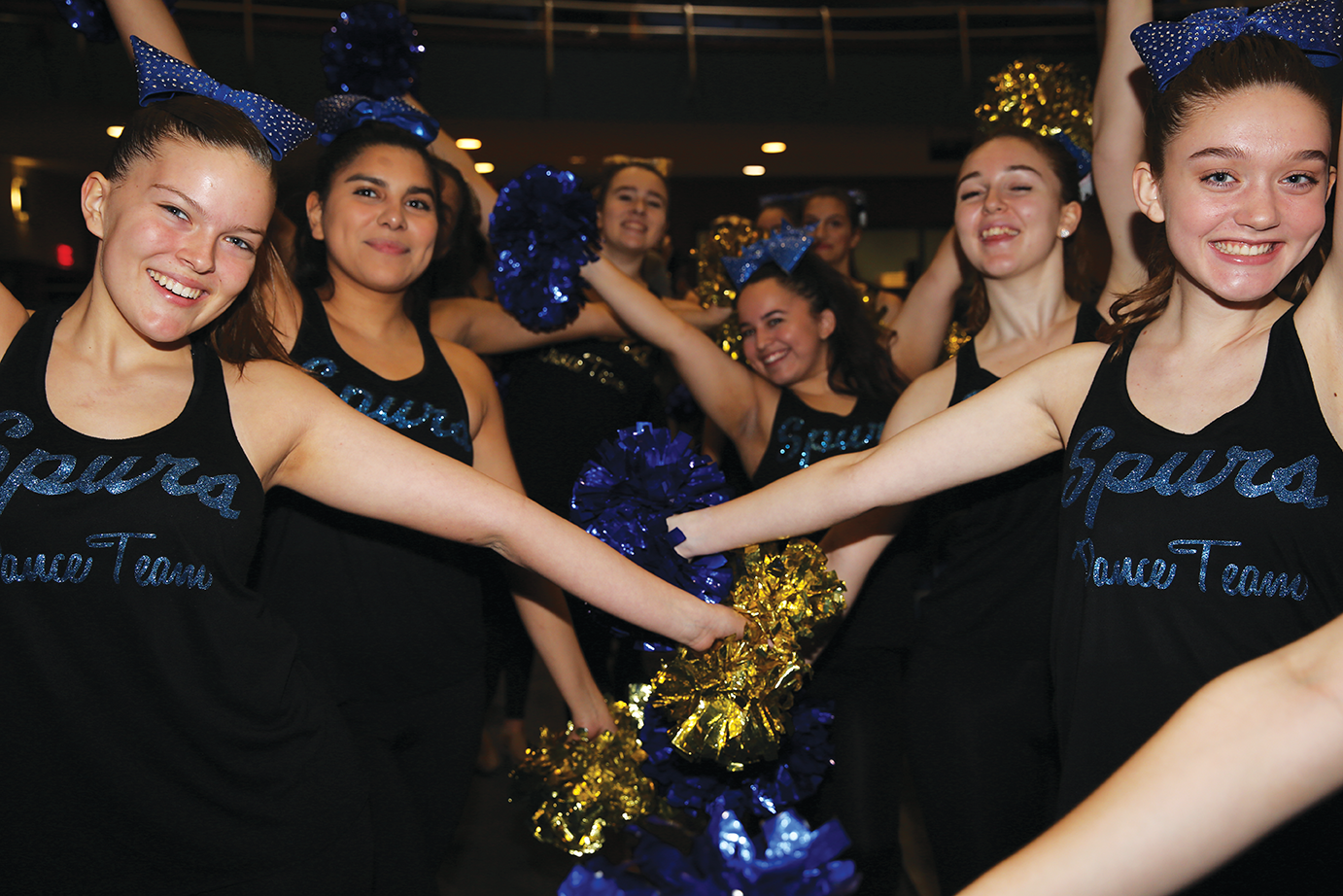 Alamo Heights High School students, parents and alumni took to social media to select one of their favorite Extra-Curricular Clubs/Organizations during KSAT's Cool Schools segment, in partnership with Go Public. Voting between the AHHS Choir, AHHS Spurs Dance Team and AHHS Theater Arts program was tight, with votes coming in from around the world: Mexico, United Kingdom, Turkey, Costa Rica, Brazil, Bolivia, Spain, Israel, India, and South Korea. Most of the votes outside of Texas came from California, Illinois, Pennsylvania and Colorado, with 40 states being represented. The winner? The Alamo Heights High School Theater Arts program! They shared the spotlight with their friends in the competition, the Choir and Dance Team, during their feature on KSAT's SA LIVE television program. See the segment on KSAT.com.
College Center Offers Help to All Students
By Ashley Castro – an Alamo Heights High School Journalism Student
The college center is an important resource at the high school and is open to all grade levels. The center has many college, military and job resources and reading materials for students to use.
"It's never too soon or too late to think about college admissions because we have over 100 colleges that visit our campus every year," College Counselor Paul Harris said. "We are here to help all students, no matter where they are in the college admissions process."
The college center offers many opportunities for students to discuss various college issues, including scholarships, financial aid, college campus visits along with obtaining information about Naviance.
Naviance Family Connection allows all high school students and their families to research colleges, create plans for the future and even get involved in the planning and advising process. It also provides up-to-date information for AHHS students. Using Naviance students can build a resume, manage timelines and complete online surveys for making decisions about colleges and careers. When researching colleges, students can compare their GPA, test scores and other statistics to previous students who have been admitted to certain schools in the past. It also allows students to research careers and plan for the future by taking career assessment and creating goals and to-do lists to better prepare students for accomplishments later in life.
"The Naviance Program is an excellent tool for students and even their parents," senior Jack Ran said. "It's especially helpful for the upperclassmen who need assistance with getting the necessary documents for college applications."
The college center allows freshmen and sophomores to explore their resources and maximize their availability to those resources. They can also use the center's calendar to see when certain colleges are visiting campus.
"The college center has helped me a lot because they help me discover colleges that I didn't know about," sophomore Jayne Burrhus said. "It also helped me start thinking about where I want to go after high school."
Juniors are welcome to continue their college search during the lunch period. In November, academic counselors meet one-on-one with the junior students and parents to discuss their high school transcripts and the pre-college admission process. Additionally in the spring, the junior class will begin their Junior English College Project.
"The college center is great because we don't have to travel far to visit colleges," junior Erika Kellog said. "Using the center is so helpful especially since I am interested in many colleges in different states."
For seniors, the college center is especially important. The students have the freedom to go throughout the school day to talk with counselors about the college admission process and any other questions they may have.
"The college center has been very helpful in my search for the right school," senior Anisah Valdez said. "Everyone is always very friendly and helpful."
The center also offers field trips to college campuses and many pre-college opportinities for students in all grades. The pre-college camps are designed for students to get a feel of staying in a dorm, the college lifestyle and getting the chance to work with different people from many different backgrounds.
"I feel that the opportunities the college center offers are very useful," freshman Grace Carter said. "It really calms me down knowing that I will be prepared to take the big jump from high school to college step-by-step using thecenter.
Along with all these amazing things the college center offers, there is also information about college fairs, scholarships and financial aid opportunities. Every year, the center hosts two big college fairs where hundreds of schools from across the country set up booths for the students to come and learn about their respective school. The high school offers many scholarships in the areas of music, sports, academics and even clubs. For seniors, the staff of the college center helps with the process of applying for financial aid even appealing for more funds to help with tuition. Overall, the college center has much to offer all students and the staff is always readily available.
"The college center puts the needs of the students before anything else making the interaction with the staff more personal," junior Cate Pressgrove said. "The staff also helps get students through high school and into amazing colleges by helping the student focus on their future."
MacArthur High School Electrical Students Put Skills TO The Test For A Good Cause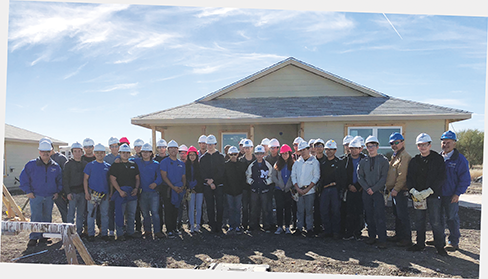 Forty of MacArthur High School's Electrical Systems Technology (EST) Technical Apprentice program students basked in the opportunity to give back. For the 10th year in a row, North East ISD students volunteered in the community in partnership with Habitat for Humanity of San Antonio, an organization that partners with hard-working families to become homeowners. On Jan. 24, the students, with the guidance of instructors and mentors, took the electrical knowledge they have learned in the classroom and applied it to a real-world application by installing the electrical wiring in two houses.
"We all started as sweepers and we feel insignificant, but really we are playing a big part in helping these families that appreciate having a home. It's a thing that we take for granted. Once you get to the senior level, you can really contribute, and it feels good when you actually do it," said MacArthur senior Samuel Diaz, as he discussed his growth in the project after being a part of it all four years of his academic career. "What we really have to do is supervise the other ones because we have juniors and sophomores that are licensed to actually work. As a senior, it's about keeping them working and supervising them."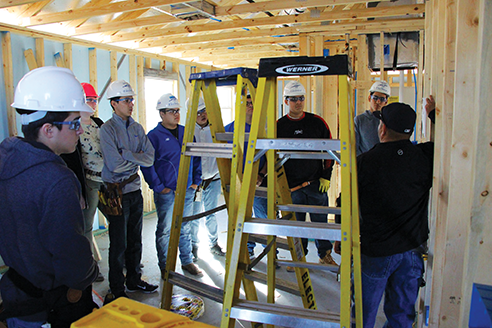 It has become a tradition for EST students to work with the Habitat for Humanity of San Antonio project. The dynamic learning experience is a one-of-a-kind opportunity for these students, and they truly look forward to it every school year.
St. Luke's Episcopal School –Winner in First Lego League Competition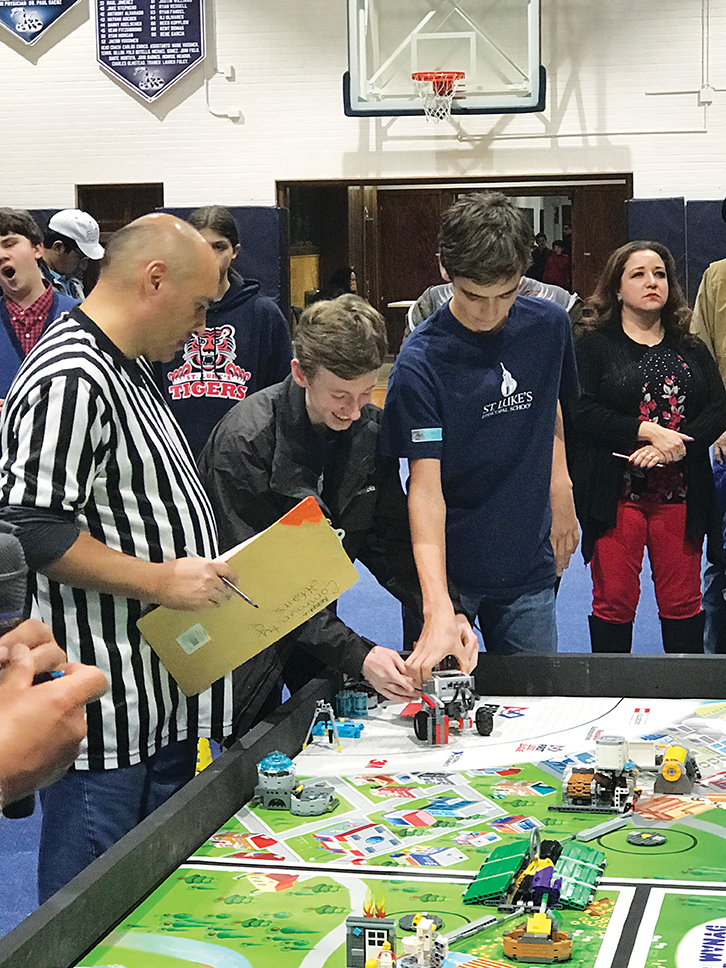 As part of a well-designed curriculum, students are often given opportunities to compete in varying fields of study. On Jan 20th, the First Lego League Competition was held at Central Catholic High School. The St. Luke's Episcopal School robotics team (The Enginerds) participated in the competition and brought home the Judge's Award.
FIRST LEGO League (FLL) is an international competition organized by FIRST for elementary and middle school students (ages 9–14 in the United States and Canada, 9–16 elsewhere). Each year in August, FIRST LEGO League introduces a scientific and real-world challenge for teams to focus and research on.
FIRST stands for "For Inspiration and Recognition of Science and Technology" and was founded in 1989 by inventor Dean Kamen.
Guided by adult coaches, FIRST LEGO League teams research a real-world problem such as food safety, recycling, energy, etc., and are challenged to develop a solution. They also must design, build and program a robot using LEGO MINDSTORMS® technology, then compete on a table-top playing field. The SLES team was led by Suzanne Parker, the school's science specialist.
Incarnate Word High School Robotics Teams Excel in Competition Shambots Receive Highest Scores of The Season.
Incarnate Word High School Shambots Robotics Teams saw great success when they competed last Saturday, January 27 in the First Tech Challenge (FTC) Hill Country and North San Antonio League Championship. IWHS hosted the event with 18 teams participating in competition.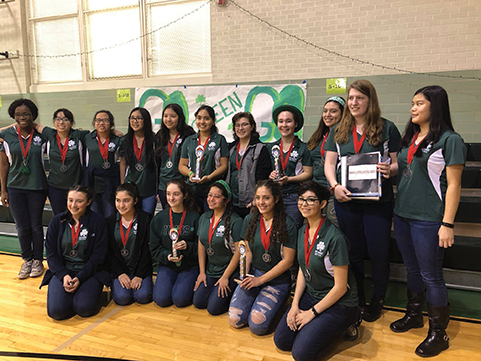 IWHS team 8627 received the Inspire Award, for best overall team based on field performance and all judged categories, while IWHS team, 5714, received 3rd place in the same category. Both teams also joined forces in competition and took home the Winning Alliance Award for field competition.
All Inspire Award winners and Winning Alliance winners receive bids to Regionals. The First Alamo Championship will take place on February 16-17 at Vandergift High School in Austin.
Shambots meet 3-4 times a week to prepare for completion. IWHS is proud to offer this opportunity to the teams comprised of 20 young ladies interested in science and engineering.
Yellow-Brick Road Leads to Alamo Heights Junior School
Fine Arts students at Alamo Heights Junior School invited guests to follow the yellow-brick road that lead to the stage and their production of the Wizard of Oz. Staged in late January, this musical theater classic was beautifully performed by junior school students, showcasing their unique talents and beautiful voices. The show was a collaborative effort between the choir and theater programs at AHJS, under the direction of Shelly Bynum, Taralea Buentello, and Rachel Holliday.
A Shamrock Signs to Play Basketball for Denison University
Incarnate Word High School Senior, Isabel Contreras, signed with Denison University as their newest women's basketball recruit. Contreras, a member of the IWHS varsity team since her freshman year, received All District Honors three years in a row and earned a spot on the 2017 Texas Academic All-State Team.
Contreras' dedication to athletics is framed by her equal dedication to academics and community involvement. During her freshman year, she was awarded the United States Presidential Community award for contributing over 100 hours of community service. She is a member of the IWHS Honor Roll, President of the French Club and an Eco-Ambassador for the Willie Velasquez Institute, which is an organization that aims to improve the level of political and economic participation in Latino and other underrepresented communities.
Contreras was awarded the Presidential Scholarship in the amount of $130,000 over the next four years. This Fall, she will journey to her new home at Denison University in Granville, OH where she will pursue her dream of becoming a sports analyst and continue to make her IWHS family proud.