A wonderful combination of energy and grace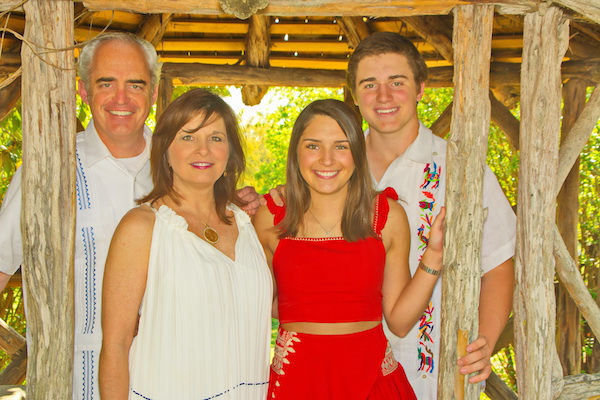 For the many of us who are fortunate enough to personally know the DeWeeses, Robin, Edward (III) and their two delightful offspring, Camille and Bo (IV), considering this close-knit coterie as lacking "liveliness" just won't hunt. When meeting as individuals or, better yet, when taken all together, it quickly becomes evident that this is one family that seldom finds itself in neutral preferring to operate in a much higher, more challenging gear generally. And laudably, that accelerated approach to a life well lived often results in a more significant benefit going well beyond the DeWees' 78209 doorstep. To define this fast-paced foursome, two words, energy, and grace, quickly and appropriately come to mind and, when considered on all levels, that's a pretty great combination.
For a little of the back-story, Edward is a third generation '09er. He attended the AH schools, participated in sports, went off to college but eventually returned and now owns and operates a successful business in the 78209 retail establishment (Ranger Firearms). Robin, currently very active in the local real estate financial business, originally hails from Weatherford and boasts an earlier resume that is more rural in nature. Her folks were country farmers and ranchers. Marriage to Edward brought her to Alamo Heights. However, both grew up in nurturing environments where independence, achievement, and character were stressed. And maybe that's why they're such a good fit!
But, with so much distance between them when growing up, just how did these two find each other? Well, it was a blind date that did the trick. When Robin was living and working in Austin, her roommate was from Alamo Heights. And, as luck would have it, the roommate was an old friend of Edward's. When a get-together was suggested, Robin was uncertain but, by establishing phone contact before actually meeting, after several long conversations, Robin relented. Although definitely impressed by their talks, when she actually "laid eyes" on Edward, as she admits, "I was totally smitten." It was Fiesta Week in SA and as Robin smilingly adds, "There were fireworks in the city and, from that first date, there have been fireworks in our lives ever since." Edward agrees and, after a two-year courtship followed by 20 more happy years of marriage, the proud husband attests, "Our life together has been nothing but a blast."
Since tying the knot and then moving to Heights after the birth of their daughter Camille in 2001 (as newlyweds, they initially lived in Austin), the seemingly tireless DeWeeses' have quietly immersed themselves in myriad familial, commercial and community activities. Even with kids, (Bo was born in 2003), both parents have always worked fulltime. For Edward, before his current retail undertaking, it was banking then the oil business. Robin (perhaps more of an innate "people person") was involved in sales and business development before transitioning into real estate finance. But, even with heavy professional schedules and two children, the appreciative Deweeses' commitment to "being involved" has led to many other worthwhile associations – social and especially, charitable. Two exceptional examples include their founding of the Heatwave Golf Tournament which raises funds for Boysville and Respite Care as well as their regularly preparing and serving meals for the residents of Haven for Hope. The pair also periodically provides healthy, hot meals for the homeless located in the downtown area. These are all "hands-on" efforts that go beyond the simple donations of monies. As a humble Edward attests, "This commitment to others is important to Robin and me, and we're determined to instill the same attitudes into our children."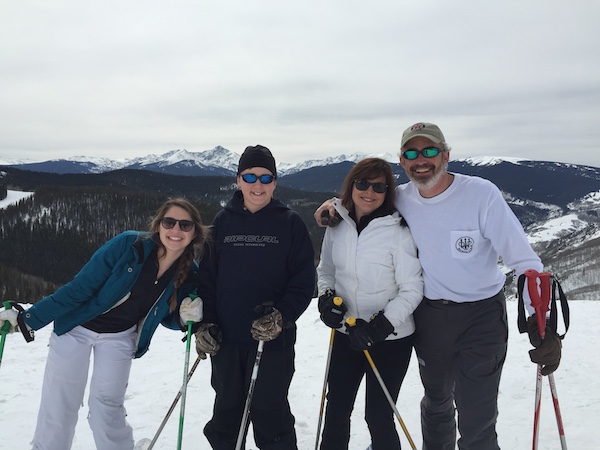 And speaking of those children, active parenting obviously plays a significant (and joyful) role in Robin and Edward's otherwise busy lives. Overseeing the younger DeWeeses' educational needs while encouraging their participation in worthwhile extracurricular pursuits can be quite demanding. Camille, an 18-year-old senior at AHHS, is a cheerleading captain (soon off to the University of Alabama) while 16-year-old Bo, a sophomore, plays varsity football and baseball. Keeping up with their schedules could be considered a fulltime job in itself. Thankfully, endurance is definitely a DeWees attribute.
Lastly, it wouldn't be appropriate to introduce the Dewees family without touching on hunting. Thanks to his father's influence, Edward grew up with a rifle and/or shotgun in hand, eventually excelling at skeet shooting and other target sports. Likewise, with their dad as their role model, both Camille and Bo enjoy popping dove and quail as well as stalking larger game (Bo recently took a mountain lion on a Utah hunt). It was Robin however who came to embrace the sport after her marriage to Edward. Having never hunted before, she confesses, "The first time he took me bird hunting, I cried but, now I love every minute that all of us get to spend together in the field and, that's fairly often." Of course, with Dad's "booming" business, all are always well equipped on these outings.
So that's what the Dewees family is all about. They go nonstop but, always with a lot of admirable energy and grace. That's a pretty great combination.
By Ernie Altgelt
Photography By Martin Waddy