Beating Shyness Was Her Biggest Challenge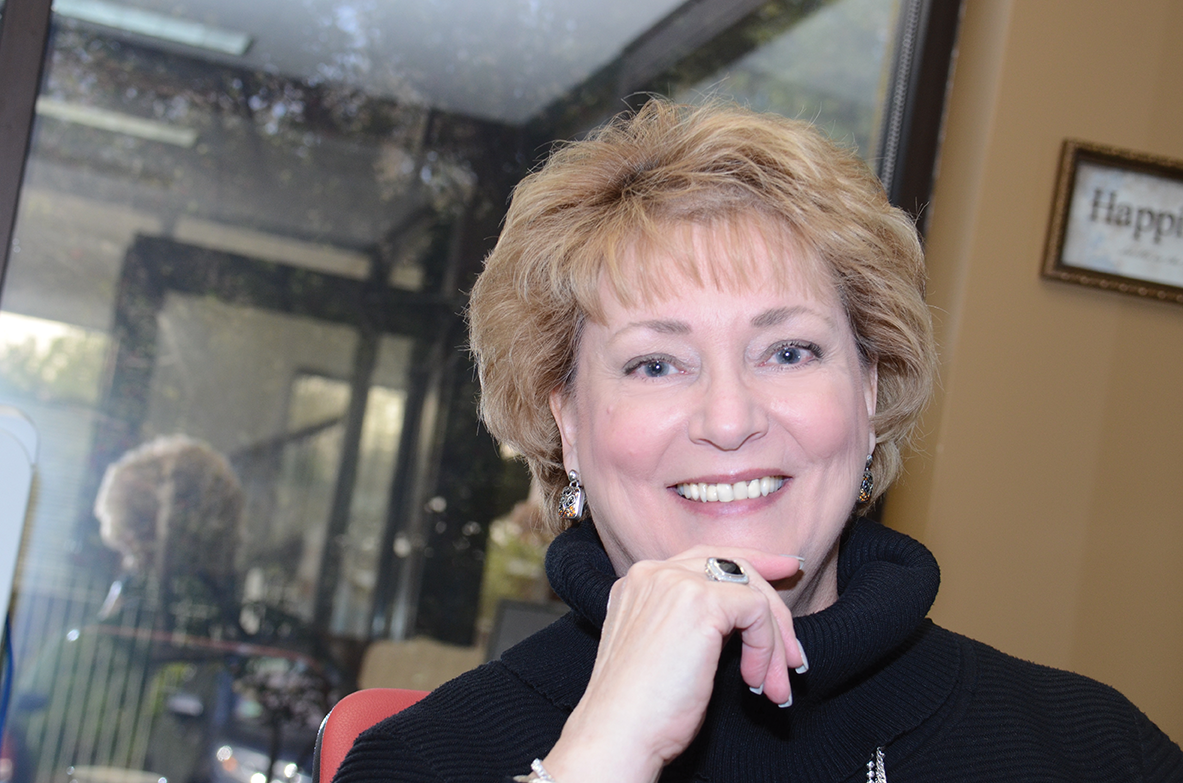 Vicki Siluk-Aguilar describes herself as "really boring." Indeed, she told 78209 Magazine, "I am one of the most boring people you will ever meet." But spend more than five minutes with her and you discover she is the exact opposite of boring.
Vicki, the newly elected president of the Alamo Heights Chamber of Commerce, is one of those folks whose smile is infectious. It begins at the corners of her mouth and quickly spreads across her face. When she smiles, it's hard not to smile with her. So it comes as a surprise to learn that she was incredibly shy as a child.
The shyness, she explains, was the result of her family moving every three years. Her dad, Leonard Michael Siluk, was a Senior Chief Petty Officer in the Navy. And although he never went to sea, the family was stationed overseas a good bit of the time. They traveled the world. Where dad went, Vicki went.
As she recalls, "We were in Iwakuni and Okinawa, Japan, Alaska and Hawaii, California, Virginia and Naval Station Great Lakes Illinois and elsewhere. I was born in Williamsburg, Virginia, in 1958. But as I was growing up, we moved so often it was difficult to make friends. I don't remember much about Williamsburg, for example. What I do remember about my childhood is we moved a lot."
Vicki graduated from Menchville High School in Newport News, Virginia. The City of Newport News is a key player in the maritime history of the United States. The bustling shipyard has been active since the late 1880s. It still produces nuclear submarines, aircraft carriers and more.
"I remember not wanting to be the center of anything," she says. But that began to change as she embraced a professional life in financial management and banking. "I knew I had to become more outgoing if I was going to climb the professional ladder. Being in the spotlight is not in my comfort zone, but overcoming that was an important goal."
Vicki and her family moved to San Antonio in 1977, to be close to relatives. She attended the University of Texas at San Antonio. "I think we had just three buildings back then," she recalls.
Her first position in finance was with the old Alamo Savings. From there she went to Texas Commerce Bank and ultimately Broadway Bank, where she currently serves as Financial Center manager for the Alamo Heights branch on Austin Highway. She's the boss.
David Moore, business development officer of Stewart Title in Alamo Heights and past board president for the Alamo Heights Chamber, calls Vicki an invaluable member of the Chamber board. "She was an outstanding help for me when I was president last year," he says. "She helped make sure the Taste of the Heights went smoothly, for example. She is hard-working, organized, and honest. Vicki is there to help anyone who needs help."
Moore says Vicki told him she was slightly concerned about being a public speaker at the luncheon each month, because she is basically very shy. "I offered to step in if she ever needed help. But to be honest, that's not been necessary," he told 78209 Magazine. He said Vicki's goal is to grow the Chamber in 2018.
Says Vicki, "We have around 75 paying members. I'd like to see that number grow to more than 100."
Moore thinks she will be able to make that happen.
"Many of us have talked about increasing membership," he says. "But I think Vicki is the first of our presidents to systematically try to do so. She laid out the goal at her first monthly board meeting. She told us she felt very strongly we needed to get many more people involved. We needed to expand membership."
Moore, who's been a board member for more than four years, says, "I was so appreciative of her helping me last year. That's why I am around this year to help her. It's why I stayed on the board."
Another Alamo Heights Chamber board member, who asked to remain anonymous, told 78209 Magazine, "I love Vicki. She is funny, witty, not to mention smart. Vicki gets down to business. She is detail-oriented. Knows what needs to be done and sets up a plan to make it happen. And she follows through with her ideas.
"She has also mastered a problem many of us in leadership face — she knows to ask for help when she needs it and surrounds herself with people that can help get the job done."
As for growing the Chamber's membership, this board member says Vicki's approach makes sense, explaining, "She wants to build the membership of the Chamber by providing members with 'more' value to joining and participating in our activities."
Vicki is quick to praise the people on the Chamber board. "They make me feel so comfortable, I am able to do the job. Part of my responsibility as president is to be sure we support the community and give back and to make it possible for members to grow their businesses," she says.
The Chamber includes the cities of Terrell Hills, Olmos Park and Alamo Heights. Vicki would like to see much more participation from city elected and appointed leaders. She believes the Chamber offers a wonderful opportunity to network, to shape ideas and to help forge relationships between the private and public sectors.
When she's not doing bank or Chamber business, Vicki is very much focused on family: "We travel as a family. We take vacations together, trips together. It's how I grew up, and it is how my daughter, Lauren, is growing up. My husband, Gilbert, is comfortable with that too. He's fine with travel, but I don't think you'd ever get him to leave Texas, to move to another state." Vicki and Gilbert married on June 25, 1992.
For a woman who describes herself as really "boring," it turns out Vicki Siluk-Aguilar is anything but.
By Ron Aaron Eisenberg