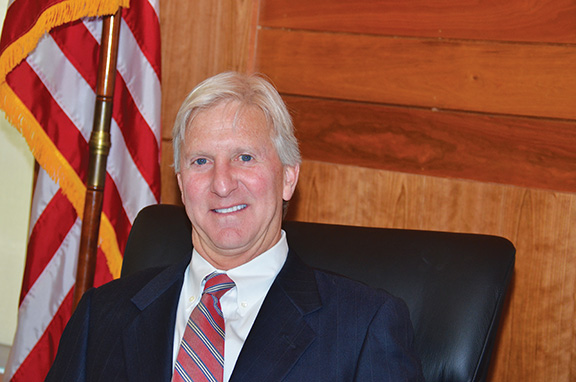 Bobby Rosenthal, the new mayor of Alamo Heights, was born in Dallas on March 3, 1960. But all who know him would be quick to say Bobby Rosenthal is all about Alamo Heights.
He and his wife, Jill, a native San Antonian, were married on April 15, 1989. "Yes," he laughs, "we were married on Tax Day. I never forget our anniversary." They moved to Alamo Heights in January 1994.
They have three children – Justin, Blake and Aubrey. All three went to Alamo Heights schools. In fact, Rosenthal says, the schools were one of the reasons they moved to Heights.
"We're also a Texas family," Rosenthal said. That's the University of Texas at Austin, where he and his wife graduated, as did their two older children. Their youngest child, who graduated from Heights in May, will be a freshman at UT in the fall. "Back in the day, Texas was the only place I applied," Rosenthal recalls. He's delighted his youngsters also chose UT.
He first practiced law, especially real estate law, in a firm with his father-in-law, Stanley Rosenberg. Today Rosenthal is a partner with Rosenthal Pauerstein Sandoloski Agather LLP. He continues to specialize in real estate law and continues to work with Rosenberg.
Rosenthal became active in community service upon moving to Alamo Heights, including serving on the board of directors for the University of the Incarnate Word and board of trustees at the Cancer Treatment and Research Center (CTRC). He is a former presiding chair of United Communities of San Antonio, Inc. Recently he served on the search committee to replace former University of the Incarnate Word president Lou Agnese.
But politics was not really something he'd thought about until then-Mayor Louis Cooper asked him to run for City Council in 2005. He ran. He won. And he's been on council ever since.
"Louis asked me to run for mayor four years ago. He was ready to retire," says Rosenthal. "But I wasn't in a position then to devote the time it would take to serve as mayor because of protracted litigation in which I was involved. He asked me again two years ago to run for mayor, and I declined. But when he asked me to run this year, I felt the time was right to do so."
When 78209 Magazine asked Alamo Heights City Council member Lynda Billa Burke to describe Rosenthal in one sentence, she said, "Focus, good-natured, smart, and he loves Alamo Heights." And former Mayor Louis Cooper, said, "I would describe Bobby as incredibly intelligent, inclusive, a team player, a friend, and a leader!"
Friends and colleagues in Alamo Heights describe Rosenthal much like the 1968 Sara Lee tagline –- "Nobody doesn't like Bobby Rosenthal." To underscore that point, Rosenthal ran unopposed for mayor. Indeed, the city canceled the mayoral election in early May and simply swore him in as mayor on May 22.
Rosenthal says he's excited about where Alamo Heights is today. And he's enthusiastic about the future. He's committed to continuing the beautification of his city. As an example, Rosenthal praised the anonymous donor who paid for nearly 130 trees that were planted along Broadway.
"Most folks don't really know where Alamo Heights begins as they drive up or down Broadway. They don't know our boundaries," he explains. He noted the city is only about 2.1 square miles with a population of some 7,000 people. He suggested, "We need to do a much better job of telling our story, marking our boundaries, celebrating our successes."
He is concerned about flooding that continues to impact the city, especially on North New Braunfels and at Broadway and Austin Highway when it pours. "We need to find a solution to that problem," he says. And he adds that he is confident "we will find an answer." As to what that solution will be and where the money will come from, no one knows at this time. "There are many jurisdictions that play a role in water flooding into Alamo Heights," Rosenthal said.
City manager Mark Browne told 78209 Magazine, "Mayor Rosenthal wants to be a mayor who listens to his citizens and tries to understand what their needs are and what they want to do."
Browne added, "I think he's really going to work out great for our city. Louis is a great leader and he leaves a great legacy. He was a very steady influence for our community. And Bobby was there for almost that entire time. He has the confidence of the council and the staff to build a stronger community for the future."
While Rosenthal doesn't have a lot of free time, he is fanatical about exercising, and he and his wife enjoy spending long weekends at Horseshoe Bay, on Lake LBJ, in Llano and Burnet Counties.
By Ron Aaron Eisenberg