Stepping Down After 20 Years of Directing the Summer at Heights Program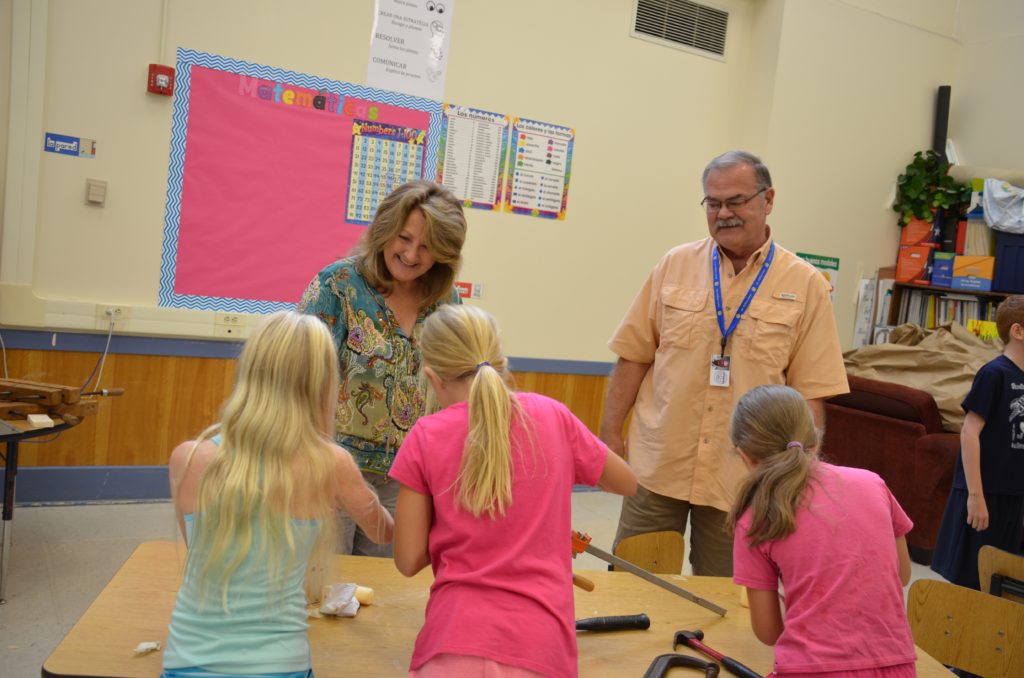 For Les and Linda Redden the summer of 2017 had special meaning. The couple celebrated their 37th wedding anniversary in June, while directing the Summer at Heights program for youngsters entering kindergarten through the eighth grade. But this was their last summer overseeing the program. And saying farewell to something they both cherished was not easy.
The couple met in college at Eastern New Mexico University. They dated for six years and married on June 7, 1980. Linda and Les both taught at the Alamo Heights Junior School for a long time before retiring from full-time teaching. She was an English and reading teacher and later became the librarian. Les left the corporate world and became a behavioral specialist for ED (emotionally disturbed) and autistic children.
They loved teaching. And they loved Summer at Heights.
But with twin grandchildren on the way and a 20-month-old grandson already on this earth, plus Linda's 88-year-old mother's declining health issues, they figured it was time to focus on family. It is easy to see this was a bittersweet summer for Linda and Les.
Since taking over the program nearly 20 years ago, the Reddens grew it significantly. They added classes. They attracted top-flight teachers from across the community into the program. The combination of new classes and exceptional teachers attracted more and more students.
This summer 1,519 students enrolled in Summer at Heights. They chose from 150 classes taught by one of 48 teachers on the Summer at Heights faculty. The classes provided enrichment opportunities for kids from all over the area – students do not have to live in the AHISD. For students who cannot afford the tuition, there are some scholarships available. "We try not to turn any student away simply because his or her parents could not afford the tuition," Linda said. But the amount of scholarships depends on the amount of money available to the program.
It's truly been a labor of love for the Reddens. "We did it for the kids," they said. "Our true reward was seeing what our kids got out of this program. It was amazing." When they look back nearly 20 years, they told 78209 Magazine, "We will have the memories. Incredible memories. We will have the reward of watching the kids enjoy themselves. It is overwhelming," they said with tears in their eyes. Linda added, "Some of today's kids are the sons and daughters of students I taught at the Junior School years ago."
"We are one big happy family," Les chimed in. "We will miss it because it has been so special. No doubt about it, this was a hard choice we made to leave. Neither of us really wanted to leave the program. But our daughter, Ann, needs our help with three infants under the age of 2 in diapers. Nevertheless," he continued, "directing this program has been such a joy. Every day. Every year."
Linda studied to be a teacher. And she taught for 38 years. But that Les became a teacher too is the big surprise. He was a corporate guy. Button-down shirts, neckties, suits every day. And they were long, long days.
"One day I realized my daughter was growing up without me. I was literally never home," he recalls. He enrolled in the Region 20 ESC-20 Educator Preparation Certifications Program and began substitute teaching at the Junior School. "One day Dr. Foster, who was Junior School principal then, asked me to sub for the teacher in the ED and autism class. I told her no. That wasn't what I wanted to do. But as I quickly discovered, you don't say no to Linda Foster.
"She asked me to 'try it for two days,'" he says. So he did. He laughs and adds, "Those two days turned into 26 years. I had found where I was supposed to be, working with emotionally disturbed children and those with autism. The work was tough. Tougher than anything I'd ever faced in the corporate world. But the rewards were enormous. The smiles on my students' faces. The days I knew they got it … whatever the 'it' was that day. I saw them grow and mature and learn."
They both say they are leaving the program in great hands. Christa Stephens, a counselor at Woodridge Elementary School, will take over Summer at Heights next year. "She's been in the trenches with us for a while," Linda noted. As to whether she and Les would be lurking in the shadows next summer, Linda promised to leave the job to Christa. "That doesn't mean we won't stop by," she adds.
All who know the Reddens agree they couldn't stay away, no matter how much they promised to do so.
By Ron Aaron Eisenberg