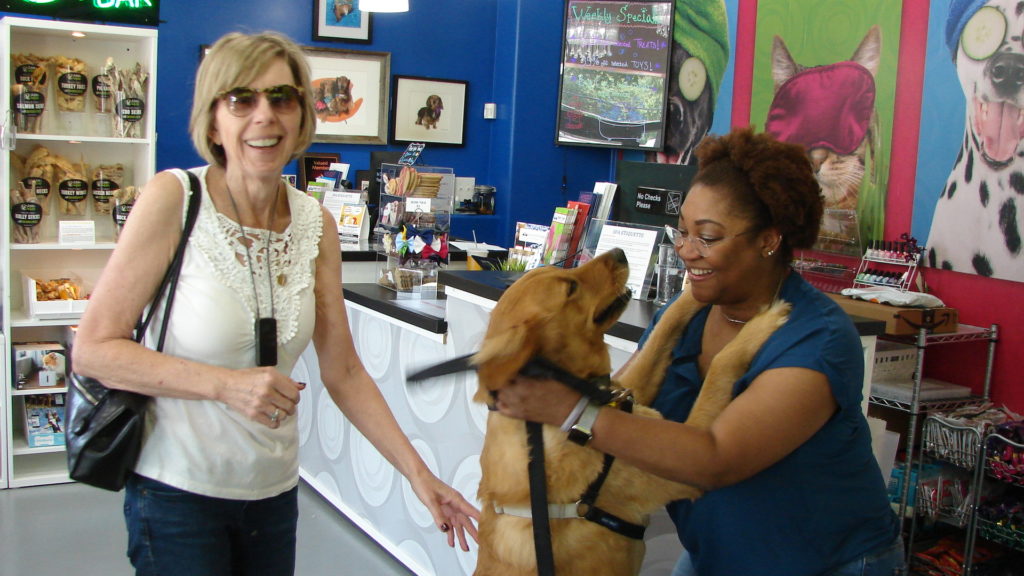 It's August. Soon, the last days of summer will slip away, replaced by back-to-school sales and a new haircut.
Fido wants to gussy up for fall too! And a brand-new look is available a short drive away at Splash and Dash Groomerie and Boutique at 5231 Broadway, part of a nationwide chain.
Open just eight months, the clean, fun beauty salon for pets already has a steady stream of customers.
Franchise owner Valayia Jones-Smith is from Northern California. After working for health care giants like Kaiser, she moved here to open Splash and Dash.
"We offer facials and 'paw-dicures' and massages," Pawdicures? "We soak their feet, and massage them," she explains.
"Then there's a balm we put on their pads which makes them super-soft. We paint dog nails all of the time.
"There is a choice between a blueberry and a pink berry facial. The product is applied to the face it sits a bit, and then it's rinsed off. "
"How do dogs respond to all of this nonsense?" I ask.
"Dogs really do well with it! We offer them aromatherapy as well, so pretty much anything at human spas we translate to the dog grooming area, and the parents are happy because their dog's coat becomes soft and smells good.
"For us, no request is strange," she says of the services she supplies. "One of our little dogs, Gemma, ended up with pink ears and a purple tail. We've made doggy dread locks in pink. We get creative." She says dyes used are natural, won't irritate skin and wash out over time.
In fact, Jones-Smith is strict about pet safety. If a customer refuses sound grooming advice, suggestions about skin care or insists on something painful or harmful, they will not be invited back. You go girl!
"All of our products are pH balanced and all natural. They are easy on the skin and won't dry it out," says Jones-Smith.
Coming soon from Splash and Dash: birthday parties for dogs.
"They will include birthday cakes, hats, cupcakes … it's more like when you throw a party for toddlers. The kids don't really care, but often it's more for the parents."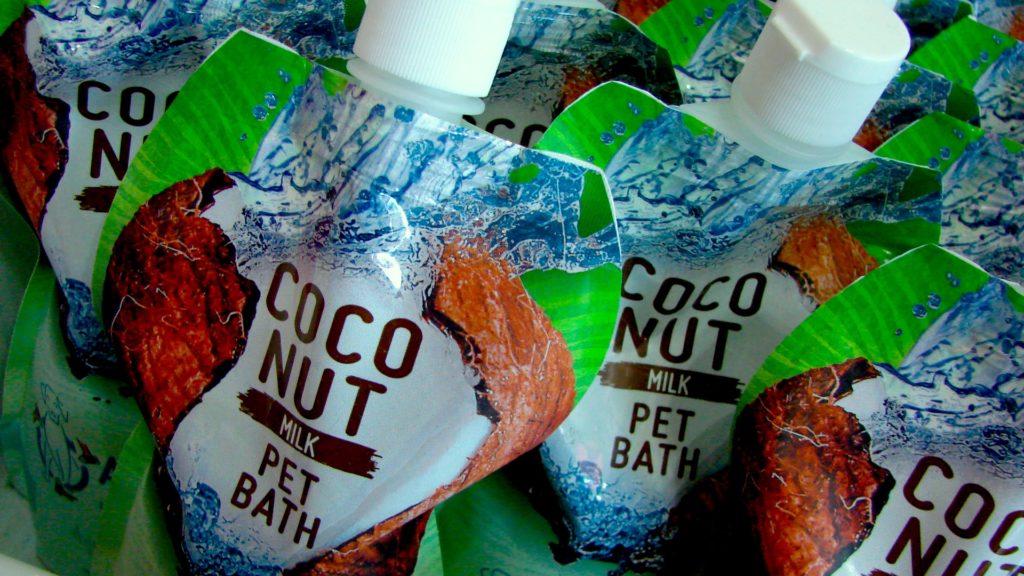 And if you think that's silly, just Google "dog grooming trends" and see the nutty stuff that comes up. I saw a dog with pink and purple fur, wearing a tutu, dressed as a fairy, and poodles shaved and dyed to look like buffalo and one poor mutt dyed and trimmed to look like a panda. I don't know what gets into people, but sometimes when a trend starts, people's imaginations step in and BOOM! here come Japanese furry, fuzzy dogs with a Squarehead trim! As long as none of this stuff hurts or endangers the pet, I say have your fun and then find something more important to do than fool around with your dog's haircut.
And just FYI: this time of year is historically known as "the dog days of summer."
To quote Merriam-Webster:
1. "The period between early July and early September when the hot sultry weather of summer usually occurs in the northern hemisphere. 2. a period of stagnation or inactivity." You got that right! It's been HOT.
The "dog days" were observed in ancient Greece and are associated with Sirius, the Dog Star, the brightest star you can see, becoming visible in the constellation Canis Major, the Greater Dog. The time following the star's appearance is known as a time of heat, drought, lethargy, fever and bad luck, the hottest, most uncomfortable part of the summer.
So keep Fido inside, trim his coat short, and provide him plenty of cool water to drink.
Until next month,
Woof, woof! Roxie
By Berit Mason