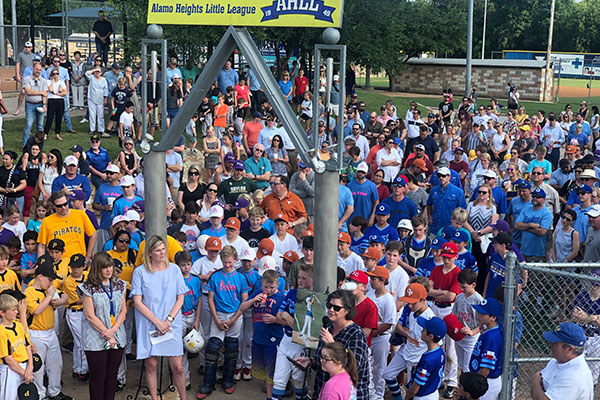 A Ballpark Dedication
The Alamo Heights Little League (AHLL) recently honored their late coach, Billy Blake, naming the playing fields and ballpark after him. Some 500 members of the Alamo Heights community, including past players, parents, family, and friends, attended the ceremony. The AHLL park is now known as Alamo Heights Little League at Billy Blake Park. 
An active AHLL board member, friend, and mentor, Blake coached more than 600 kids and led 8 teams to city championships. Six of his teams won district titles all within 20 years.
Billy Blake lost his battle against Crohn's Disease and bile-duct cancer on April 23, 2019. He is survived by his wife, children, siblings, nieces and nephews, and many other family members.
Fitness Center to Open
Orangetheory Fitness, the group fitness center, is adding a new location. Now open in Sunset Ridge Shopping Center, Orangetheory will soon open another location at Quarry Village. A grand-opening is set for mid-May in the space previously occupied by Starbucks, across from Trader Joe's. 
The organization now has at least 14 locations throughout San Antonio and more than 1,100 locations in 49 states. The locations are operated by franchisees. Orangetheory was founded in Florida in 2010.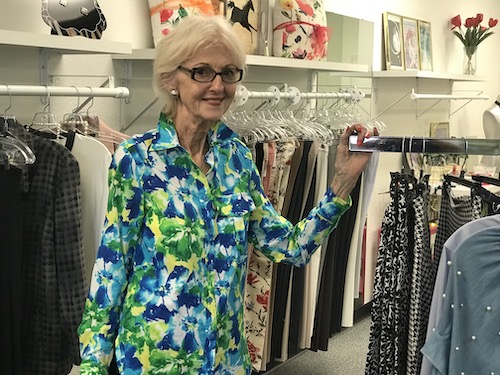 Andie & Barbara Women's Clothing Store to Close
For Barbara Lozano, the time has come to shutter Andie & Barbara (A&B), her signature women's clothing and accessories store at 1836 Nacogdoches Road, in the Carousel Court Shopping Center, across from the Oak Park H-E-B.
The shop was named after founding partners Barbara Lozano and Andie Erben. It was first located at Los Patios. When Barbara took over as sole proprietor, she moved the business to Castle Hills, then to Alamo Heights, in 1986. Her first stop was in the Dijon Plaza, on Broadway. In 2014, she relocated A&B to its current home in the Carousel Court.
Lozano rebuilt the boutique clothing store after a tornado ripped through the Carousel Court in February 2017 doing extensive damage to several businesses in the Center, including A&B. Now, after 40 years in high-end women's clothing and fashion, Lozano stated, "It is just time to retire." She's not sure what's next on her plate, although travel is a high priority.
Lozano says she expects to be closed by mid-to-late June. Until then, shoppers are invited to visit the store or to call Lozano at (210) 828-4070.
Luxury Women's Consignment Shop to Open
Moss, the Austin based, self-described luxury consignment shop is opening at 5013 Broadway, in a 1,700-square-foot space.
"We are so excited to become part of the budding San Antonio fashion scene," Masha Poloskova, owner and founder of MOSS, said in a news release. "It felt like a perfect fit to move to a city that understands and appreciations fashion."
The store will feature a curated inventory, ranging from everyday staples to formal designer threads, footwear, and more. It will complement Moss' south Austin location.
New Garden Homes Under Construction
Two luxury garden homes are under construction at the corner of Grandview and Cleveland Court, in Alamo Heights.
Lisa Nichols with Nic Abbey Luxury Homes is the builder. The houses are scheduled for completion in late summer or early fall of 2019.
These open concept, modern, contemporary homes will offer a Spanish Revival style, featuring stucco walls.
The home at 140 Grandview will be approximately 3,300 square feet. It is priced at $1,385,000. The other, at 138 Grandview, will be around 3,187 square feet. It is priced at $1,365,000.
Both homes will feature 3 bedrooms, 3.5 baths, with the master suite and separate study on the main level. Each will have a 2-car garage. Janet Heydenreich, with Phyllis Browning Company, told 78209 Magazine, she believes the homes will be perfect for seniors or empty nesters.
For additional information, contact Heydenreich at (210) 860-9390.
BY RON AARON EISENBERG