AFTER SEVERAL CROSS-COUNTRY MOVES, THE SHALLEY FAMILY MAKES THEIR HOME IN ALAMO HEIGHTS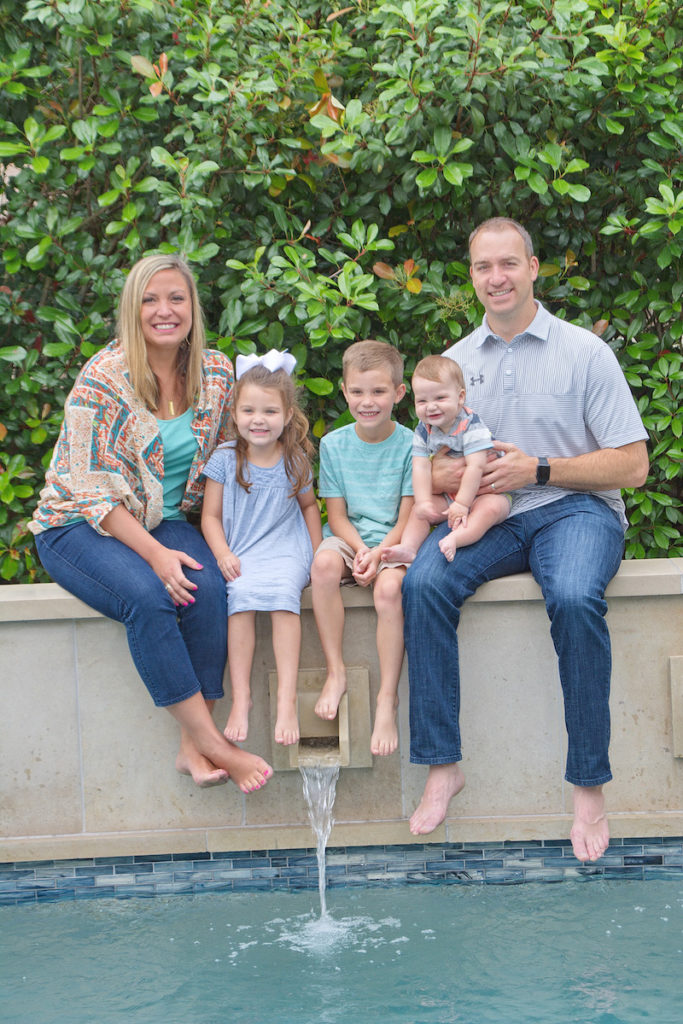 Jacob and Hayley Shalley have one of those whirlwind romances that started at a dancehall in College Station while the two were attending Texas A&M University. "He was the first guy I ever gave my number to in college," says Hayley. "I didn't know it would lead to marriage and three kids." It also led to five moves over 13 years, but after settling in Alamo Heights six years ago, the family has found a place that they happily call home.
09: Why did you move so many times?
HS: Jacob is a developer and he has always been project-based, which meant that we went where his job took us. We've lived in Dallas, Orange County, San Francisco, and most recently Houston.
09: What brought you to San Antonio?
HS: Jacob was offered a position with Embrey Partners helping to source and design projects from the ground up. One of the most visible undertakings is the current mixed-use development going up at 7600 Broadway.
09: What do you do for a living?
HS: I work remotely as a product coordinator for an eyewear company called Frames Direct. It's an online company based out of Austin, and I am responsible for keeping catalogs up to date and working with our product reps to make sure we have the most updated versions of their products we can sell. It's great because I can set my own schedule, and since we have three kids that range in age from nine months to seven years, that's important.
09: Why did you choose the Alamo Heights area to settle in?
HS: We liked the fact that it was close enough to Jacob's office that he could come home for lunch, or be around a little longer in the morning with the kids. We were also extremely pleased with the quality of the school district. In Houston, your public school options are more limited if you live in Houston proper. We stumbled upon the Spanish Immersion program and it was something we never had, so we wanted that for our kids.
JS: When we first moved here we had no preconceived notions about the city and the areas that people recommended were in close proximity to my office. We chose this area because we loved the mid-century modern homes in our neighborhood, the large trees, and the small town feel within a big city.
09: You remodeled your home shortly after moving in. Describe your upgrades.
HS: Our home is a one-story, ranch style and it had pink square tiles that someone had painted over in the guest bath, and the master bath had black and white Dalmatian patterned tiles against a sage green background. But the house had good space and flow, and it sits on a large lot so we knew we could work with it. Jacob has a good eye for design and knew what to do to improve it. It was kind of crazy—our fridge was in the living room for a while. Then a couple of years ago we added an 800 square foot master suite with a living area and put in a pool. The pool is a lot of fun!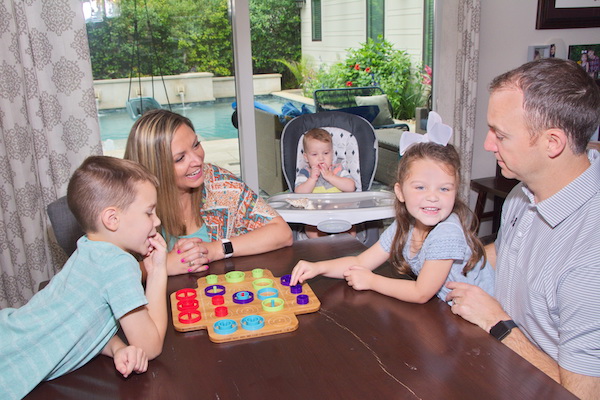 09: Besides swimming, what do you enjoy doing in your spare time?
HS: We try and not overschedule ourselves, or our kids. We enjoy family nights and going to one of the many family-friendly neighborhood restaurants like the Purple Garlic on Austin Highway. Jacob and the older kids go to our deer lease and, closer to home, we ride our bikes in the neighborhood and make time to be active together.
JS: I coach basketball through the YMCA and baseball through the Alamo Heights Little League. I'm also involved in various industry organizations such as the Urban Land Institute.
09: If you could describe Alamo Heights in one word to an outsider, what would it be?
HS: Community! There is a quality of life here that I don't think you find in many other areas. It's a laid-back culture and vibe that reminds me a little of Southern California. My son and his friends walk to school and I don't worry because my neighbors know them and keep an eye out. I never had that growing up. It's a very close-knit community and, since we have no family in town, we really appreciate that. Most of my emergency contacts are my neighbors.
JS: The analogy I use all the time when talking about San Antonio after having lived in both Dallas and Houston is this: If the speed limit in SA is 70, everyone is going 55. If the speed limit in Dallas or Houston is 70, everyone is going 85. That means we get to enjoy more of life's moments and be more in tune and involved with our friends and community. To me, that is always a good thing.
BY BONNY OSTERHAGE
PHOTOGRAPHY BY MARTIN WADDY