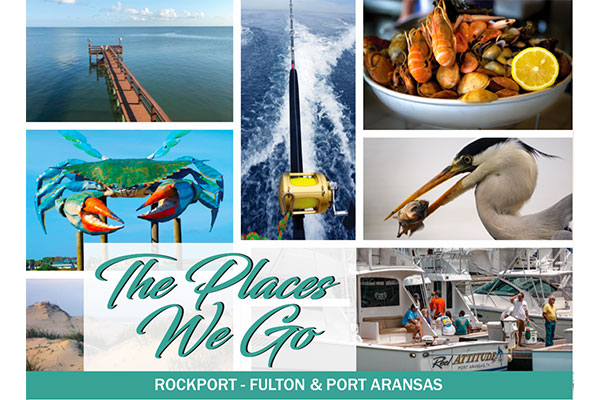 Texas is sometimes referred to as the third coast being situated between the East Coast and the West Coast and is just a short drive away from several major cities in the state. Our coastal communities are sleepy, laid back towns, and we Texans like it that way! For us, it's about quality time with family, fishing, and playing on the beach. For '09 families the coast is a relaxing getaway from the hustle and bustle of busy lives. Two of the most popular coastal areas are the twin communities of Rockport-Fulton and Port Aransas.
In August of 2017, Port Aransas and Rockport were "ground zero" for Hurricane Harvey, destroying 15,000 structures and damaging another 25,000. As devastating as this was, Texans were determined that no storm would take away their playgrounds. Help came from all over the state, and these towns were soon rebuilding. Over 2 ½ years later the Texas Gulf Coast is once again thriving.
Rockport-Fulton is referred to as "The Charm of the Texas Coast" and the heart of Texas fishing and bird watching. The quaint sandy beach, while only a mile long, is a family favorite, especially for those with young children. It is handicap accessible and has public restrooms and shower facilities. They even have a section of the beach that allows dogs. Many '09ers have second homes in the Key Allegro community or VRBO in Rockport-Fulton. Their weekends are comprised of fishing, playing on the beach, relaxing, shopping, and eating at local restaurants. Some favorites are Charlotte Plummers, The Boiling Pot, Paradise Key, Moondog's and Latitude 2802 Restaurant and Art Gallery.
While the historic Fulton Mansion is still closed for tours due to roof repairs after the hurricane, the Education and History Center remains open and offers interactive exhibits and a gift shop. Visitors can take a self-guided architecture tour of the exterior of the mansion. Many others enjoy the flora, fauna, bird, and wildlife watching at the Aransas Wildlife Refuge.
Port Aransas, fondly known as "Port A" is just a short drive from Corpus Christi or can be reached by ferry. They have a plethora of places to stay, including the popular Port Royal where you're sure to run into friends. Port A has a personality all its own with people running around in golf carts and on scooters. Here it is acceptable to go to a restaurant in your bathing suit cover-up and flip flops. Just like in Rockport-Fulton, many' 09ers have second homes in Port Aransas in places like Cinnamon Shores. Some have condos or houses in town or frequently visit VRBO's for their weekend getaways. For those who are really adventurous, RV, and tent camping are permitted on the beach in Port Aransas.
Visitors can drive down long stretches of the beach along Mustang Island. They also have dolphin cruises and bike rentals. Locals and visitors enjoy eating at places like Virginia's, Crazy Cajuns, Seafood & Spaghetti Works, and Trout Street.
Through hurricanes and tropical storms, these two communities just come back stronger providing a beautiful place of respite for thousands. The East and the West Coasts may be posh, but there's no place like home on our own Texas coast!
By Susan Thornton