Mules Journalism Teacher Makes Thundering Herd Magazine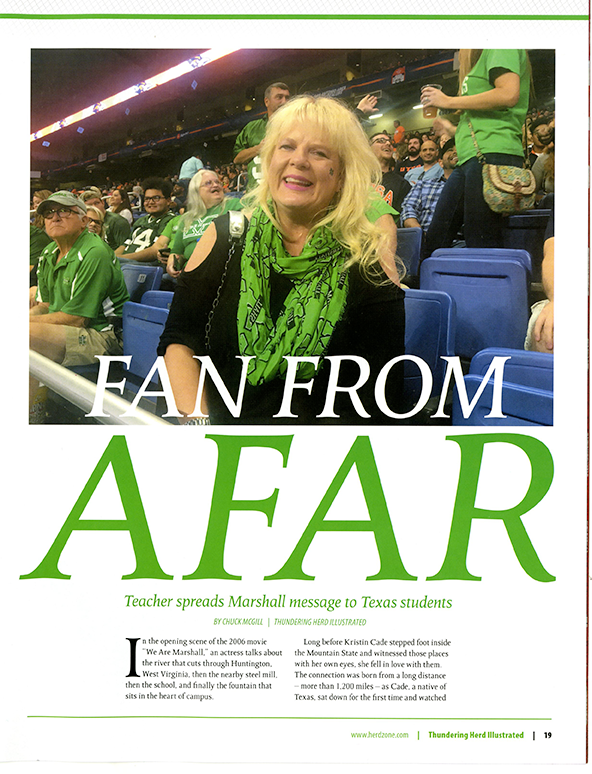 Each year, Alamo Heights High School journalism teacher Kristin Cade shares a special unit in her Journalism I class. "I have been using the Marshall story for about 10 years to teach the different types of journalist writing. On our summer trip two summers ago, we went to Marshall and toured the campus, and my husband set up a surprise meeting with the athletic director," said Cade. "It was an amazing experience!
"This year, I attended the UTSA vs. Marshall game here in San Antonio. While at the game, my husband and I went down to the field before the game started to get close to the players. A reporter began speaking with us. When I told him my name, he immediately knew who I was, sharing that the Marshall athletic director told my story all the time. He set up an interview at halftime, and we visited about my love for Marshall and how I marry that with my love for AHHS Mules and our Journalism program," shared Cade. "It is literally one of the coolest things to happen to me ever!"
As excited as she was to attend the event and be interviewed, she was just thrilled to receive a surprise in the mail in early January. It was a copy of the latest, Thundering Herd magazine, the official magazine of Marshall University Athletics. As she browsed the pages of the publication, she was surprised to see a feature story focused on her. In the story, "Fan From Afar," Thundering Herd staff shared Cade's story and how she used the Marshall story to educate her Mules.
Cade did not attend Marshall University. She grew up in Texas, attended Angelo State University, became a sports reporter and has now served students in Texas public schools for 25 years. She fell in love with the story of Marshall after the debut of the movie, We Are Marshall. The movie tells the story of the tragic plane crash in which 75 lives were lost. It depicts the triumph of the school and community as they came together to rebuild their school's beloved football program and the Marshall spirit that grew stronger as a result.
Making real world connections for her students, their "Fan From Afar" has made a true connection herself, causing her to feel even closer to the school and the life lessons their story provides.
District Selects 2018-2019 Teacher of the Year
The AH Junior School science department was in a planning meeting when there was a knock at the door. Before the team had the chance to respond, the door opened and in came an entourage of AHISD team members carrying balloons and a plant, clapping and cheering, as they singled out one person in the room, Jeff Wheatcraft. The reason for the excitement? To officially share the news that Wheatcraft had been selected as the district Teacher of the Year and Trinity Prize nominee.
Wheatcraft was beyond thrilled, sharing how honored he was to be selected. "This would not be possible if I did not have the support that I have from my AHJS team and the Alamo Heights Independent School District."
Wheatcraft was selected by a committee of his peers who were thoroughly impressed with his methods and engagement. As coordinator of the STEM program at AHJS, Wheatcraft is responsible for inspiring students to a greater understanding of science through the lens of exploration and discovery. Students in the program are given real world problems for which they must design a solution and then build and test their ideas. Perhaps one of his most recognized problem-solving opportunities arises during his Storm Prediction program every spring. In this unit, students work to predict where severe weather will occur and then direct Wheatcraft to the location, where he deploys the student-developed, built and programmed weather pods that record temperature, barometric pressure and wind speed. "Although my wife believes I am crazy, I find that I am at my most peaceful when out on the plains chasing thunderstorms for my students" he said.
Originally from Phoenix, AZ, Wheatcraft calls himself a "Texan at Heart," thanks to his wonderful wife, Aimee. The two have three children: two sons, Mason and Camden, and daughter Molly
Crawley Ranked No. 2 in World in Tennis
Courtesy photo by Jeff Davies/USTA.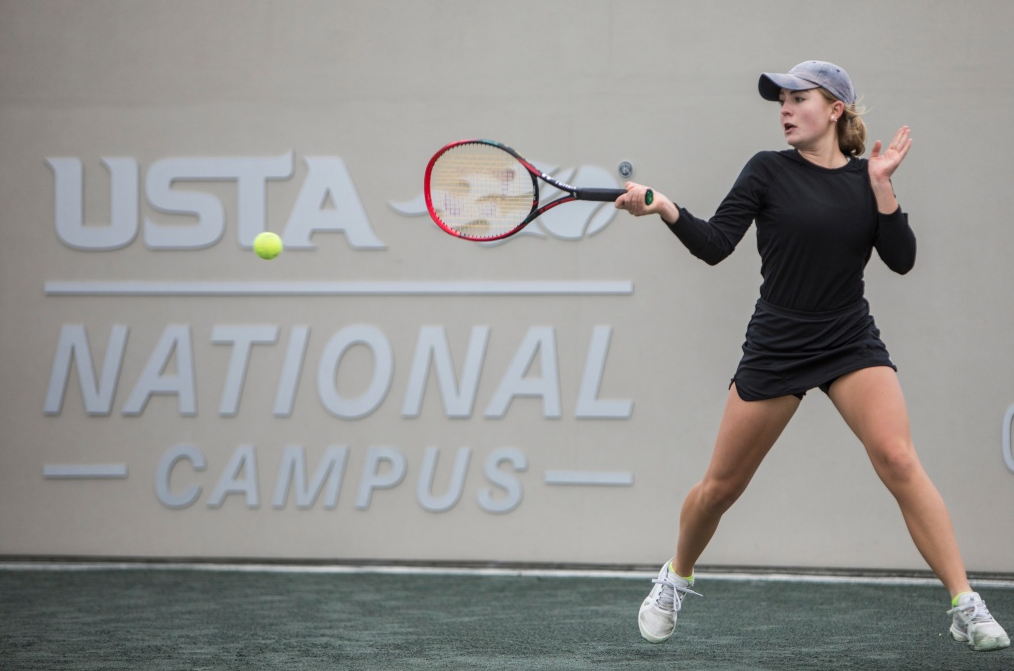 Fiona Crawley is the number No. 2 ranked 15-year-old tennis player in the world! Crawley earned the silver medal during the prestigious Orange Bowl International Tennis Championship held in Florida just before the Christmas holiday. Soon after the holiday, Crawley, a sophomore at Alamo Heights High School, was back at work, winning the 18-and-under singles title in the United States Tennis Association's (USTA) National Winter Championships in Orlando.
22 Years and Going Strong:  AHISD Bus Driver Charles Nanez
A Favorite Among Students and Parents
By Ron Aaron Eisenberg
For school bus driver Charles Nanez, 71, driving for Alamo Heights Schools is a piece of cake and a labor of love. Even after 22 years behind the wheel, picking up kids from kindergarten through 12th grade, Nanez looks forward to every day.
His passengers and their parents know him as "Mr. Charles." But most may not know he was a Bexar County Deputy Sheriff for a number of years. They may not know he was injured in a riot in the Bexar County jail. And they may not know he drove a prison bus for several years before moving over to the Alamo Heights Independent School District.
And while he never had a problem with prisoners on his bus – after all, there were armed guards on board, and the inmates were chained to their seats – he much prefers driving school children, even kindergarteners.
Mr. Charles could play a grand dad on TV, which may be why so many of his passengers bond with him. When a friend learned our daughter, Reagan, would be riding Mr. Charles' bus, she told 78209 Magazine, "My daughter loved Mr. Charles. Loved him. Reagan will love him too."
Indeed, Martha Milner, now a junior at the University of Alabama, recalled, "It was really neat to have a bus driver who called you by name every time you got on the bus. Years later, when he would drive by my house when I was in high school, he would always make sure to wave and say hello."
She added, "He's a local legend for everyone on the Terrell Hills route." One might add, he's a legend on every route he drives.
Parents all say that you could set your watch to Mr. Charles. He stays on schedule, no matter the weather, no matter the traffic.
When asked if he is considering retirement, Nanez didn't even hesitate. "No. I'm not retiring. Not until it's no longer fun driving the bus" he said.
And despite his age, he doesn't see that happening any time soon. All of his passengers and their parents hope that's true!
Troop 809 Awards Nine Boy Scouts the Eagle Scout Award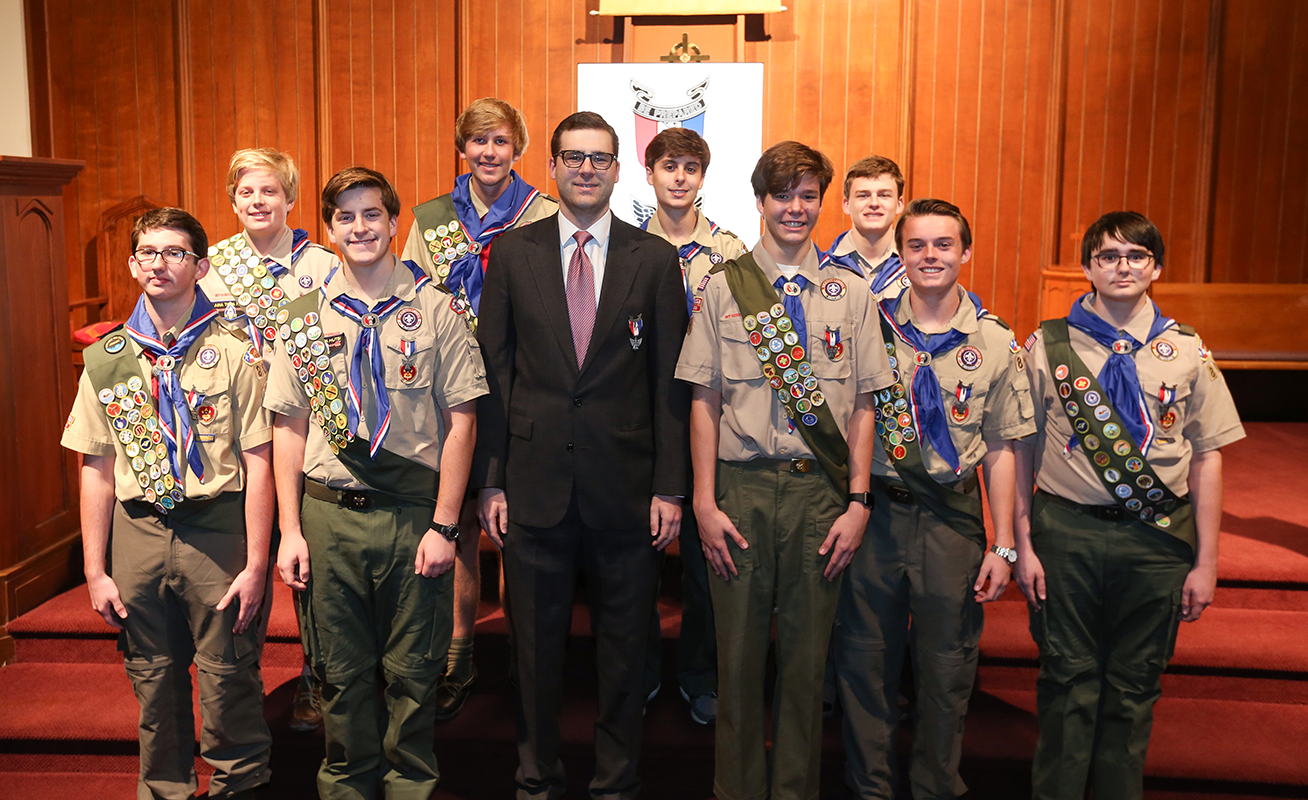 Nine Boy Scouts from Troop 809 earned the Boy Scouts of America's highest advancement award, the Eagle Scout Award. Troop 809 Scoutmaster Adam Pittman recognized the Boy Scouts recently at the Troop 809 Eagle Scout Court of Honor ceremony. Special guest speaker was James McClelland, Bexar County finance analyst and a Troop 809 Eagle Scout.
• 1,340 service hours were completed during the nine Boy Scouts'-Eagle Service Project.
• 222 merit badges were earned by these nine Boy Scouts.
• Among the nine Boy Scouts, three have participated in Boy Scouts High Adventure Bases, including Philmont Scout Ranch, SeaBase Florida, and Rocky Mountain High Adventure Base.
• Two of the Boy Scouts earned membership into the Order of the Arrow, Boy Scouts' National Honor Society.
Each Boy Scout individually led a service project at an organization in his community. The organizations that the Boy Scouts served were:
• Alamo Heights High School band program
• Alamo Heights Little League
• Episcopal Church of Reconciliation
• Family Services Program/Serna Elementary School
• SAMMinistries Transitional Living and Learning Center
• San Antonio Children's Shelter
• St. Andrew's Methodist Church Day School
• St. Luke's Episcopal Church
The Troop 809 Boy Scouts earning their Eagle Scout rank were: James "Hutcher" Bryan; AHHS parents: Beth and Hutch Bryan; Robert "Trip" Delph; AHHS parents: Cynthia Friend and Robert Delph; Andrew Flesher; AHHS parents: Josie and Clare Flesher; Scott Hampton; AHHS parents: Linda and Tad Hampton; Byron LeFlore; St. Mary's Hall parents: Kathleen and Byron LeFlore; Frates Newsom; St. Mary's Hall parents: Roxana and Hamlet Newsom; John "Jay" Roberts; St. Mary's Hall parents: Elizabeth and Barry Roberts; Wyatt Schuhmacher; AHHS parents: Laura and Harry Schuhmacher; and Timothy "Henry" Tomerlin; AHHS parents: Wendy and Martin Tomerlin.
Worldwide, only 6 percent of registered Boy Scouts earn the Eagle Scout rank.
Water World – Mules Swimming And Diving
By Joe Blake and Hudson Scow
The Mules swimming and diving team has been busy finishing the semester by competing and working hard to improve. At the dual meet on Nov 4, the Mules defeated Steele High School, 344-196 but lost a tough one to Churchill High School, 340-229.
"Steele was a great team win," senior Lauren Raike said. "We had lots of young swimmers step up and compete."
In the girls' relay, the team placed first in the 200-medley relay and the 200-free relay. Individual winners included Raike in the 200 IM and 500 free as well as sophomore Macy Helmer in the 100 back.
In the boys' relay, the team won first in the 200-medley relay and the 200-free relay. Individual winners were sophomore Andrew Crosley in the 50 free and 100 fly, sophomore Aiden Atlas in the 100 free and the 100 back and sophomore Luke Nester in the 500 free.
"I'm proud of how hard we swam against Churchill," senior Justin Dickey said. "I am glad we pulled through in the 200 medley and free."
The next swimming meet was the TISCA swimming and diving championships at Palo Alto College Dec. 1 and 2. The Mules were the defending 5A and under champs, and this was the swim team's first major meet to show their strengths.
"The TISCA is one of our bigger meets. The team was nervous but very excited to compete," junior Maya Clark said. "There aren't many seniors on the team this year, so everyone is stepping up."
At the TISCA Meet, the girls' and boys' teams both finished second in the 5A and under division. The girls defeated 6A Churchill while the boys downed 6A powerhouse Reagan. In all, 48 schools participated with nearly 400 swimmers.
Incarnate Word High School, Students Host Robot Challenge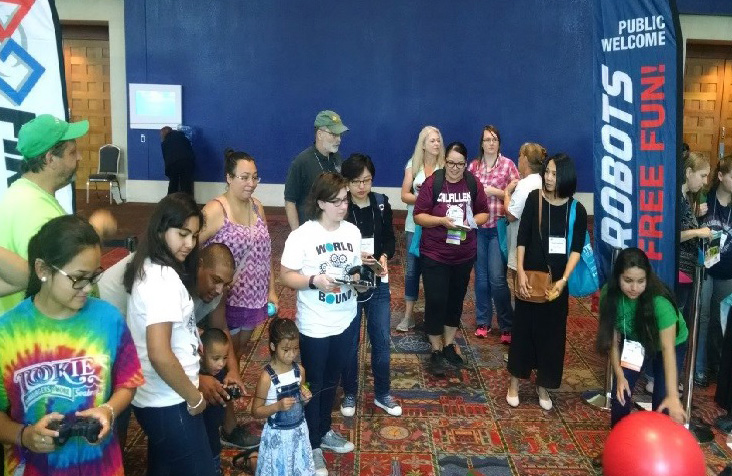 On Jan. 6, 30 Incarnate Word High School robotics students, along with coaches and mentors, watched the broadcast revealing this year's FIRST Robotics Competition Game called, Relic Recovery.
The students began brainstorming design plans for a robot that can balance on a moving platform, pick up and stack foam blocks in a specific pattern and use optics to read encrypted patterns. Through the activity, students developed STEM skills and practiced engineering principles. Participants have access to tens of millions of dollars in college scholarships. Each season concludes with Super-Regional Championships and an exciting first championship. It's way more than building robots. First Tech Challenge teams (10+ members, grades 7-12) are challenged to design, build, program and operate robots to compete in a head-to-head challenge in an alliance format. Participants call it "the hardest fun you'll ever have!" On Jan. 26 and 27, IWHS hosted the first league match for the Hill Country League. Last year there were 240+ teams in the region.  Several hundred educators from all over the world visited the IWHS display and were invited to test out the innovative robots. Other recognitions included a grant from Dell Corporation for encouraging women in STEM, and both teams received a grant from the Arconic Foundation.
Above Rim, On Court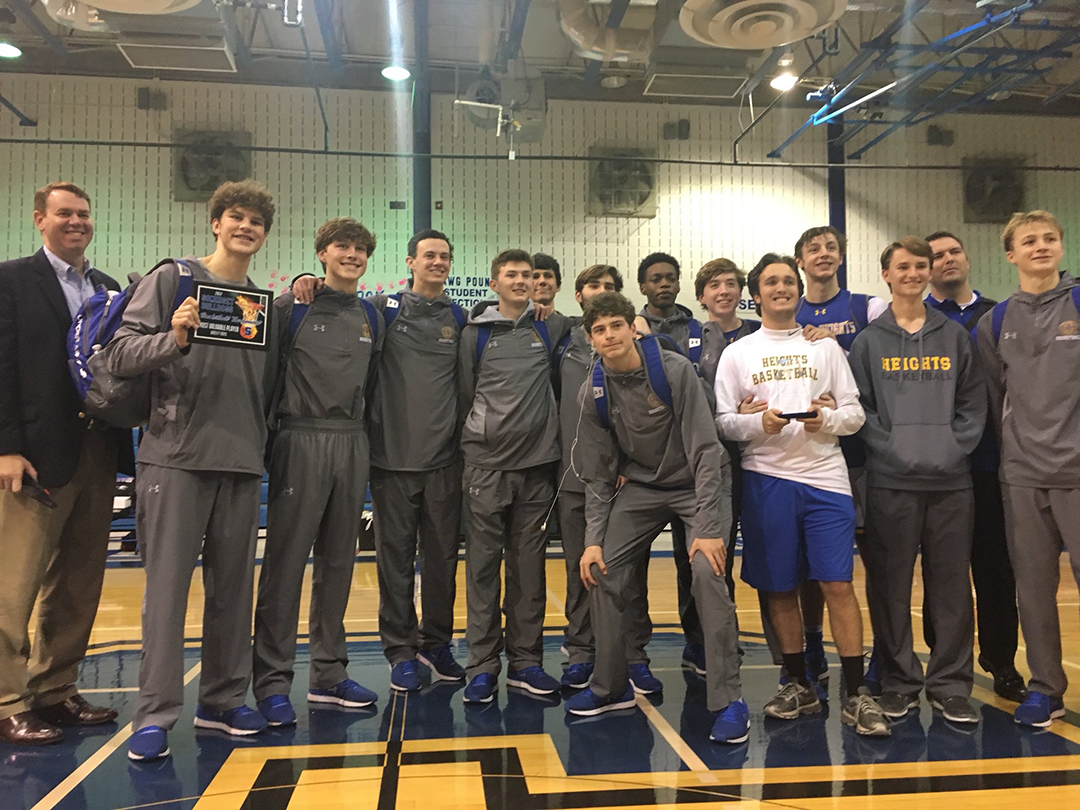 A new basketball season brings a lot of excitement for many in the boys' and girls' basketball program. Both teams have been working hard and putting in the hours to place themselves in a position to win games.
"I'm really excited for the season," sophomore guard Charlie Dewitt said. "This being my first year on varsity, it makes things extra special."
With district right around the corner, both the Mules and Lady Mules are getting ready with preseason games and practices. The Mules are projected to finish third in district behind Boerne Champion and Dripping Springs, but the Mules are looking to prove to everyone that they are the top team in the district.
"We are hoping to be the top team this year," senior guard Matthew Pisano said. "This team is capable of really being good this year and making a run at state."
Both the girls' and the boys' teams have been playing preseason games against a wide range of talents. Although these games do not impact the team's chances for playoffs, they do let the players and coaching staff knows where their team is in its development.
"Preseason is a great way to see where everyone is," senior post Andrew Reichert said. "It gives us a chance to see if we need to add any new offenses or defenses."
In their first, game on Nov 10, the boys went up against Austin Westlake. Coming into the game, Westlake was ranked number one in the state and 12th in the nation. The Mules made it a tight game at the end, but lost with a final score of 87-71. The team felt good about their effort and execution on both sides of the floor. Two outstanding performers were senior power forward Evan Carcanagues leading the Mules with 32 points and senior guard Tyler Glover with 17 points.
"I had a lot of fun playing against a team that good," Carcanagues said. "It showed everyone how good we really are, and it also showed how hard we work in the off season."
The Lady Mules, on the other hand, played against 6A powerhouse Clemens on Nov 1 and unfortunately lost in a hard-fought battle 52-37. Even though they lost, the game was a great way to test the team's ability.
"I was really proud of how we didn't give up and competed the entire game," junior guard Cici Castillo said. "That really means a lot, especially since we are a younger team."
The opening game of district play for the boys was Dec 19 against Seguin in Seguin and the girls' first district game was December 12 against Marble Falls in the Muledome. Both teams continued practice and play during the holiday break.
"Starting off strong in the beginning of district is really important," Glover said. "It shows to everyone that you are the top dog."
University of the Incarnate Word presents the Red Dress Fashion Show & Health Fair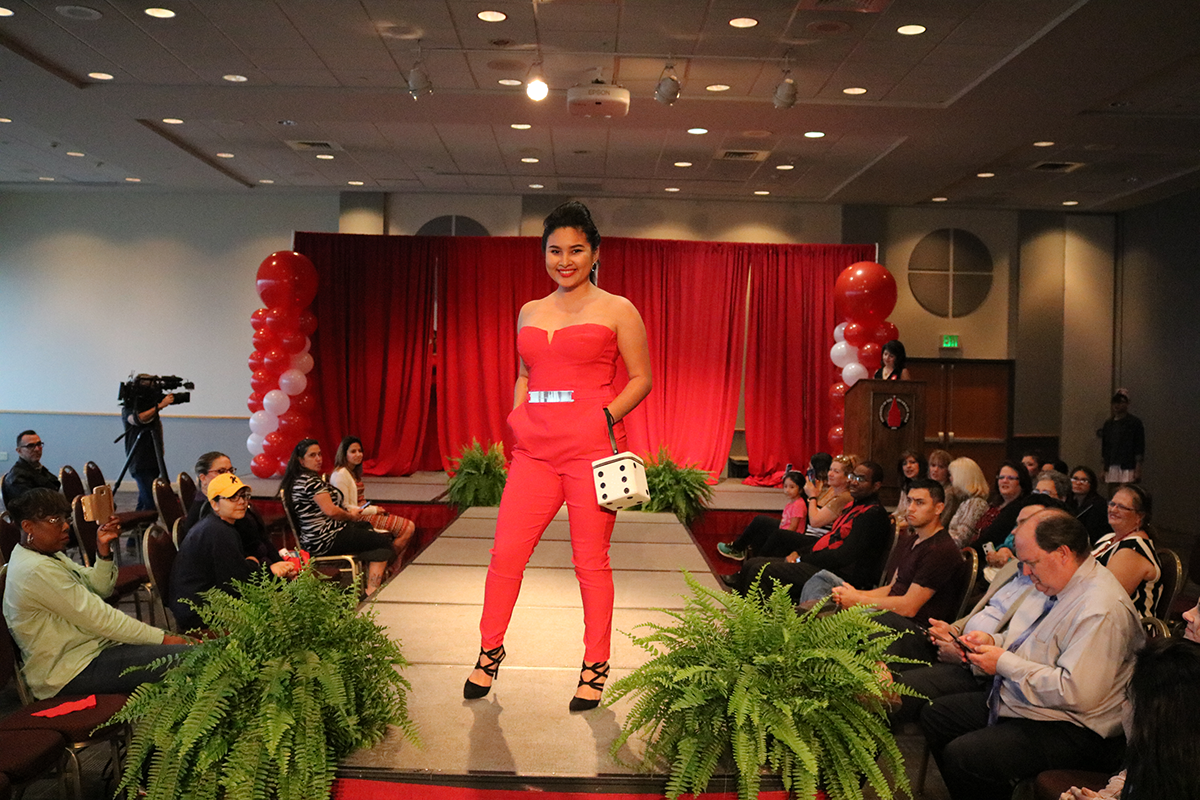 The University of the Incarnate Word (UIW) is proud to present the 15th Annual Red Dress Fashion Show & Health Fair. The annual celebration of healthy living and high style takes place Tuesday, Feb. 13, from 10 a.m. to 1 p.m. in the new Student Engagement Center (SEC) in the center of campus.
The community is invited to this free event that features health and wellness information, demonstrations and tips provided by students and staff from UIW's professional health programs.
Stop by local vendor tables to shop for accessories, handmade crafts and unique gifts, just in time for Valentine's Day.
At noon, find a spot in the SEC Ballroom for the main event, the Red Dress Fashion Show featuring fiery-hued ensembles from design students.
The annual Red Dress Fashion Show and Health Fair supports the American Heart Association and their Go Red for Women campaign during American Heart Month in February.