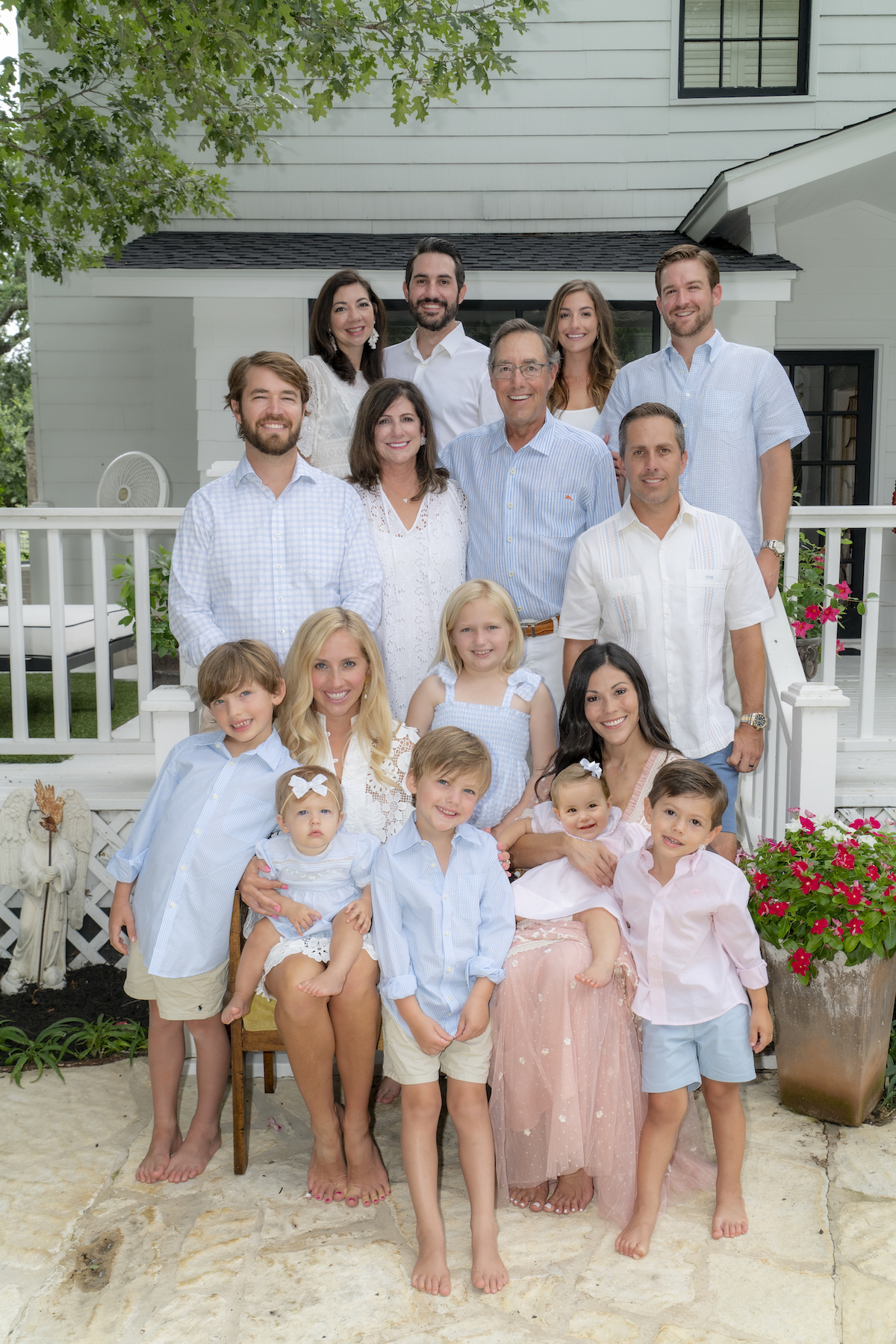 You can hear the happy chaos at the McCaleb house even as you enter the gate to the front yard. There are loud voices, laughter, and children's squeals, along with the excited barking of Jack, the newest member of the McCaleb clan.
Inside, the large family occupies every inch of their beautiful Terrell Hills home. It's a little overwhelming at first, but once the introductions are complete, the personalities start to unfold. John McCaleb is the very friendly and outgoing patriarch of the family, and his beautiful wife Margo is quite the interior decorator. She tells me that the house is undergoing a redecorating project, and there are several unique art pieces scattered about, just waiting for Margo to find them a new home.
John is a Partner Emeritus at Catto & Catto, offering risk management, insurance solutions, and benefits packages to businesses and individuals. This San Antonio-based company has grown substantially over the past 30 years, and it is well respected in the industry. John was born and raised in San Antonio and graduated from Alamo Heights High School. Margo was born in Illinois but moved to town when she was only two years old and eventually attended McArthur High School. The two met through mutual friends who thought they would be perfect for each other, and it turns out that their friends were right. They have been married for 41 years, and together they have four children and six grandchildren, and they have lived in their current home on Garraty Road for over 32 years.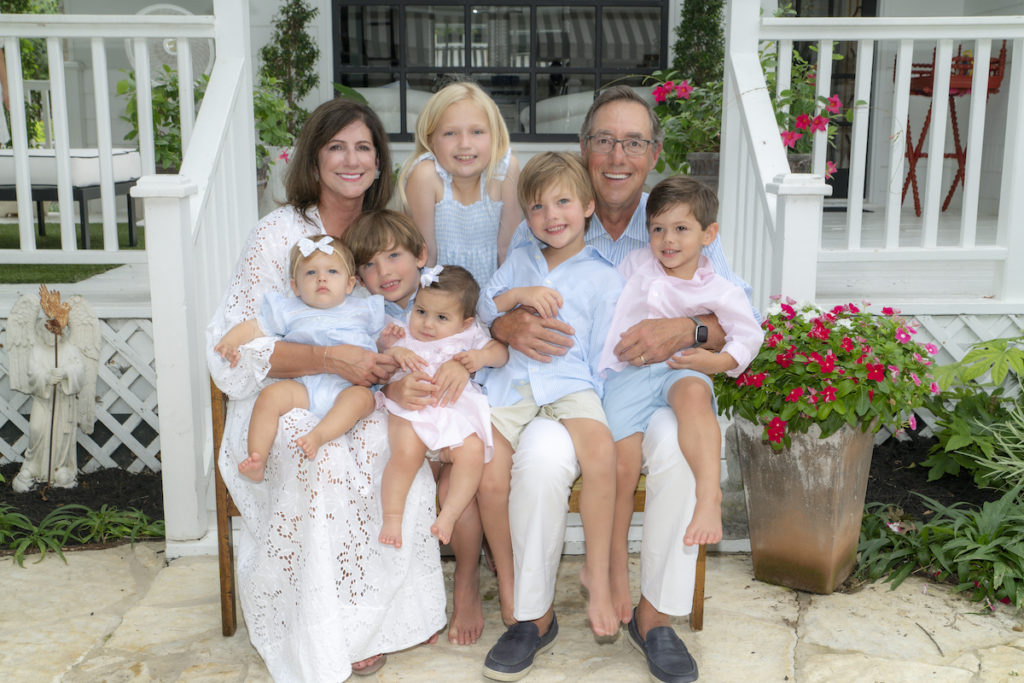 Their oldest son, Chad, runs a multi-family telecommunications consulting firm, and he is married to Amanda, who works as a realtor locally. Chad and Amanda live in San Antonio and have two children. Their son Vaden is a rambunctious 2-year-old, and their adorable daughter, Olivia, is nine months old.
Their daughter, Julie Friedman, and her husband, Kerr, have four children, Evie (8), Kerr (6), Rhett (4), and the baby, Sadler, is also nine months old. The family lives in Houston, where Kerr works in oil and gas investments. Julie is quite the entrepreneur and runs a unique company called Young + Wild & Friedman. When their oldest child, Evie, was diagnosed at an early age with a speech disorder and anxiety, Julie started a blog to offer advice to other parents struggling to find ways to calm their children's anxiety and encourage language development. This blog then turned into a dynamic company that now sells sensory toy kits and sensory playdough for children like Evie.
John and Margo's younger son, Jeffrey, is a Doctor of Physical Therapy, and he is married to Amber, a child psychologist. They live in San Antonio as well.
Rounding out the McCaleb tribe is the youngest daughter, Terrell. She lives in Austin, where she runs a luxury event company called Elle Fête with a partner. The company offers event planning and design for events in San Antonio and Austin. Her fiancé, Connor Flanigan, is an account manager for General Mills working with HEB. They are planning to get married this fall.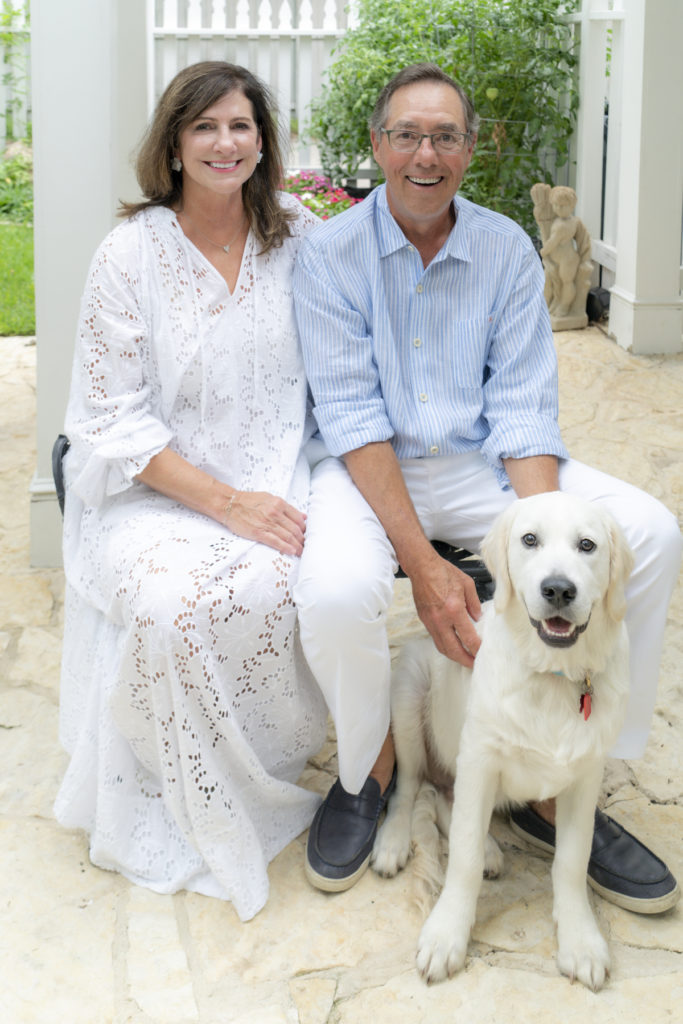 The family loves their Terrell Hills community, and Margo states, "This is such a loving and supportive community, where neighbors come together to celebrate one another and to be there for each other."
Since the couple has lived in the same house for so long, they have become very entrenched in the community. Margo tells the story of how her neighbors, and the community, rallied around them when Jeffrey was just three years old and diagnosed with Leukemia. She says, "We had neighbors who would mow our yard for us and bring us dinner while we cared for our son. This community really comes to the rescue for each other when you need them. Whether times are good or bad, everyone here will celebrate with you and also mourn with you. We feel very blessed to live here."
As the family moved about during their photoshoot, babies were passed around, children chased each other through the house, brothers teased each other, and the puppy made himself comfortable wherever he went. Still, even amidst the chaos, you could feel the love in the house. John and Margo McCaleb have been blessed with a beautiful life, and together they have created a legacy that will continue for many generations to come.
by Meredith Kay
Photography by Al Rendon