Broadway 50/50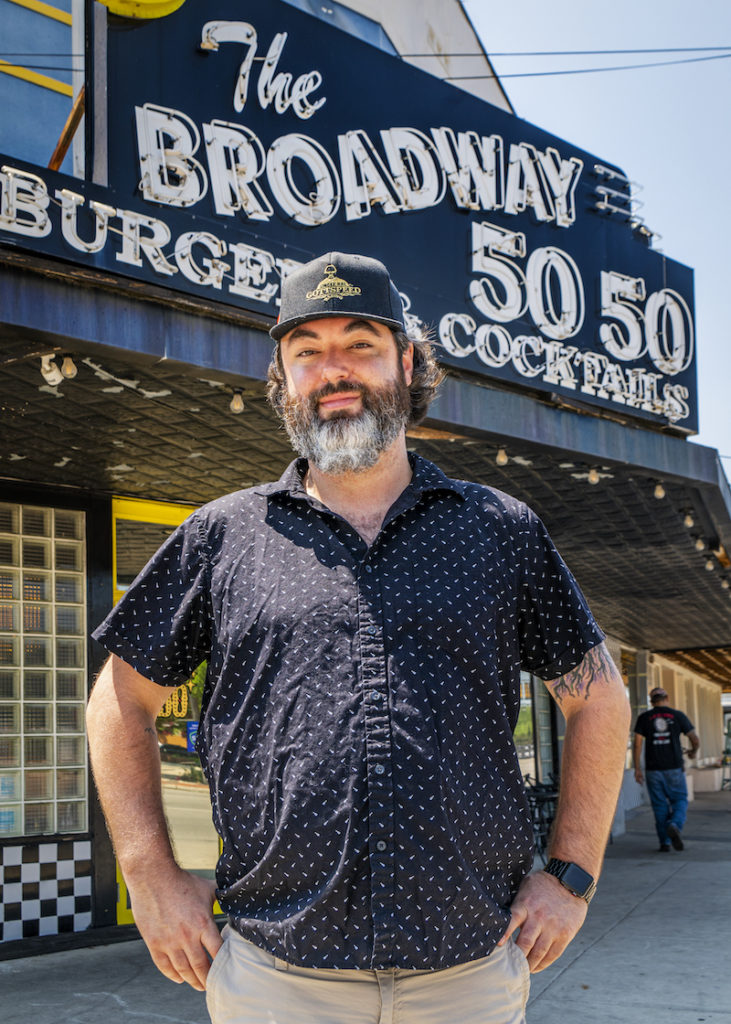 There probably aren't many San Antonio residents who can claim that they remember when Broadway 5050 opened, as it has been serving the community for 86 years now. This corner neighborhood bar and restaurant opened in 1935 as Montanio's Fifty Fifty Buffet. Over the years, it has become an established and beloved restaurant icon in our community, and it's still going strong. It's the perfect local spot to grab a few beers with friends or binge on a great burger that will burn your face off, providing both gastronomical pleasure as well as a little dose of pain.
The Broadway 50/50 takes its name from its address, and although it has been updated throughout the years, it still maintains the same cozy atmosphere that lifelong customers have come to love. The restaurant consistently ranks on the list of the best burgers in town, and for good reason. Their eclectic menu of burgers and sandwiches offers something to satisfy just about any craving for lunch or dinner or late-night munchies.
Their most popular and most brutal burger has got to be the "O'9er". It's stacked with ghost pepper cheese, jalapeños, chipotle mayo, bacon, lettuce, tomato, pickle, onions, and then it's topped with a fried egg. It is literally a fiery explosion of flavors that requires stamina and endurance to get through to the last bite, but it's tasty and satisfying if you can take the heat. Another fiery favorite is the Buffalo Chicken Sandwich, featuring an incredibly generous fried chicken breast bathed in their house-made Buffalo sauce and topped with tomato, lettuce, pickles, and onions. You are seriously going to give your jaws a workout with this delicious sandwich.
Along with the award-winning burgers, Broadway 50/50 also features some unique bar snacks to complement their impressive selection of tap beers, wine, and cocktails. You would never think to put together some ingredients, and I would have to add tater tots and refried beans to that list. However, Broadway 5050 somehow makes this work with their delicious and creative Totchos, consisting of a huge plate of tater tots loaded with refried beans, queso, pico de gallo, sour cream, guacamole, and jalapeños. It takes a few bites to wrap your taste buds around it, but you will definitely come back for more.
The bar is open every day, and you'll find a diverse crowd of locals who love to gather there. From family get-togethers to informal business meetings where deals are made over cheeseburgers and fries, you'll feel right at home amidst the skateboards, soccer scarves, colorful murals, and rock and roll themed tabletops. They also feature plenty of games to keep their patrons busy. Wage a shuffleboard tournament with your friends, hustle unsuspecting beer drinkers at the pool tab, practice your golf game on the putting green stage, or kick back and listen to some live music.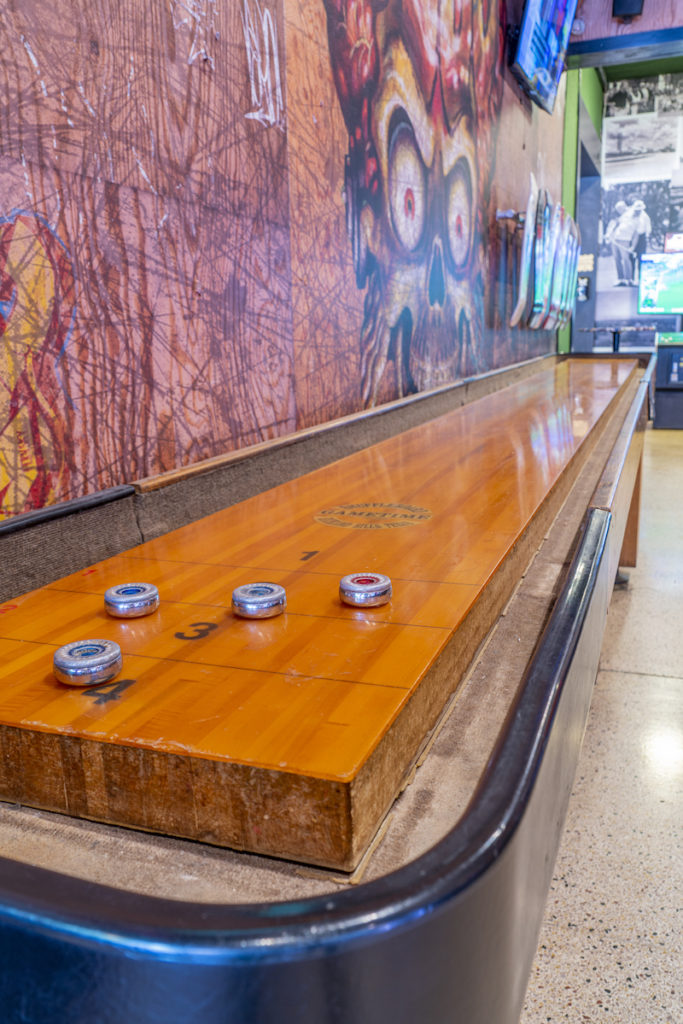 Broadway 5050 is also known in the neighborhood for its outstanding weekend brunch menu, featuring everything from chilaquiles to Nutella French toast. Their menus are online, along with a description of their daily specials and the Burger of the Month. July's featured carnivore creation is the Ranchero Burger with jalapeños (once again), a fried egg, hearty ranchero sauce, and it's topped off with a fire grilled jalapeño pepper.
Although the restaurant/bar is a small local establishment, it prides itself on the quality of its food and its selection of beers and liquors. All of the meat used in the burgers and sandwiches comes from The Smoke Shack, and the buns and sandwich breads are delivered daily from The Bread Box. The bar even makes its own ginger beer and soup of the day when the weather cools down.
Live music and other popular events like Karaoke Nights on Wednesdays and Saturdays and Trivia Tuesdays will return this summer. You can find a complete listing of upcoming events on their website.
There is always a reason to stop by 5050 Broadway for great food, cold beer, great music, and a whole lot of fun, and that's probably the reason that this neighborhood place has withstood the test of time for nearly one hundred years.
by Meredith Kay
Photography by Al Rendon