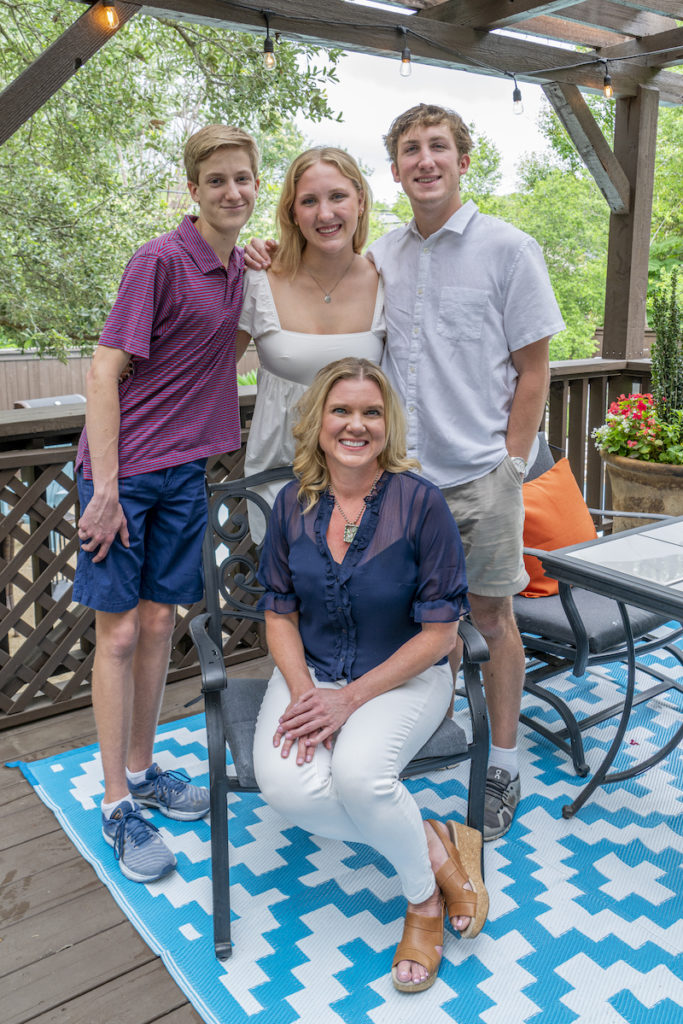 For many of us who were born and raised elsewhere, we still consider Texas home. As the saying goes, "I'm not from Texas, but I got here as fast as I could."
Michelle Young was born in Oregon and raised in Southern California. Still, she has called San Antonio home since 1998, and she is proud of her three children who have had the opportunity to grow up Texan in a neighborhood where community is everything. She moved here with her husband, Brad Young when he was transferred for a new position with SWBC. Brad grew up in Chicago but moved to California and met Michelle before relocating and settling into the architecturally diverse neighborhood of Terrell Hills.
Together the couple raised two sons and a daughter, but sadly, Brad lost his battle to cancer in January 2019. It was during this tough time that Michelle realized just how cohesive and caring her community could be. She states, "The community really rallied around us. Everyone was there for us, and the support for my kids was amazing."
Today, Michelle and her family are doing well. Her oldest son, Caleb, is 19 and has just finished his first year of college at Auburn University. He plans to work through the summer before tackling his sophomore year but was very excited for the opportunity to come home for an extended visit to see his sister graduate from Alamo Heights High School. Maia, 18, has been a standout athlete on the water polo team and plans to attend Texas A&M University, in College Station, in the fall. The youngest Young, Taj, is 15 and is wrapping up his freshman year as an Alamo Heights Mule, where he excelled as a Cross Country runner.
As any mother knows, raising three children so close in age is challenging. Michelle became an inspiration to her family several years ago when she decided to go back to school to finish her undergraduate degree. She took classes at San Antonio College, where she was a little apprehensive at first, as she was usually the oldest student in the class, but she persevered and eventually received a degree in Community Health from UTSA. She recalls the long hours and the work that it took to achieve her goal, and she is grateful for the loving support from her family.
Michelle beams with pride when she talks about her passion for the organization that her degree led her to find. Snack Pak 4 Kids was founded by Leslie Kingman, another Alamo Heights resident. The organization, "with the support of partners, donors and volunteers of all ages, provides weekend food supplements to students who are identified by their teachers, creating food security for them over the weekend."
Michelle explains that Snack Pak 4 Kids partners are essential in our communities for food-insecure children. "Our individual and corporate partners adopt an entire school, or several schools, and provide volunteers and financial support to put together weekend "snack paks" for students to bridge the gap between lunch on Friday and breakfast on Monday."
Currently, the organization serves 35 schools in 4 different school districts in San Antonio and feeds an average of more than 2,500 students each week. Michelle coordinates logistics, donor engagement, and volunteer scheduling for the organization and is proud that her own mother, who is 88 years old, works as a volunteer in the warehouse packing snacks to be delivered to the schools every Friday.
It's her passion for the communities that she serves and the fact that she gets to share the spirit of giving with her children, family, and friends that keeps her going every day. The Young family loves their neighborhood and their neighbors. There is even a back gate that leads directly to their next-door neighbor's yard, as they have become quite close over the years.
Michelle is a dynamic, outgoing, and beautiful lady who, with the help of her beloved community, has raised three respectful, intelligent, and ambitious children. She looks forward to watching her kids succeed in college and as they grow into adulthood, and she is grateful to live in such a tight-knit community that not only values its neighbors but shows up for them when life presents a challenge.
by Meredith Kay
Photography by Al Rendon