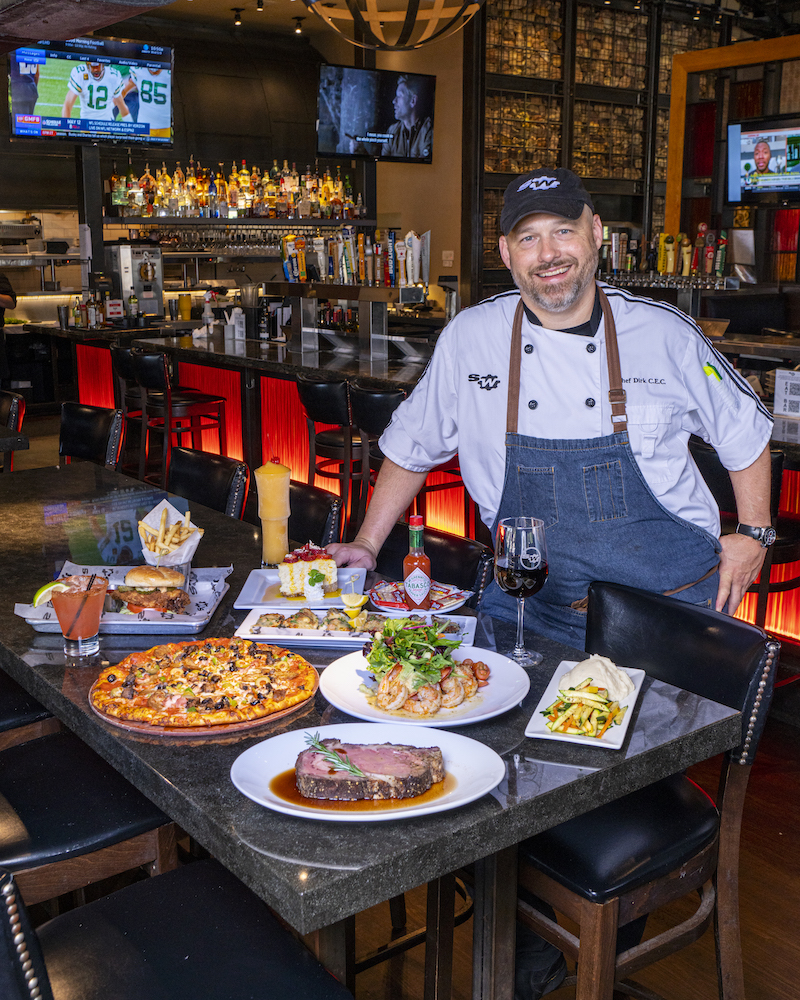 It's that moment we all dread, and we've all been there. We have family and friends assembled, trying to decide where to go to dinner, but nobody can agree, and everyone starts to get frustrated. Then somebody says, "I wish there was a place that has something for everyone." Well, there is, right around the corner.
Stonewerks Big Rock Grille has four San Antonio locations, but the original concept began right here in Alamo Heights. Originally housed in the building now occupied by Ida Claire, across from The Quarry, Stonewerks opened their doors in 1995 with the goal of bringing fresh, upscale casual American fare to the city. The idea was to take that rustic, old building and turn it into something special. Stonewerks became THE place to go, and it was an instant success. It continued to thrive and grow for 17 years in that location, but eventually, the company decided that they needed more space and a bigger kitchen so that the concept and the menu could expand.
The restaurant relocated to the corner of Broadway and Basse, in the Lincoln Heights shopping center, in November 2011. An extensive décor upgrade and remodel, they reopened, attracting new diners from across the city. The move paid off, allowing the Stonewerks brand to grow into their other locations, and creating the space needed to enhance the menu and bar program.
Currently, the kitchen is led by Executive Chef Dirk Troop. Originally from Lancaster, Pennsylvania, Chef Dirk has been at the helm of kitchens across the U.S. and in Costa Rica. He has called San Antonio home for nine years now, and fell in love with the city when he moved here to take over the culinary duties at the Westin La Cantera Resort. Married with two children, he states, "I wanted to put down roots with my family, and San Antonio just felt like home. I love the people and the diversity of the food culture in this city."
The menu at Stonewerks is very chef-driven, and Chef Dirk is excited to bring new dishes to the menu as the restaurant transitions into summer and more people begin to venture out socially following the pandemic. On a recent visit, he was excited to highlight some of the restaurant's most popular dishes.
Stonewerks has always been known for its outstanding raw bar, and it is still a destination for many of the restaurant's guests. You can get fresh Gulf oysters every day of the week, with several preparation options available. For the purists, slurp them down raw with just a touch of Tabasco, or try their always popular Oysters Rockefeller, baked with diced bacon, Monterrey jack cheese, and smothered with Rockefeller sauce. They are also now featuring their Louisiana Grilled Oysters for the summer, finished with a lemon garlic butter sauce, and topped with parmesan and Romano cheese.
For the carnivores in the group, you must stop by for dinner on Thursday, Friday, or Saturday for their Rotisserie Prime Rib. Served with the smoothest mashed potatoes, you'll ever eat and seasonal sautéed vegetables, this dish will make any night a special occasion. Another delicious favorite is the Crispy Fried Chicken Sandwich, served with fries. The chicken breast is hearty and tender and is served with lettuce, tomatoes, pickles, and chipotle mayo. There is even a Nashville Hot Fried Chicken version for the ambitious foodies.
The restaurant is also known for its outstanding pizzas and flatbreads. They make the dough and the pizza sauce in-house, using only the freshest ingredients, slow-cooked for hours. Order the Supreme "That's A Pizza," featuring pepperoni, Black Forest ham, Italian sausage, mushrooms, bell peppers, black and green olives, and three different kinds of cheese as a starter for the entire table, Or, pick one up to take home for dinner as a treat after a busy day.
Stonewerks has one of the most beautiful bars in town, and their craft cocktail menu is stellar. The bar hosts Happy Hour from 3:00 to 6:00 on weekdays, and you can indulge with half-priced appetizers and drink specials to kick off your evenings. Just in time for summer, Stonewerks will be featuring their deliciously refreshing frosé. This frozen rosé wine cocktail is just sweet enough to entice you to order a second one as you sit and enjoy the San Antonio summer on their spacious patio. The restaurant is hoping to bring back its live music series later this summer also.
The restaurant considers itself a "Rustic American Grille" and draws a diverse crowd of local diners, from business lunches to family dinners. When asked why diners return to Stonewerks, General Manager Priscilla Ledger states, "A person could come in every day for two months straight, and try something new on the menu every day." The food is consistently outstanding,  the atmosphere is warm and inviting, and in an industry that has been turned upside down this past year, Stonewerks is a hometown favorite that will continue to succeed and prosper for many generations to come.
by Meredith Kay
Photography by Al Rendon