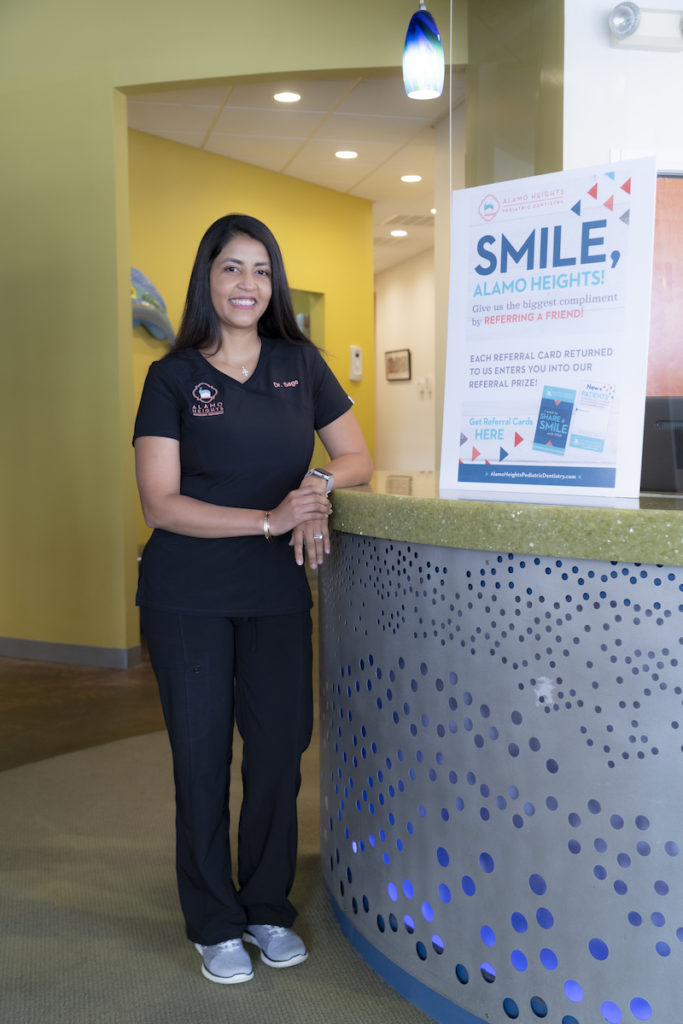 Ask any adult about their memories of visiting the dentist as a child, and you'll probably get some pretty negative accounts. Although the practice of dentistry can be traced back to 5,000 B.C., pediatric dentistry, as a practice, really only began to gain traction in the 1940s. Many of us grew up going to the same dentist as our parents did, and often it was pretty traumatizing. Luckily, the dental industry realized that treating children came with its own concerns and patient needs. The practice is rapidly changing and advancing to create dental facilities that cater to children to foster better dental hygiene and create a more positive experience.
Alamo Heights Pediatric Dentistry has been making the area's children smile beautifully since 2005. When you walk through the doors, you will feel like you have entered an underwater wonderland. The décor is bright and inviting, and the staff is friendly and welcoming. Children are instantly put at ease and transfixed by the colorful sea life, which includes a beautiful saltwater aquarium. The treatment area is open and inclusive so that young patients don't feel enclosed. Children's shows and movies play on multiple screens to engage their attention and put them at ease.
At the helm of this pediatric dental ship is Dr. Angie Sage, who took over the practice in 2017. She, along with Dr. Kathryn Walker, light up the room when they enter to greet their patients, and they are supported by an outstanding team of pediatric dental assistants and office staff. You will be hard-pressed to see a frown around this team, and the positive energy carries over contagiously to their patients.
Dr. Sage is a native of New Orleans and received her undergraduate and dental school degree from L.S.U. She came to San Antonio seven years ago to do her dental residency at the U.T. Health Science Center's School of Dentistry and is now enjoying life as a Texan with her husband and two toddler sons. She is a busy lady who never loses sight of her goal to make children comfortable when visiting the dentist and to help teach positive lifelong dental habits that kids can take into adulthood. Dr. Sage is passionate about her practice and states, "When children have a good experience at the dentist, it creates good habits."
She says the biggest misconception that people have about the need for pediatric dentists is the belief that all teeth are the same. The truth is that a child's mouth goes through so much growth and change once the first baby tooth erupts around six months old, and they require special care at different ages. "They are not just 'baby teeth.' It's not a 'one size fits all' concept, and children require special treatments to ensure good dental health as they grow."
It is recommended that a child should visit the dentist for the first time when that first tooth arrives, or at least within their first year. This allows the child to become comfortable with a dental exam and cleaning procedures. The focus should be on prevention, and it is essential to teach not only the child but also the parent how to brush correctly and create a daily dental routine. Doing so successfully will prevent cavities and encourage the child to actively become involved in his or her dental health. The dentists and assistants also talk to patients, and their parents, about healthy eating and snack options, providing a snack chart that can be posted on the refrigerator at home to remind family members what's good for them and what isn't.
Dr. Sage gets a little more serious when she discusses how important it is for her and her staff to stay updated with the latest pediatric dental studies and technology. "Doing a procedure on a child while awake is very challenging. Being inside of someone's mouth is invasive and can be very scary to a kid." She goes on to describe several new options in pediatric dentistry that are going to be "game-changers." One of those is Silver Diamine Fluoride (SDF). It is an anti-microbial solution for cavities that targets and kills the bacteria that eats away at the tooth and prevents the decay from spreading.
It is evident that the entire staff at Alamo Heights Pediatric Dentistry love their jobs, and they treat each patient differently according to their age and needs. From the tiniest toddler to the tallest teenager, your child will receive individualized care that will carry them throughout their childhood and into adulthood. Dr. Sage lights up when she talks about how rewarding it is to watch her patients grow up, share in their accomplishments, and celebrate their milestones. The practice is always taking new patients, and they accept most dental insurance plans and offer their own membership plan. You can call to schedule an appointment or log on to their website to make one online. At Alamo Heights Pediatric Dentistry, your child will walk in and be greeted by a team of smiles and walk out with an even bigger smile of their own.
by Meredith Kay
Photography by Al Rendon