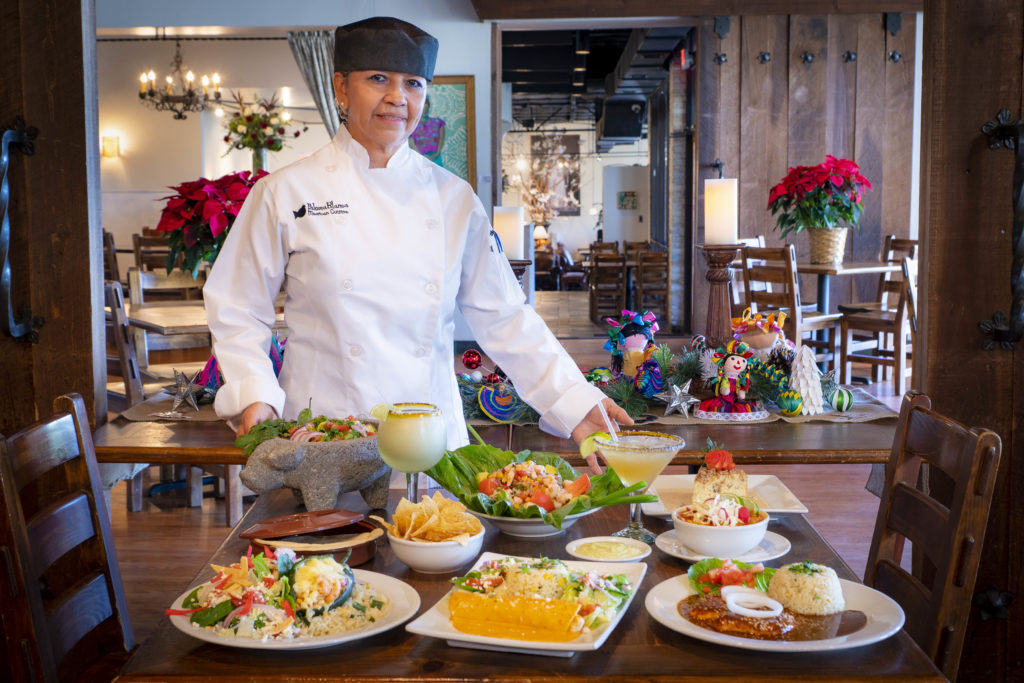 With so many Mexican restaurants to choose from in San Antonio, I've often wondered what makes those special few establishments stand out. What sets a "great" Mexican restaurant apart from a "good" one, and what do they do differently? We all have our favorite places that we may frequent or that one special dish that we find ourselves craving. Still, I believe that it is the right combination of consistency, commitment to quality, menu diversity, and an outstanding staff that elevates a restaurant's status, ultimately allowing it to become iconic.
Luckily, one of these iconic Mexican gems can be found right here in Alamo Heights. Paloma Blanca, tucked in the corner of a shopping center where Broadway bends, has been serving neighbors since 1997, and the restaurant has weathered the pandemic well, staying true to its roots with authentic Mexican cuisine representing nearly every region south of the border. The menu is substantial, offering traditional Mexican specialties from the country's interior regions and all along the coastlines.
The restaurant has one of the most beautiful interiors in town, with cascading water walls, intimate lighting, and traditional Mexican artwork throughout. There are several levels to the restaurant, and each room offers a different ambiance for everyone. From their beautiful lounge and well-stocked bar, mixing up their award-winning margaritas, to their lush patio area where you can enjoy the landscaping and the water features, Paloma Blanca welcomes you in like family and makes you feel like you are visiting a beautiful hacienda for a lavish dinner party.
Start your meal with one of their delicious appetizers like the Ceviche Del Mar or their Queso Fundido. Or better yet, order the Botana Grande for the entire table and please everyone with a sampling of their quesadillas, flautas, nachos, fried cream cheese jalapeños, and their house-made guacamole. The restaurant also offers several soups and salads to get you started, including their outstanding Pozole, with shredded pork, crunchy hominy, cabbage, onions, radishes, and lime. A meal in itself, their Ensalada Chabelita is one of their most popular salads featuring a giant Hass avocado overflowing with fresh Gulf Shrimp, corn, red bell pepper, chile serrano, and chopped cilantro atop a bed of fresh Romaine lettuce. The salad is tossed in their signature avocado dressing and is delicious.
Paloma Blanca specializes in authentic and traditional Mexican cuisine, and Head Chef Adelfa Dela Rosa has been leading her culinary staff of talented cooks for 22 years. Come for their outstanding Enchiladas '09, featuring two chicken enchiladas, one covered in their signature Crema Chipotle. The other is smothered with their tangy Crema Cilantro, served with their Poblano Corn White Rice and Ensalada Esmeralda. Chef Dela Rosa's Pollo Con Mole is a perfect choice for the more adventurous palate, with two chicken breasts covered in authentic Mole De Xico sauce and topped with ajonjoli (sesame).
The restaurant is taking reservations for the holidays and can accommodate up to 40 people for holiday parties. Decorated in traditional Mexican Navidad themes, your friends and family will have no trouble getting into the holiday spirit. They are also gearing up for tamale season, and Paloma Blanca's tamales are legendary. Just make sure to order your tamales 48 hours in advance.
Paloma Blanca offers lunch specials Monday through Friday and an outstanding Mexican brunch on Saturdays and Sundays, featuring some of the best Huevos Rancheros and Chilaquiles in town. Regardless of the time of day, you'll find something to satisfy your Mexican food cravings, and you only have to travel within your own neighborhood to do it. There is a reason that Paloma Blanca has been around for so long, and it has rightly earned its reputation as one of the "great" Mexican restaurants in a city full of taquerias and Tex-Mex.
By Meredith Kay
Photography by Al Rendon