GRADUATING CLASS OF 2020
For the Class of 2020, taking those final steps as an Alamo Heights High School Mule, meant so much more than simply crossing a stage to receive a diploma. It was a time to reunite with classmates and to celebrate the chance to be together again. The Class of 2020 faced many challenges during the last few months of their Senior year. Still, they embraced it all, marking the transition from high school senior to Alamo Heights graduate, in two unique graduation celebrations. With the original event and traditional ceremony canceled due to the pandemic, the students discovered
new and unique ways to celebrate their achievements. From Senior Shoutouts to Lighting Up the Night under the Stadium Lights, the Class of 2020 will forever be remembered as the class celebrated with parades of decorated cars and trucks, social media features, and unique graduation celebrations.
Graduation day looked a little different this year, but it was embraced in unique ways, with proud parents and family members sharing in the moment. A presentation of diplomas was held in front of Alamo Heights High School on June 2 at 11 am, with students arriving in cap and gown at the Mule statue to receive their diploma, while being cheered on by family and friends. Later that night, a graduation ceremony was held at the Real-Life Amphitheater, formerly the Verizon Amphitheater. Graduates and their families enjoyed a more traditional celebration while maintaining required social distancing protocols. The event provided an opportunity for the students to be reunited once again, to reflect on their time as Mules, and to look forward to what lies ahead, strengthened by their most recent challenges.
The high school staff honored two students with Outstanding Senior Girl and Boy, awards selected annually to recognize two students who exemplify great character, academic excellence, and a heart for service. The 2020 Outstanding Senior Girl was Lucy Gibbs, and the Outstanding Senior Boy was Milo Langmore.
Congrats, Class of 2020!
---
JOERIS LEADS SENIORS IN RAISING THE ROOF
Joeris General Contractors has been working alongside the Class of 2020 at Alamo Heights High School throughout the year, as they continue to construct the new buildings, gym, home side of the stadium and press box, as well as innovative classroom spaces, that will greatly enhance the campus. To mark the senior year of the Class of 2020 in a unique way, Joeris provided Seniors with the opportunity to sign one of the support beams that would be lifted into the new gymnasium ceiling. Students penned special messages, signed their names, and marked their time at AHHS, writing on the metal beam, a beam that will now be lifted high overhead to support a building, set to serve future Mules for generations.
---
MULES UP
AHISD's Transportation Department wanted to mark the close of a very unique academic year with something special and inspirational. How do you share your message of hope for your students, while being true to your school? You put your message in writing for all to see, and you write it using a few school buses. The AH-mazing design and message, Mules Up! was crafted by carefully maneuvering and parking 22 buses, and one Mighty
Mule Band Truck and Trailer, into a motivational message. Bus drivers crafted the message to celebrate the Class of 2020 and to share their love for
all their students and the district as a whole. #MulesUpforTransportation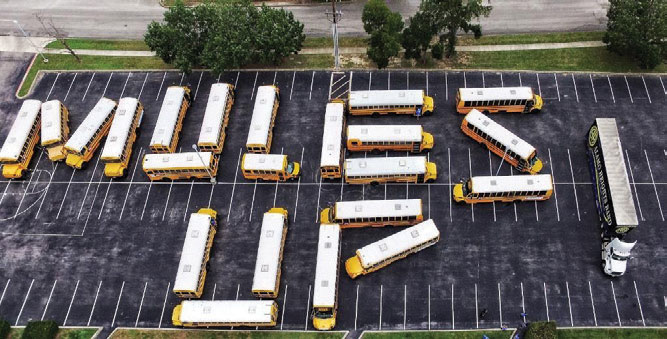 ---
A CAR-4-ALL-SEASONS
Principle Auto Group Partners, Abigail Kampmann, and Mark Smith, along with their team members, surprised Alamo Heights ISD Teacher of the Year, Lisa Barry, with her first set of keys to a "Car-4-All-Seasons."
Barry was honored and excited to be the recipient of the four vehicles. This tradition was created by Principle Auto just five years ago to honor the district Teacher of the Year annually. Barry will drive a new Principle vehicle every three months, culminating a year with four different Cars-4-All-Seasons!
Barry was named the Alamo Heights ISD District Teacher of the Year earlier this Spring. She has been honored as a finalist for the Trinity Prize and a finalist for the Humanities Texas Outstanding Teacher Award. Barry, a veteran teacher at Woodridge Elementary, is best known for her teaching of tolerance through the lessons of the Holocaust. Barry was one of the four women and the only teacher that convinced Texas lawmakers to create Holocaust Remembrance Week, which launched in January 2020.
---
AHISD TEAM SUPPORTS SA FOOD BANK IN DISTRIBUTING FOOD TO FAMILIES
The San Antonio Food Bank has been a great source of support to many families in the greater San Antonio area during the health crisis. Alamo Heights ISD staff jumped at the chance to support the Food Bank in their efforts to help local families secure additional resources to manage during these challenging times. District staff work in partnership with the Alamo Heights Police Department and the San Antonio Food Bank to serve students and families in need twice monthly.
---
SAINT MARY'S HALL CLASS OF 2020 GRADUATES MAKE THEIR MARK
Saint Mary's Hall (SMH) graduates are known for their impressive achievements and successes as well as the positive impact they have on their communities, while as students and beyond the gates of SMH. The Class of 2020 is an exemplary example of this legacy of accomplishment and stewardship.
Three SMH Class of 2020 graduates were recently featured as Great Graduates by the local news station KSAT Youth Orchestra of San Antonio musician, Javier Hernández, was accepted to Indiana University's Jacobs School of Music, one of the top music conservatories in the nation. Tristan Cantu, who has overcome personal tragedy and persevered to achieve his educational goals, is headed to George Mason University in Washington, D.C., to major in criminology. Shilpa Gunuganti, who has won prestigious speech and debate awards and started a legal non-profit to help members of the community, will study political science and economics at Harvard in hopes of having an impact in the public sector and local government.
In June, the San Antonio Express-News featured twin brothers, Avery and Ben Eugster, who committed to play basketball at Rensselaer Polytechnic Institute. The brothers, who led the Barons to a 28-9 record, were named to the TAPPS Class 6A All-State first team. Avery made the Express-News' Super Team, and both were members of the Express-News' All-Area team for private schools. Avery led the team in scoring at 20.7 points per game, and Ben was second at 16.7 points per game.
These recent SMH alumni are indicative of the many successful outcomes SMH graduates achieve, not only in academics, fine arts, and athletics but also in their service to the community. They go forth confident and prepared for success in college and fulfillment in life.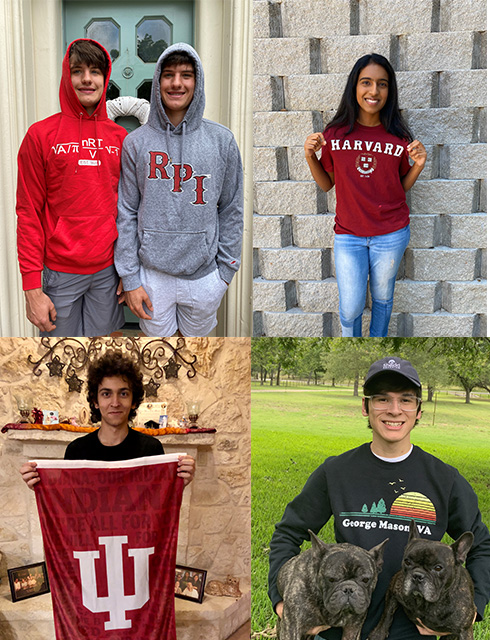 ---
ST. PETER SCHOOL WELCOMES NEW PASTOR
St. Peter School is excited to welcome new Pastor, Fr. Praveen Lakkisetti, on July 1, 2020. In addition to leading the church and school as Pastor, Fr. Lakkisetti will also join the St. Peter School faculty as the Religion teacher for 5th and 6th grade and Fr. Agustin Estrada, Parochial Vicar, will continue to teach Religion to 7th and 8th graders. St. Peter middle school students have the unique opportunity to take Religion class from parish priests who teach courses based on formal curriculum and the liturgical year, but also based on student interest, discussion, and current events.
Fr. Praveen Lakkisetti was born in India and joined the minor seminary in seventh grade. After completing his philosophical and college studies with the Salesians of Don Bosco, Fr. Praveen came to the USA in 2011 and began his graduate theological studies in San Antonio. He served as a transitional deacon at Our Lady of Perpetual Help Catholic Church in Selma and was ordained a deacon in 2016. After six months of diaconate ministry, he was ordained a priest for the Archdiocese of San Antonio on May 20, 2017.
Prior to his arrival in the USA, Fr. Praveen taught English and Economics at a college seminary for 11th and 12th graders with Salesians of Don Bosco and at St. Anthony's High School in Hyderabad, India. He holds Bachelors in Economics, English Literature and Philosophy. After his arrival in San Antonio, he pursued two Masters Degrees in Theology concurrently: Master of Arts in Theology and Master of Divinity from Oblate School of Theology. He is a columnist for Today's Catholic Newspaper. He composes lyrics for songs, and produced a set of liturgical Mass hymns CD, titled, NEE SATHYA SEVALO. He is fluent in Telugu, Hindi, English and speaks Spanish. Following his ordination in 2017, Fr. Praveen served as Parochial Vicar at Prince of Peace Catholic Church in San Antonio. Beginning July 1, 2019, Fr Praveen is assigned as administrator at Christ the King Catholic Church in San Antonio, Texas. He is looking forward to being part of the school community of St. Peter.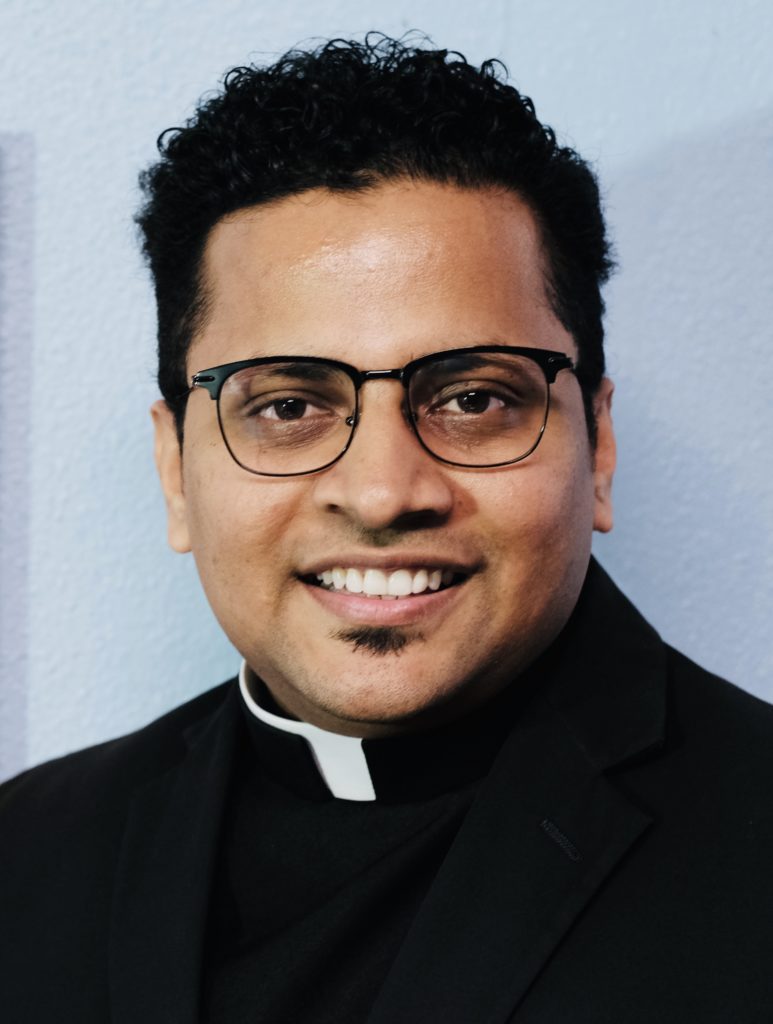 ---
THE LEARNING CENTER AT ST. PETER SCHOOL IS OPEN
The Learning Center, the early childhood center at St. Peter Prince of Apostles Church and School, reopened on Monday, June 15 after three months of closure due to the coronavirus. TLC Director, Barbara Bibb, has been working tirelessly to implement new procedures ensuring the safety of all children and families. The Learning Center is currently offering programming throughout the duration of the summer to children ages 18 months to 3 years old.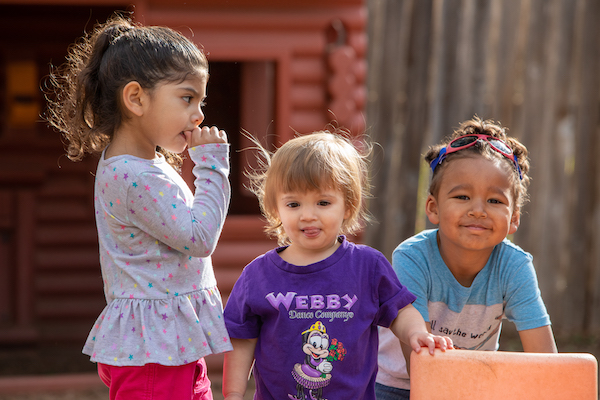 ---
ACCEPTING NEW STUDENTS FOR ON CAMPUS FALL AT THE CIRCLE SCHOOL
The Circle School has successfully navigated the brave new world of distance learning during the spring semester and fully intends to open for on campus education in the fall. With its small classes, a distinctive curriculum, passionate teachers, and an engaged cooperative community, many parents have found The Circle School to be the perfect place for their PK3 through 5th grade children. Founded in 1965, we are a family integrated cooperative school combining academic excellence with a unique curriculum oriented around storytelling, bridging the arts and sciences, nature-based education including gardening and sustainability, and respectful conflict resolution that encourages the development of compassion and empathy. We are internationally designated as an Ashoka Changemaker School in recognition of our cultivation of students with the skills and confidence to change the world for the common good.