Men of Steel, Women of Wonder
The San Antonio Museum of Art hosted the Super Art Museum Ball at the St. Anthony Hotel to celebrate the Men of Steel, Women of Wonder exhibit. Although black-tie was the attire, the theme was Let Your Hero Be Your Inspiration, where you dressed as your favorite superhero from stage, screen, literature, or life.) What an eclectic mix of superheroes! Guests were having fun with the theme and posing for pics at the many different areas decorated with live superheroes and statues.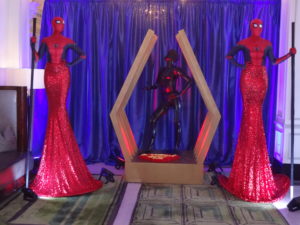 Wilkinson Rhodes-Billinda Wilkinson created backdrops of superheroes, added cool lighting and statues, red roses galore and a TV Batmobile which not only entertained the crowd but tourists downtown who stopped to pose and take selfies. Billinda is the go-to-girl when it comes to over the top, and I mean this in a good way! It's always exciting to see what she puts together and it makes for one heck of a good party!
Chair Jenny Schimpff and the committee put on a fabulous party that will be difficult to top! Jenny rocked the outfit specifically created for the occasion and piled her hair into a perfect beehive.
Guests mingled and sipped cocktails as they posed in front of statues and waited for the doors to open which showcased dazzling tables of floral arrangements and party favors related to the theme. A few committee members spotted included
Claire Golden, Melissa and Thomas Aguillon, and Shari Hromas. A few other attendees spotted included Jennalie and Sean Lyons, Sally and Wayne Woodard, Hunter Henke and Epitacio Resendez.
Celebrity Fan Fest
In less than a year, PMX Events held its second Celebrity Fan Fest, a pop culture fan festival, in June at Freeman Expo Halls and Freeman Coliseum. Over 36,000 people from Texas, plus visitors from 44 states, and seven countries attended the three-day festival to anxiously meet their favorite celebrities from film and television. This year's star-studded lineup featured special appearances from Jeremy Renner, Jason Momoa, Anthony Mackie, Benedict Wong, Amber Heard, Lee Pace, Dolph Lundgren, Fred Savage, Ray Fisher, Kimberly J. Brown, Alexandra Shipp, Yahya Abdul-Mateen II, Finn Bálor, Daniel Bryan, Becky Lynch, Ernie Hudson, Walter Koenig, Joe Flanigan, Robert Picardo, Butch Patrick, Robert Wuhl and Malik Rose. In addition to A-list Hollywood stars, attendees had the unique opportunity to view a carefully curated selection of the most iconic vehicles in Hollywood at the first-ever "CARS as STARS" exhibit, courtesy of this year's title sponsor, H-E-B. The new exhibit showcased more than 25 famous vehicles such as ECTO-1 of "Ghostbusters," DeLorean of "Back to the Future," the 1966 Batmobile, Shaggin Wagon of "Dumb and Dumber," Black Beauty of "Green Hornet" and K.I.T.T. of "Knight Rider." Celebrity Fan Fest is just getting started and is proud to reveal that fans can expect its return in June 2020. Never underestimate the power of a star-studded sequel!
Wishing Lanterns
An ethereal experience of casting lanterns into the river in honor of loved ones, hopes, dreams, and wishes takes place August 24th from 5:00 pm till 10 pm at the RiverWalk. Admission is free. Lanterns are $5 each (sold at the event or pre-ordered online). Decoration stations will be available to decorate and personalize your lanterns at the event. Entertainment includes festival dancing to thematic music and food trucks.
Fontaine's Southern Diner & Bar
Located at 906 E. Elmira Street, Fontaine's is a restaurant and bar featuring Southern food and a selection of 80 hand-selected quality whiskeys. The menu boasts southern low-country staples like fried green tomatoes, grits, pimento cheese sandwiches, biscuits & gravy, and country ham. A great place for a relaxing brunch with friends when you're ready to take it easy like Sunday morning.
Urban Smoke
Located at 1015 Rittiman Road, a fast-casual Texas BBQ joint with a cajun twist. They serve meat by the pound, or as one, two and three meat plates that include your choice of two delicious sides. Additionally, they serve cajun specialties like catfish, gumbo, red beans & rice and sweet New Orleans style beignets.
Mr. Juicy
Located at 3910 McCullough Ave., "Do one thing well"…seems to be the motto at Mr. Juicy, a new restaurant serving only burgers, fries and shakes. The burgers, as advertised, are juicy and ooey-gooey if you add cheese. The french fries are crisp and crunchy and the shakes are decadent. Plus you can order your burger "wet" which means dipped in their signature creamy, delicious au poivre sauce.