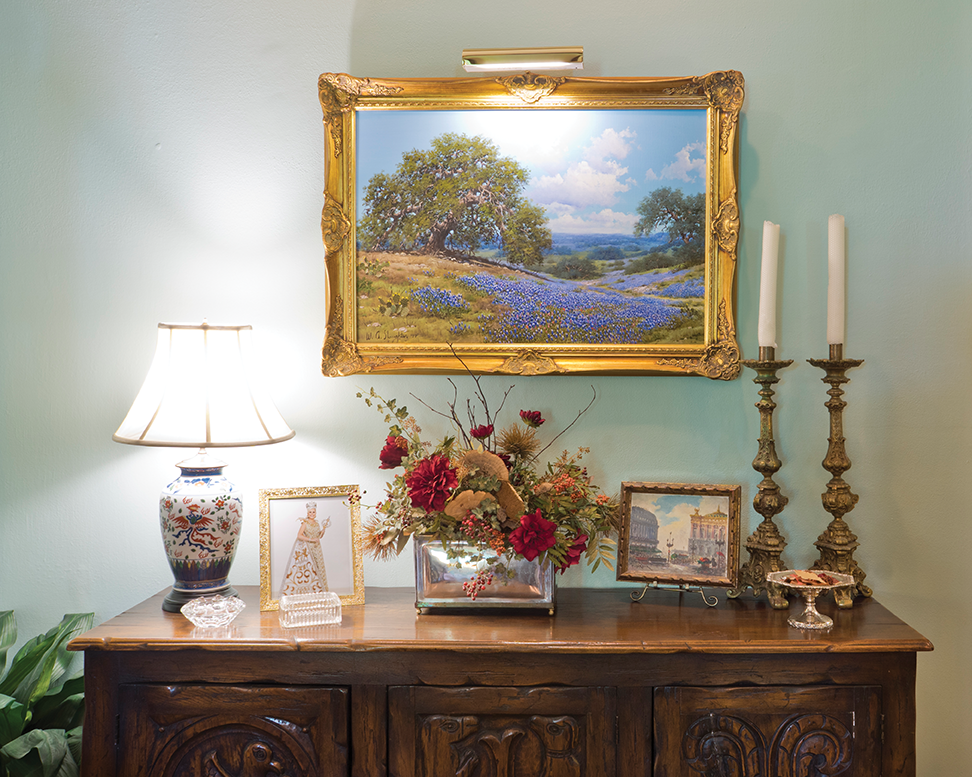 When the current home of Kathryn and Pat Lutts was built in 1928, it was situated on the highest point in the area, just blocks from Marion Koogler McNay's estate. In the evening, the sound of pet peacocks and bullfrogs from the McNay's pond resonated throughout the neighborhood.
Several years ago, the Lutts were looking to downsize from a large, two-story home to a single story dwelling. Longtime friend and design consultant Derrick Dodge found a home that was suitable. He persuaded his clients to take a look.
"Just come by after church and take a look," Derrick insisted. Upon first glance, Kathryn did not want to step foot out of the car. Pat said, "Oh, let's go in."
The Arts and Crafts style cottage did not have steps, grass in the front yard was nonexistent and there was no retaining wall to keep the lawn from rolling down the street. After inspection, they were assured by the masterful interior decorator that "this house has good bones."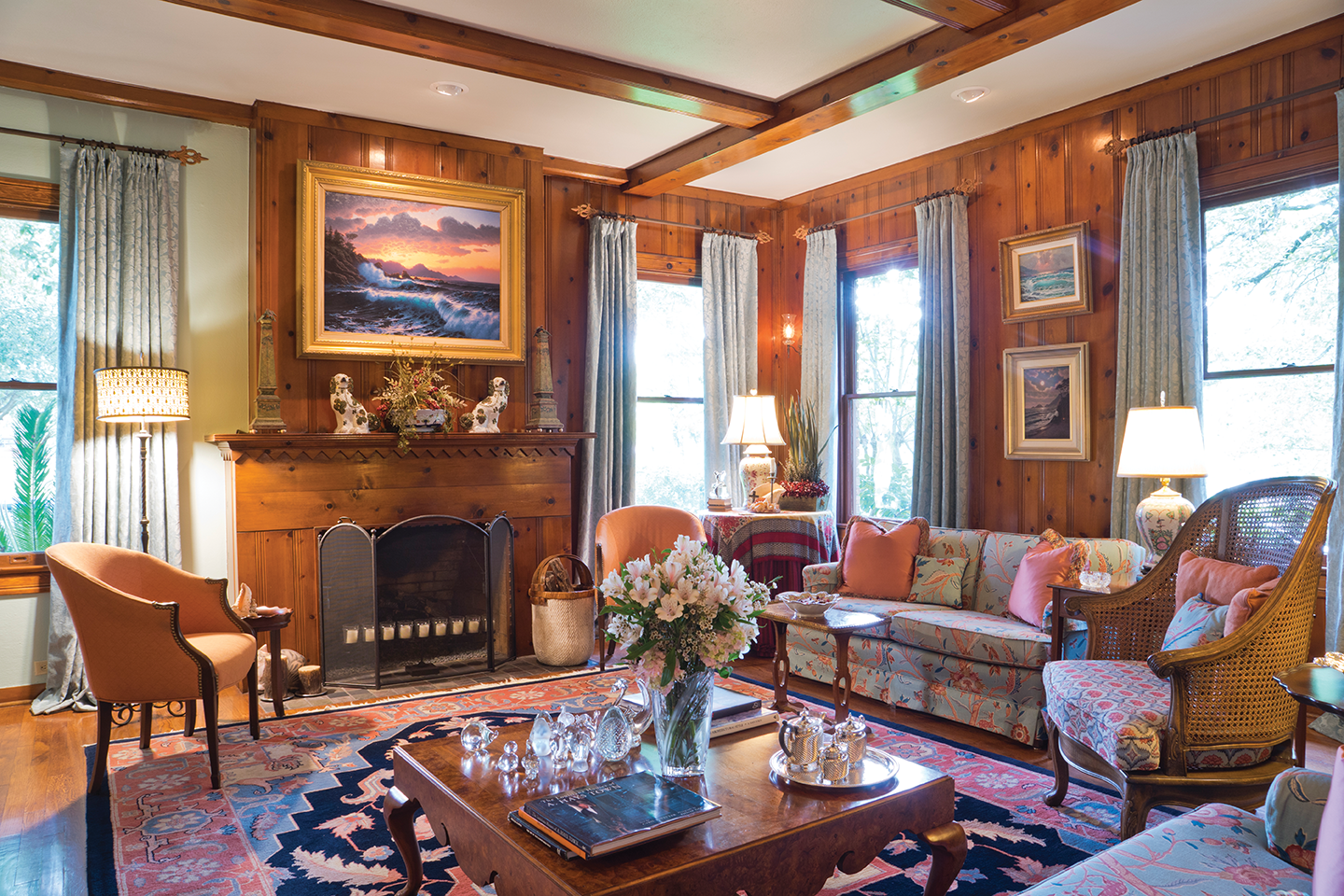 "We bought it," declared Kathryn.
The bones were still intact, but sterile white walls and brown Venetian blinds on every window darkening the interior spaces called out for Derrick Dodges' expertise. "We started with the rugs," Derrick explained. "Kathryn has a passion for color and we pulled the hues for the paint, pillows, draperies and upholstery from the antique and vintage area rugs."
The living room had its original long leaf pine mantle, ceiling beams and an alcove wall paneled in the wood that had been milled in Virginia from the forest where Daniel Boone once hunted, according to Derrick's resources.
Over the mantle hangs a seascape in Carmel, where the couple spent their honeymoon in lodgings that overlooked a scene similar to the one that greets them each day. Barrel back chairs flank the fireplace where a pair of Staffordshire dogs holds court, a gift from Derrick to Kathryn.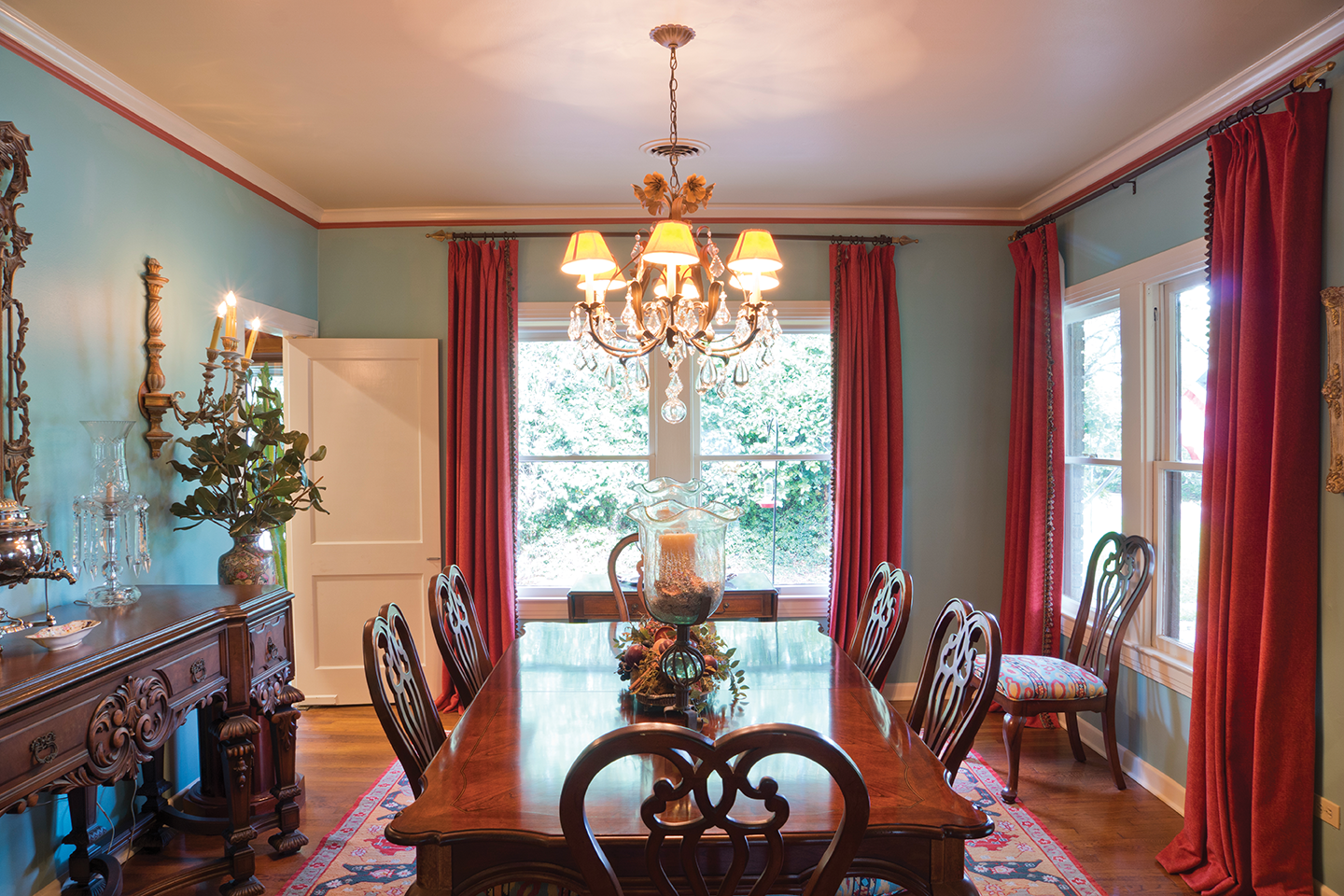 A collection of cut crystal eggs and animals rest on a cabriole legged coffee table holding a crystal vase of fresh cut flowers and diminutive silver and wooden handled tea service. A comfortable, high-backed French armchair is upholstered in a cheery floral pattern of pale turquoise and coral, picking up hues in the sofas and draperies. Curtain rods are distressed to give an acquired look fitting the home's longevity.
A custom archway of long leaf pine leads guests to the formal dining room where walls are bathed in luxurious soft turquoise with chili pepper, floor length draperies that pick up the stripe of chili pepper red crown molding. A pair of English mahogany pedestal cabinets displays Chinese urns holding an abundance of magnolia branches. A circa 1920s credenza, mahogany dining table and chairs in the French style offer an inviting repast with family and friends.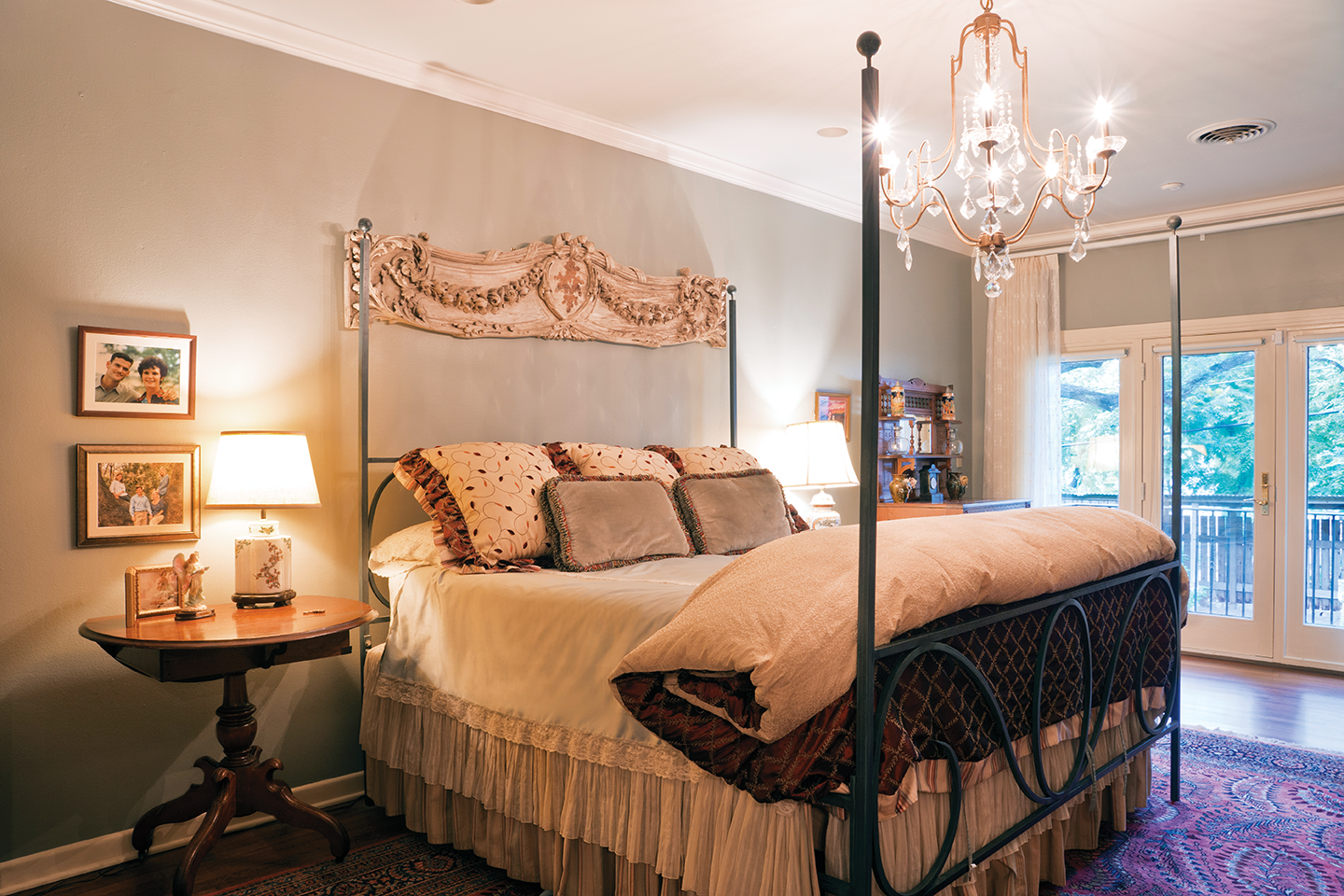 Texas art, African sculpture and Mexican folk art fill the den with coveted collections from diverse travels. Michael Frary, an influential Texas modernist, painter of Texas watercolors, and respected UT-Austin art professor's series of "Watercolors of the Rio Grande" takes pride of place in the comfortable setting.
A deep, leather sofa provides creature comfort stacked with Kilim covered pillows pulling color accents from the hand-knotted Tabriz rug. An antique pine chest with nail head and metal top holds a collection of African art brought back from a trip to the vast continent. Walls of ochre and chili pepper red add vibrancy to the room.
Every room in the Lutt's home holds treasured memories of a blended life. Both were previously married and had met many years ago in San Antonio over a mutual passion for the game of tennis. Years past and they led separate lives. A Dallasite and recent widower, Pat traveled to San Antonio on business and inquired with mutual friends "where is that girl we used to play tennis with?"
That was over seventeen years ago, and it has been a love match ever since.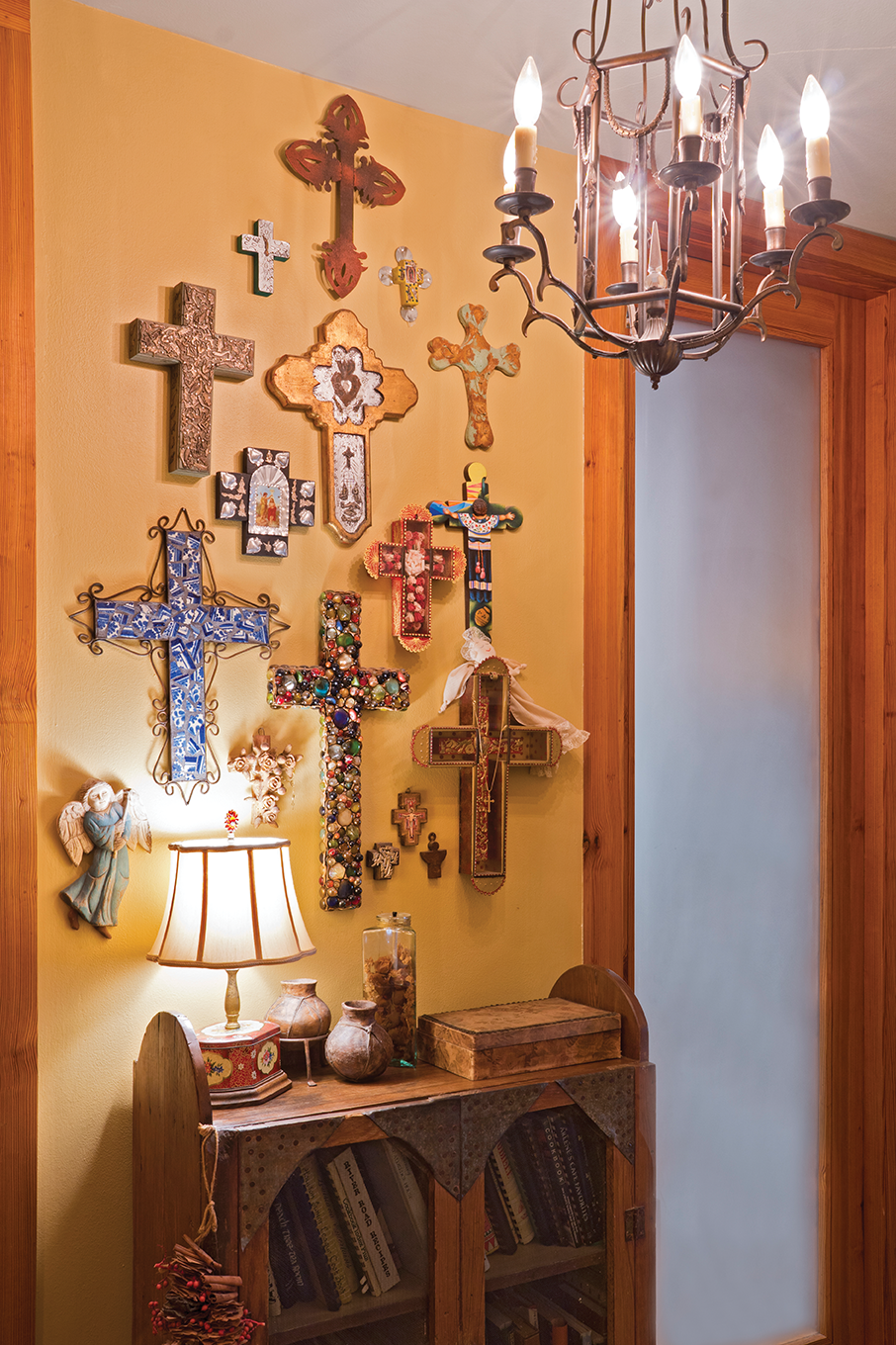 By John Bloodsworth
Photography by Al Rendon