Step Back In Time For A Great Time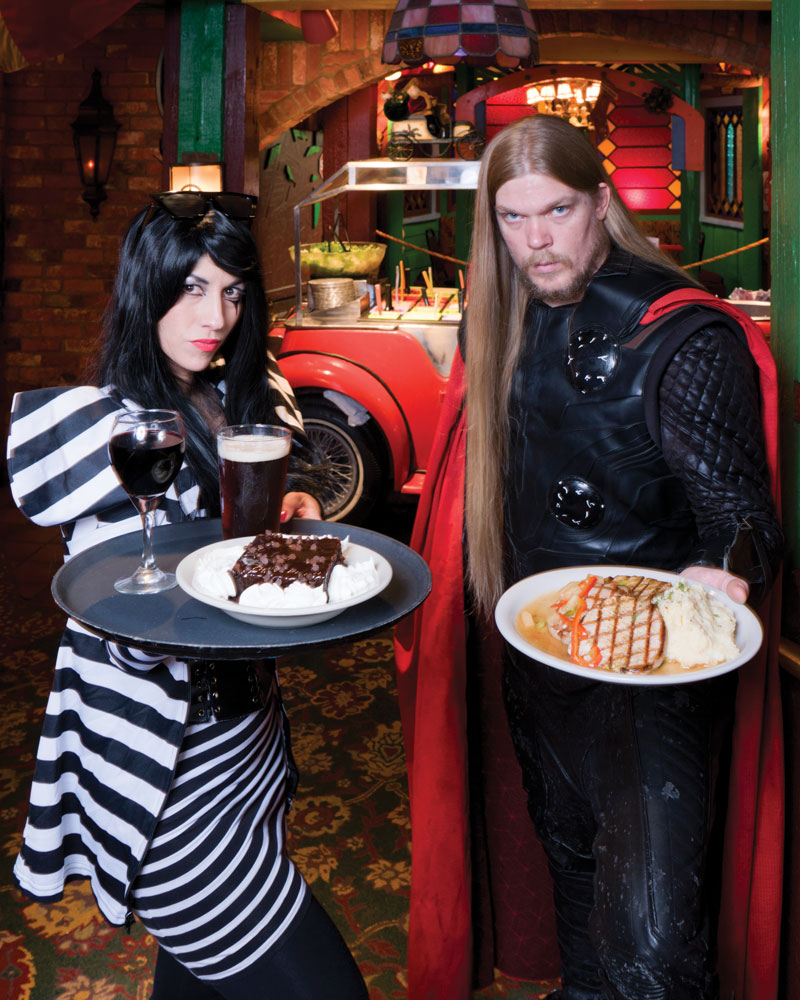 Usually when dining out, one might be concerned when encountering a server that looks like Thor or Beetlejuice, but one San Antonio restaurant has been capitalizing on its unique, character driven atmosphere for 45 years now.
The Magic Time Machine has been entertaining diners since 1973. Today, this Alamo City icon continues to prove that great food, paired with a little shtick and a lot of tchotchkes, can go along way. Located on the access road between Broadway and Nacogdoches, The Magic Time Machine restaurant has changed very little during its 45 years. You will still find huge portions of American comfort food, as well as their famous "Salad Car," which is an actual 1952 MG-TD Roadster modified to serve as a soup and salad bar. Every meal includes a trip to the salad car, but save room for your entrée, because the meals are so large that the restaurant goes through an incredible amount of "to-go" boxes. Throughout the restaurant, you will find incredibly interesting decor around every corner, and no two dining areas are the same. There are themed dining nooks with round tables and booths, and multi-level seating rooms dedicated to different eras and historic pop culture. Your entire family can dine in the Monopoly Room, where the dining table is an actual Monopoly board, completely set up with money and playing cards under a thick coat of varnish. Or, you can have dinner in an old industrial walk-in refrigerator. There are so many unique spaces, that you are sure to have a completely different experience with each visit.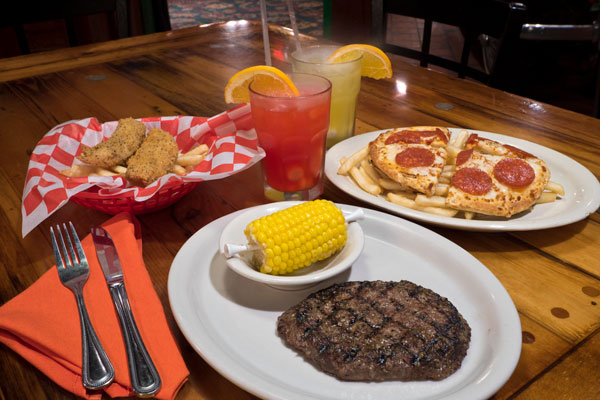 The menu at The Magic Time Machine has stayed consistent for many years, and still features their famous hand-cut steaks, thick prime rib and fresh seafood. There is truly something for everyone here. So, whether you are in the mood for their hearty Smoked Pork Loin served with mashed potatoes, and a red bell pepper and pineapple salsa, or a perfectly broiled filet of salmon, served with rice pilaf and grilled vegetables, you will most definitely not go home hungry. I would imagine that most San Antonians have dined at The Magic Time Machine at some point in their lives. It is still very popular for birthday celebrations and special events. Fun is still the most important item on the menu here, so the little ones are not overlooked. The restaurant has an extensive Kids Menu with all of the standard favorites. Even the drink menu strives to entertain, with their "bubbly" dry ice concoctions for both adults and kids alike.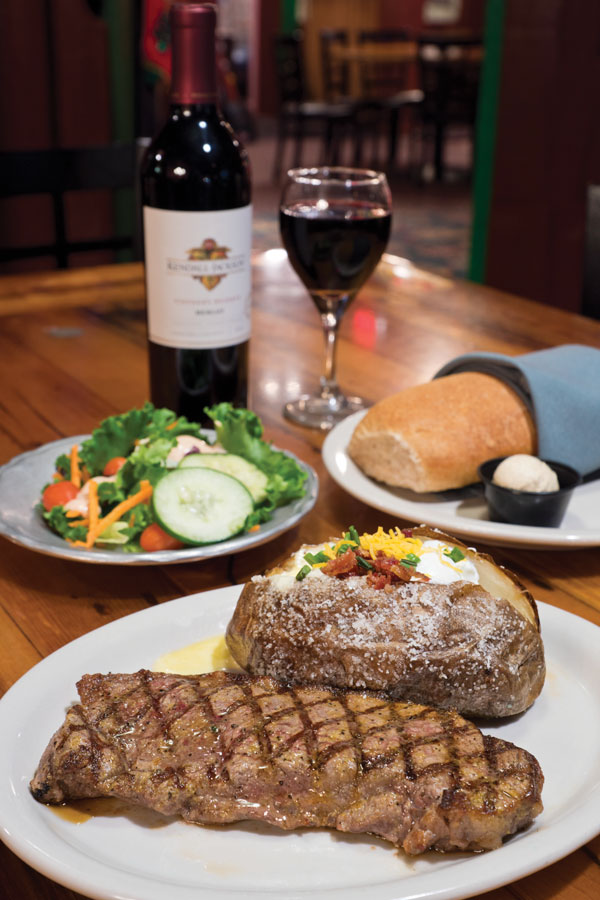 The Magic Time Machine also offers a lively bar scene with live music on Tuesdays, Wednesdays and Thursdays. Happy Hour runs from 5:30 to 7:00 every single day, with house specials from 9:00 to 11:00 p.m. On Friday nights, the small and intimate basement bar turns into the Blind Tiger Comedy Club. Here, touring comics stop by after their shows to do late night sets and try out new material. Saturday night is Open Mic Night for local, aspiring comics and improv groups. If you are a fan of comedy, then you must put this place on your bucket list.
Often busy and always lively, The Magic Time Machine is a great destination restaurant when you are looking to experience something a little different, or if you just need a shot of nostalgia. The food is great, and the atmosphere is unlike any other place in town. It has been a San Antonio staple for a very long time, and it doesn't show any signs of fading into the past. In fact, The Magic Time Machine is keeping the past alive, one hearty plate and a handful of gimmicks at a time.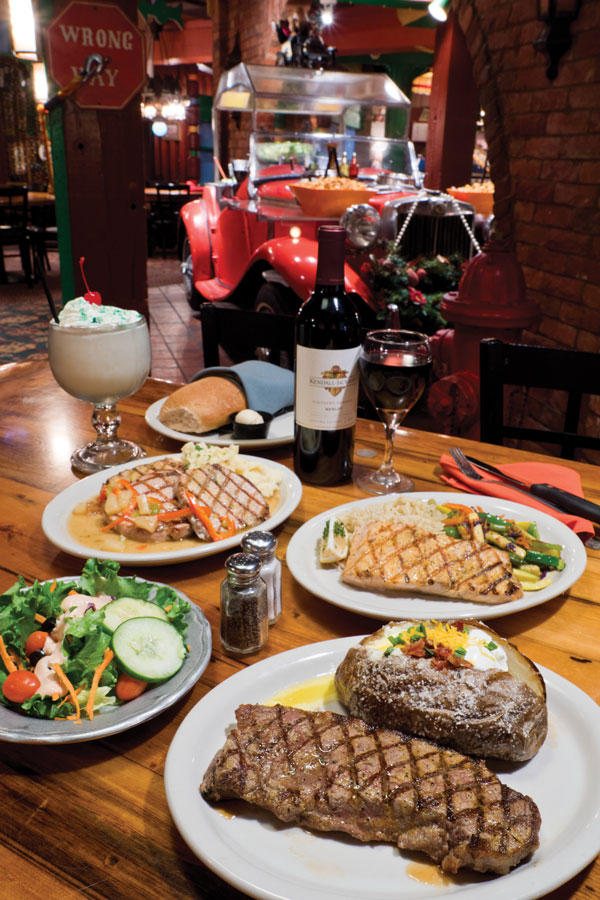 Magic Time Machine
902 E. Loop 410 (between Broadway & Nacogdoches)
San Antonio, TX 78209
(210) 828-1478
magictimemachine.com
Hours:
Monday – Thursday 5:30 to 9:00 p.m.
Friday 5:00 to 10:30 p.m.
Saturday 11:00 a.m. to 10:30 p.m.
Sunday 11:00 a.m. to 9:00 p.m.
BY MEREDITH KAY