ELEVATING YOUR DINING OPTIONS
Studies have shown that most new, independent restaurants will fail in the first year of operation, and for those that make it past the one-year mark, most will shut their doors by the third year. Consistency, great management and outstanding food that keeps diners returning is obviously key to running a successful restaurant, and there is one fine dining establishment that has not only withstood the test of time, but instead, has thrived and grown into a culinary force to be reckoned with here in San Antonio.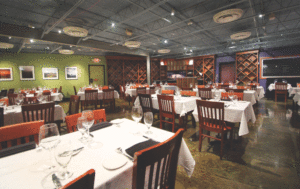 Silo has served diners in Alamo Heights, at the same location, on Austin Highway, for 20 years, and they continue to serve some of the best modern American cuisine in the city. Their menu changes with the seasons, and many of the ingredients are sourced locally when available. You will always find something new and exciting on the menu at Silo, but you will also be able to satisfy your cravings for their signature dishes when you've just got to have your Chicken Fried Oysters, or that amazing Coconut Cream Pie. I have lived in San Antonio for 25 years now, and I remember my very first visit to Silo right after they opened. I was completely taken with their Duck Spring Rolls, and I vividly remember savoring each bite. I can honestly say that this appetizer is still one of my favorite dishes, and I was absolutely ecstatic to learn that it remains a staple on the menu at Silo in Alamo Heights. The quality has not wavered at all. They were very crispy, the duck was seasoned perfectly, and the addition of the sweet Hot Fanny Dipping Sauce offers the perfect combination of sweet and salty.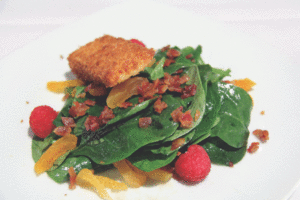 Another long-time favorite still pleasing the locals, and impressing foodies new to the restaurant, is their Chicken Fried Oysters. "We probably sell more of this dish than any other," states General Manager Jennifer Souders. They are very tender on the inside, with a whole grain mustard hollandaise sauce that complements the flavors impeccably. Silo serves several great appetizers, as well as a salad for every palate. One of their signature salads is the Spinach Salad with Crispy Brie, Applewood smoked bacon, raspberries, dried apricots and it is tossed in a Spanish Sherry Vinaigrette. It is delicious, and it was devoured on my recent visit for lunch.
Silo's Executive Chef, Brian Austin, keeps the menu fresh, and adds dishes to the menu as the seasons change. There will always be a few featured specials, along with their Silo signature entrées, and there is something for everyone, whether you're hungry for a great steak, fresh seafood, or something vegetarian. On the day that I had the pleasure to dine at Silo, Chef Brian created an outstanding Pan Seared Trout, served on a bed of sautéed spinach and angel hair pasta, with a delicious lemon beurre blanc and caper sauce. The trout was delicate and plentiful, and the spinach had a hint of garlic without being overpowering. It was definitely a dish worth returning for and would be a great choice in the cold winter months, as well the sweltering heat of summer here in San Antonio.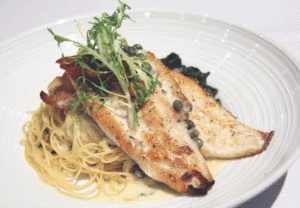 Since the Alamo Heights location of Silo first opened nearly 20 years ago, the owner, Patrick Richardson, has expanded his culinary reach into San Antonio with other locations around town. Silo @ 1604, near Blanco, was the second location to open and continues to be packed every night. Silo Terrace Oyster Bar, located in the Dominion Ridge Shopping Center, off I-10, features "the freshest oysters from East Coast boutique harvesters," along with some of the best seafood in town. Recently, Silo Prime Steakhouse opened inside the historic Fairmount Hotel, and became an instant downtown hot spot.
Silo's flagship Alamo Heights location also offers a fantastic Happy Hour at their downstairs bar, and it is even available on Saturdays. During Happy Hour, guests can take advantage of $5.00 martinis and select appetizers, and even catch some live music on Fridays and Saturdays. The building that it is situated in is an interesting configuration, with the entrance to Silo around back and up the elevator, while the bar is downstairs. The front of the building houses Nosh, another restaurant owned by the Silo group. This casual café is helmed by Chef Luca Della Casa who was a finalist on Food Network Star, Season 10, and features delicious small plates, snacks, pizzas, and salads.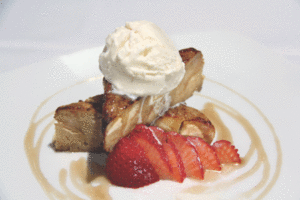 In a city that is fast becoming a foodie destination here in the United States, San Antonio has many dining options, and fantastic new restaurants to experience, but there is something to be admired, and respected, when a local, independent restaurant can successfully continue to serve great food consistently for 20 years. I truly believe that Silo will remain the elevated choice for outstanding quality dining for many more years to come.
By Meredith Kay