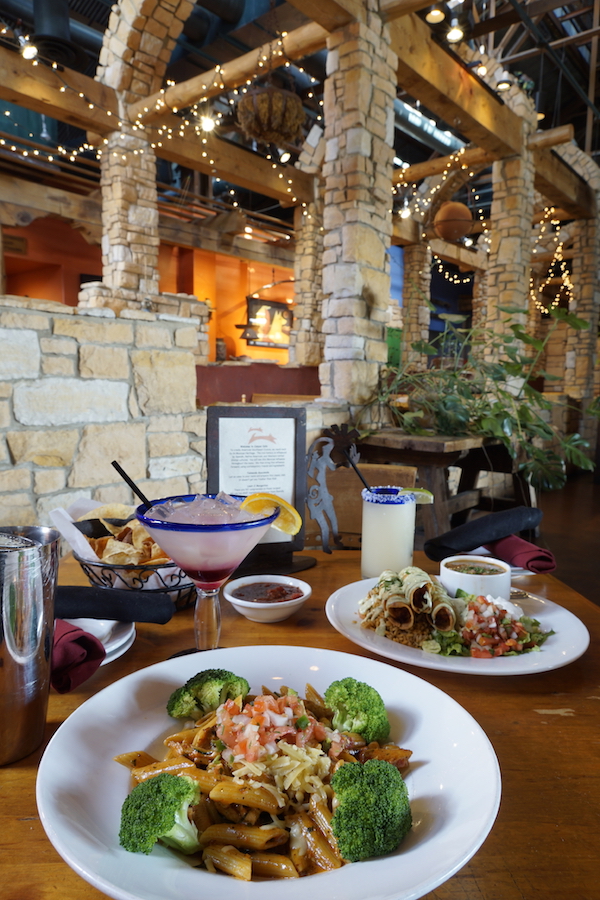 Experience the Flavors of the Southwest
What exactly is Southwestern cuisine? In the city that invented Tex-Mex (as well as the breakfast taco, mind you,) it might get a little confusing. Southwestern cuisine is one of the original American fusion foods, a blend of cultures that chose to settle in the Southwestern territories that we now call Arizona, New Mexico, and Texas.
With the flavors of Mexico, South America, and Native American tribes, Southwestern cuisine is unusual but familiar at the same time and can be quite flavorful when it is truly authentic.
Canyon Café, located in the Alamo Quarry Market, is the only restaurant in San Antonio that has consistently served outstanding Southwestern cuisine for twenty years, and their reputation for scratch-made quality will definitely secure them a spot at the top of the list of reliable restaurants in San Antonio for many years to come.
Housed in the original stone crushing building of the Alamo Cement plant, Canyon Café has a rustic, but comfortable atmosphere. You can still see the original equipment of the cement plant in the rafters of the old building while history permeates the air as you dine on some of the freshest dishes in town.
Canyon Café makes everything in-house, and according to General Manager, Dan Stump, who has been with the restaurant from the beginning, "The restaurant has never had a microwave. All of the sauces, dressings, and soups are 100% made here in our kitchen." Each dish is made to order under the watchful eye of their head chef, Gabriel Corona, who, for the last fifteen years, has built his career coming up with new Southwestern twists on beloved classics, like the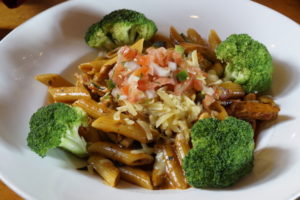 Adovo Chicken Pasta served with fire-grilled chicken, roasted red pepper cream sauce, fresh grilled vegetables, and parmesan cheese. Think pasta primavera meets New Mexico chiles. It is delicious and has just enough spice to keep each bite interesting.
One of the menu highlights is Canyon Café's Tableside Guacamole. You can make it as spicy or as mild as your taste buds will allow and it makes a perfect starter to your meal. Ordering the table prepared guacamole allows diners to interact with the charismatic servers that take pride in their job at Canyon Café. Another one of their specialties is the "Limit-2 Margaritas."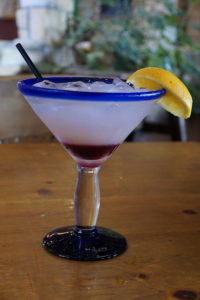 Created with no compromises, their signature margaritas include four ounces of liquor in each drink. If tequila is not your cup of "T," then opt for an "Orange Beso." This distinctive drink is made with Absolut Mandarin Vodka, Grand Marnier, fresh orange juice and a "kiss" of Prickly Pear Cactus Juice. It's refreshing, strong, and offers a little something extra to your Southwest experience.
One of Canyon Café's crowd favorites is their Naked Chile Relleno.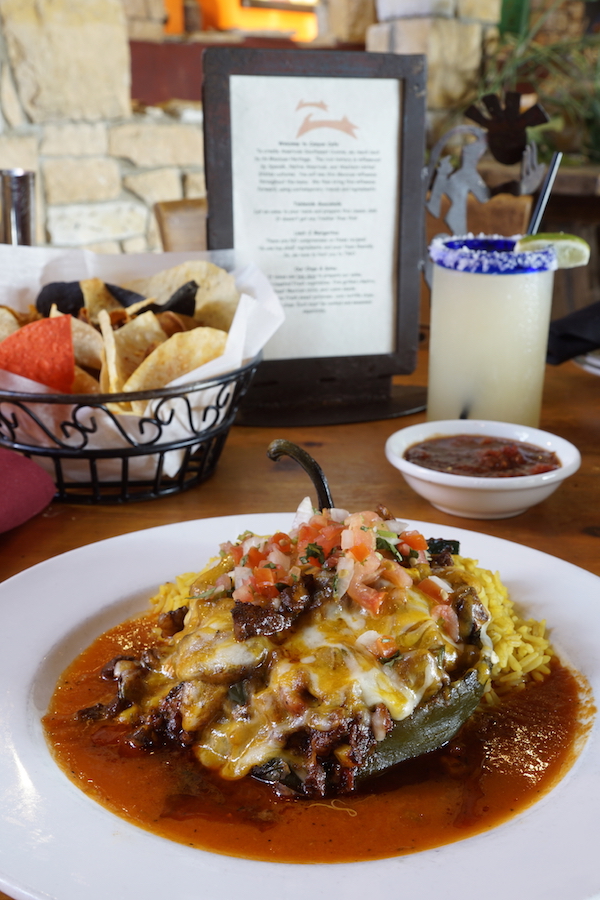 The chef takes a charred poblano pepper and fills it with fajita marinated beef steak, adovo mushrooms, their classic snakebite beans, and tops it with a cheese and ranchera sauce. Served with paella rice, this dish is an explosion of flavors that is sure to wake up your senses.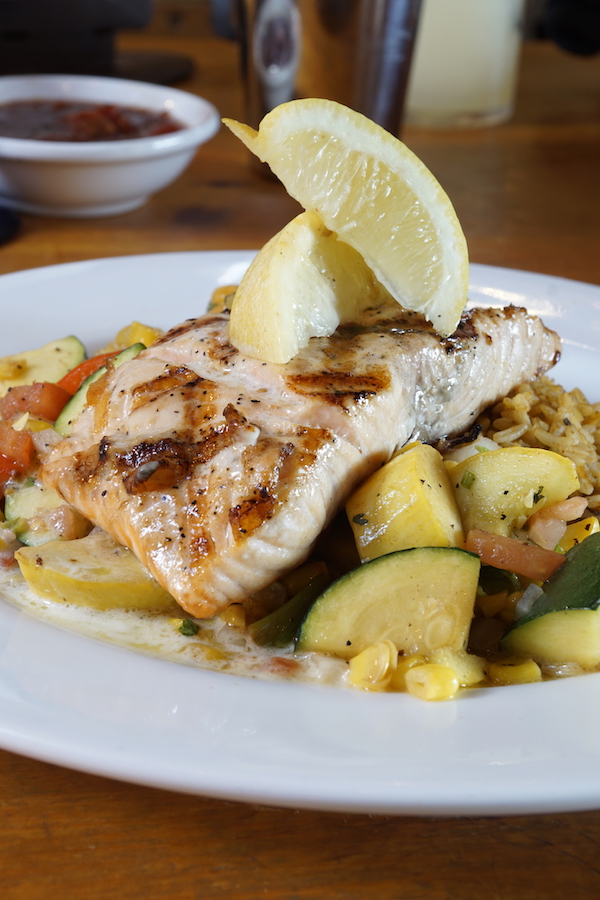 For the seafood lovers, Canyon Café brings in fresh seafood five days a week, and one of their most popular dishes is their Applewood Smoked Pecan Salmon, with sautéed garlic spinach, mashed sweet potatoes, and topped with a papaya chile sauce, pine nut cilantro pesto, and spicy pecans.
The restaurant also serves a seasonal chef's menu with specials unique to what is fresh to the seasons here in the Southwest. One recent featured special is their hearty Flauta Plate, with freshly seasoned red chile chicken and cheese, served over saffron rice, with avocado cilantro sauce and snakebite beans. This was one of my favorite dishes and one that I will definitely return to savor again.
Finally, no meal at Canyon Café is ever complete without their signature white chocolate tamales. These complimentary delights consist of the most decadent sweetness rolled in corn husks with delicious Texas pecans, and trust me, you'll definitely want more than one.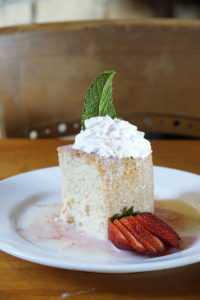 However, if you still need to satisfy your sweet tooth, then try their Tres Leches Cake marinated in Grand Marnier and Frangelico, served with strawberries and a brandy cream sauce. After your delicious meal, this crave-worthy dessert is the perfect way to end a fabulous meal in a beautiful location.
By MEREDITH KAY
Photography By AL RENDON