ELAINE UNDERWOOD
Who is Elaine Underwood and how does she do it all?
BY RON AARON EISENBERG
It may be a cliché, but few will disagree that Elaine Underwood is busier than a one-armed paper hanger.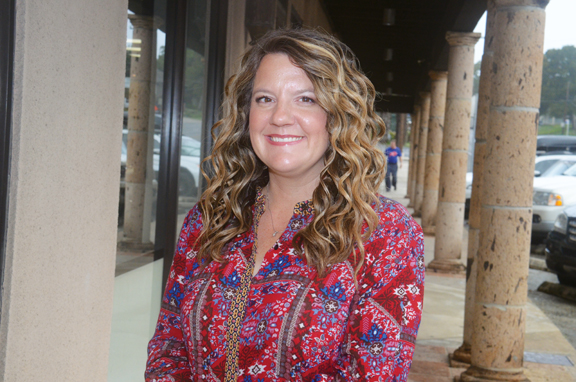 As administrator of the Alamo Heights Chamber of Commerce, Underwood juggles managing the Chamber's day to day affairs, responding to phone and email inquiries, scheduling speakers, organizing the Chamber's monthly luncheons and quarterly mixers, scheduling ribbon cuttings for new and current members who are rebranding or have a new location, plus organizing the Chamber's annual holiday parade. And she does a whole lot more.
Underwood does it all on her own because she is the staff. Her office is her phone, her computer, her car, and her home. The Chamber does not have a brick and mortar office. It's virtual!
Underwood says, "I like being busy." Which is a good thing because in addition to the Chamber, Underwood teaches two days a week at Crown of Life Lutheran Preschool. She also serves as Human Resources manager for the Copy Center, LLC in Stone Oak, New Braunfels and Inter-Park. "They joined the Chamber," she is happy to say.
The 36-year old Underwood is a native of Auburn, Washington. She and her husband, Chris both graduated from Central Washington University with degrees in business. She minored in psychology, which has helped her interactions with the Chamber's board and members.
Chris' military service brought them to San Antonio. They loved it and chose to stay after he left the Air Force. They have three children – two boys ages 10 and 7, and a six-year-old girl.
Underwood says, "I was a stay-at-home mom before a friend told me about the opening at the Chamber. I jumped at the opportunity. My expectations were to get back into the workforce. To step out of the mom role and feel like an adult again. Get to dress up and meet with other adults. Don't misunderstand," she added, "I love being a mom, but being an adult is good too." She's been with the Chamber for four years.
Founded in 1975, the Chamber has approximately 100 members. Elaine knows them all. Membership is open to any business or individual within Bexar County.
Alamo Heights Chamber board member David Moore, Stewart Title, says Underwood's work is critical to the Chamber's success. "In our meetings we have all kinds of people sending out ideas and comments, and she is right on it. She takes detailed notes of everything that happens in our board meetings and puts them into the minutes in a timely manner. And she follows up on all of it.
"I know she is a busy mom, but she does a splendid job of managing the Chamber's virtual office."
David Ewing, board member and executive director of Franklin Park Senior Living in Alamo Heights, describes Underwood's work as "invaluable."
He notes, "The Alamo Heights Chamber is the smallest chamber I have ever worked with. Most have a paid president who manages an office and promotes the chamber. Elaine acts in that role. She handles everything from the website to new businesses that want to become a part of the Chamber. She is often the first voice or face that someone meets when coordinating with the Chamber."
Elaine Underwood truly likes being busy.In addition to her three jobs and being a mom, she volunteers as treasurer for her sons' Cub Scout pack. And she helps raise money for the Heart Smiles, a nonprofit based in San Antonio that built an orphanage in Ghana, Africa. If her work with the Chamber is any measure, "Heart Smiles" will enjoy great success in helping needy kids on the other side of the Atlantic Ocean.
For more on the Alamo Heights Chamber, visit its website at www.alamoheightschamber.org.