Chase to Close Alamo Heights Branch
Two years ago, JPMorgan Chase announced plans to shutter 5 percent of its 5,602 branches nationwide.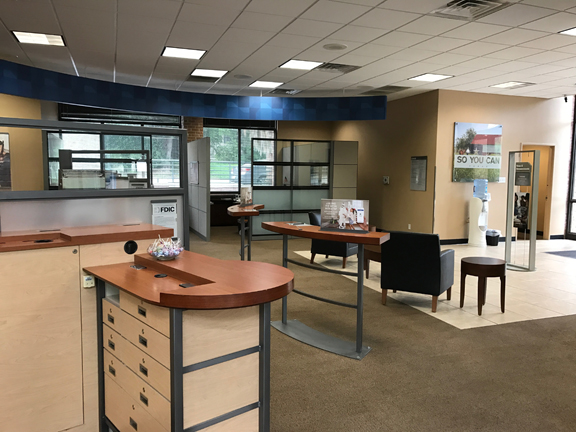 But until now there had been no word on which branches might close in 78209. The answer came in a recent letter to customers who banked at the 5900 Broadway Branch letting them know that branch would be closing toward the end of June 2017. Opened in 2002, the branch was a favorite of Alamo Heights residents.
But according to a local Chase Bank officer, the number of people visiting the branch had plummeted in recent years. "There are days fewer than four or five people actually go into the branch," she told 78209 Magazine.
Branch customers were directed to the Chase Branch at 4620 Broadway, the old Denny's Restaurant location, or the 1020 NE Loop 410 Oak Park/Northwood office. A teller in the soon-to-close 5900 Broadway branch said she has talked to some unhappy customers who are sorry to see the branch close. But for employees there is good news. All of them will be offered positions in nearby Chase branches. "No one will lose their job," the teller told 78209 Magazine.
Meanwhile, Capital One Financial Corp. is closing all seven of its San Antonio-area branches in June, including the Broadway branch just outside Loop 410, adjacent to 78209.
Hasslocher Buying up Broadway Locations
After Vegeria Vegan Restaurant and the adjoining bookstore at 8407 Broadway (78209) closed a year or so ago, the property sat vacant. Now restaurateur Jimmy Hasslocher (Frontier Enterprises) told 78209 Magazine he purchased the property. The site is adjacent to a warehouse and upholstery factory at 8415 Broadway that Frontier Enterprises owns. Jim's Restaurant anchors the corner of Loop 410 and Broadway.
There is no word on what Hasslocher plans to do with the former vegan restaurant site. When asked directly by 78209 Magazine what he envisions for the property, he simply smiled and said nothing.
According to the Bexar County Appraisal District, Hasslocher and Frontier Enterprises own some 22 properties county-wide, including the headquarters at 8520 Crownhill Blvd. (78209). Many of those properties are titled to Lambeth Building Company, also located at 8520 Crownhill Blvd.
Sugarplum Dreams Only a Dream
A favorite of many new moms, family and friends looking for the perfect baby gift and more, Sugarplum Dreams recently sold off most of its inventory and closed its doors at 5934 Broadway Street #2, Alamo Heights. A sign on the door talked about re-opening in the near future, but no details were available.
When it opened in 2000 in the Lincoln Heights Shopping Center, the store promised the very best selection of baby and children's items in the country. But online competition proved too difficult for Sugarplum Dreams to remain in business as a brick and mortar store. Stay tuned for news on when or if it will reopen – perhaps online.
Pediatric Dentists Moving to West Sunset
Sunshine Pediatric Dentistry plans to move into totally refurbished space at 322 W. Sunset from its current office at 8700 Crownhill. The practice was started by now retired pediatric dentist and 78209 resident Randell Whitten. Dr. Joanna Ayala is lead dentist, heading a staff of three other dentists and five dental assistants.
Editor's Note: If you know of a new development, new business, or residential community moving into or departing 78209, email us at: info@78209magazine.com so we can share that information with our readers.
By Ron Eisenberg