Former TV Anchor and Emerging Real Estate Pro Writes About Life for 78209 Magazine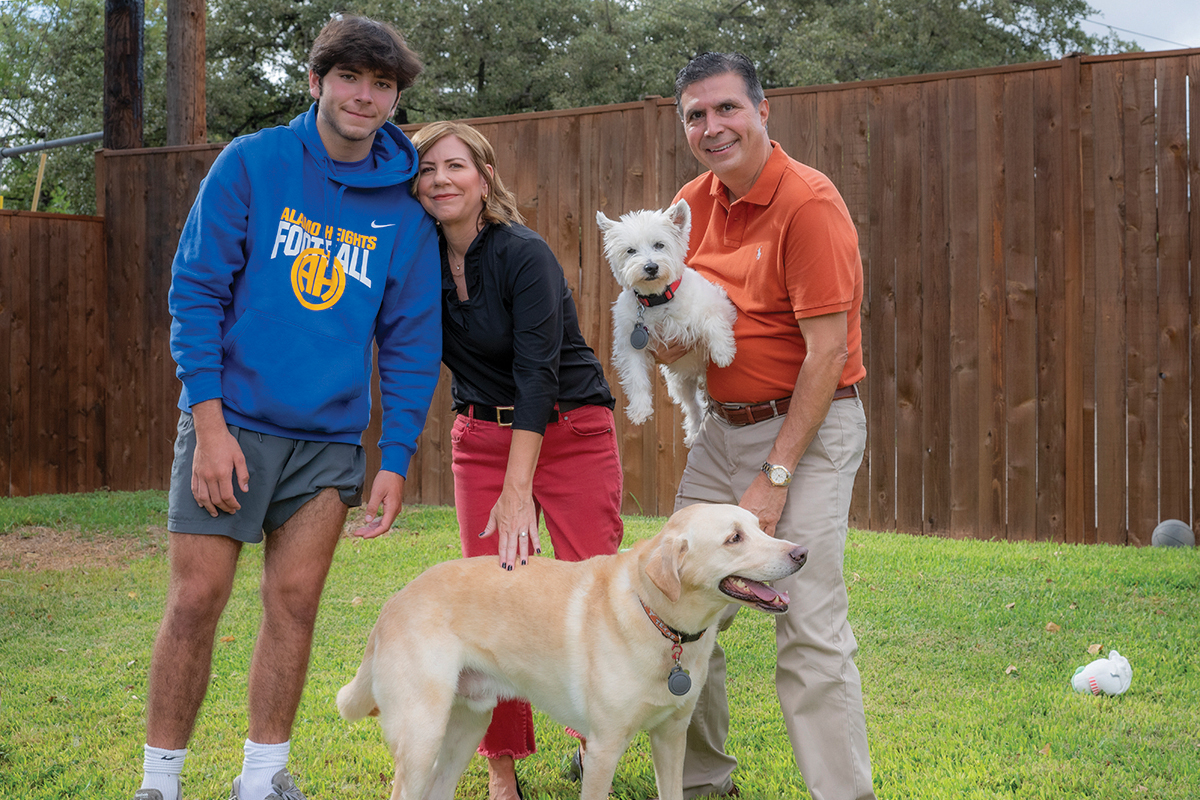 By Bruce X. Forey  |  Photography by Al Rendon
My name is Bruce X. Forey and I'm a new contributing writer for 78209 Magazine. My family's journey to the 78209 community began 11 years ago when we moved here for our children to attend Alamo Heights ISD schools. We found a wonderful home in Oak Park. Niche.com now rates Oak Park/Northwood as the best neighborhood in San Antonio and Top 10 in Texas. Oak Park neighbors are very friendly, and we always see familiar faces on walks and runs. I'm a business supporter of the Oak Park/Northwood Neighborhood Association, which does impressive work advocating to keep our community an excellent place to live.
As many have said, 78209 is like a small town in a big city. You experience a high-quality lifestyle with shops, restaurants, and employers nearby without having to get on busy highways like Loop 410 or Hwy 281.
My primary occupation is real estate agent with Coldwell Banker D'Ann Harper REALTORS. My favorite part of this business is helping people. Real estate is about building relationships and trust and solving problems. Whether buying or selling, everyone has a unique situation. I listen to their needs and collaborate to find a solution. I take pride in providing excellent customer service. Career development is important, and, thus far, I've completed training as a Luxury Home Specialist and Military Relocation Professional. I invite you to sign up for my lifestyle real estate newsletter at bruceX.forey.com.
Prior to real estate, I led communications and marketing departments for two utility companies. I managed teams to develop strategies to drive brand and promote product awareness. I worked with peers to implement the plans and reported results to executives and board members. Through this experience, I'm comfortable working with clients from different socio-economic backgrounds. I transitioned into the corporate world after a 10-year career as a broadcast journalist, where I was a news anchor, reporter, and producer. Writing was a big part of my skill set in TV news or business communications. From that experience, I've explored freelance writing opportunities, including now for 78209 Magazine.
For education, I graduated from the University of Texas at Austin and earned an Accreditation in Public Relations (APR) from the Public Relations Society of America.
My lovely wife, Mary Hitt Forey, is a successful executive at USAA. She does an amazing job balancing a demanding career while being an attentive and caring mother to our two sons and two dogs. One thing that makes our marriage interesting is Mary's love for college sports, especially rooting for her alma mater, the Texas Tech Raiders. We are a college house divided and have a house flag that says so. Games between our two schools were sometimes uneasy situations. We aren't as serious now, but the house divided took a new turn. Our son, Jake, is a graduating senior at Texas A&M University. So, college sports will always be competitive and fun at the Forey household. Our youngest son, Zane, is a sophomore at Alamo Heights High School and plays on the Junior Varsity football team. It remains to be seen where he'll attend college. If he becomes an Oklahoma Sooner, we'll need family counseling for our house divided.
Our two dogs are Paisley, a 14-year-old West Highland Terrier, and Brutus, our rescue Golden/Lab mix that a dog therapist diagnosed as "not comfortable in his own skin." We love them both and their unique personalities.
For leisure, we enjoy watching sports and dining out, mostly at '09 restaurants. I volunteer for St. Vincent de Paul at St. Peter Prince of the Apostle Catholic Church. As a family, we look for opportunities to volunteer at Haven for Hope. I like to fly fish but wish I had more time. For exercise, I cycle and play tennis at the Alamo Heights tennis league. Listening to my stereo system is my favorite way to relax. With this hobby, I'm a member of the River City Audio Club, a group of audiophile aficionados who like talking music and stereo gear. And, of course, I enjoy writing and am very thankful to 78209 Magazine Publisher, Cathleen Lane, for giving me the opportunity to meet interesting people in our community and tell their stories.