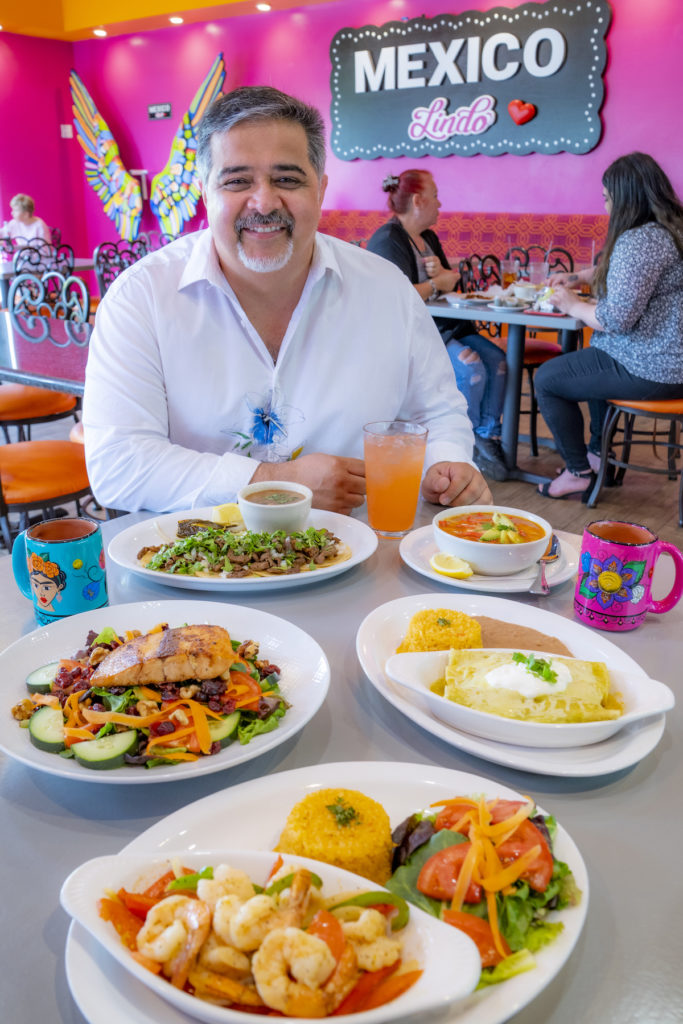 Let's face it. You can't turn a corner in this town without seeing a Mexican restaurant. Tex-Mex was invented here, or at least we are going to claim that it was. There are more Mexican and Tex-Mex restaurants in San Antonio alone than you can find in most states entirely. The question isn't, "Where can I find some enchiladas around here?" Instead, we San Antonians find ourselves asking, "Where can I find the freshest and the best enchiladas in town."
There are many outstanding Mexican restaurants in our fine city, and now it's time to add one more name to that list. Mexico Lindo bravely opened their doors last June, in the middle of the pandemic. While many restaurants fought to get creative with ways to stay in business, restaurateur O.T. Mendez decided to take a chance and bring his flavorful Mexican menu to Alamo Heights. The restaurant is located on Basse Road, in the same shopping center as Paesano's, in a spot recently occupied by Jubilee Bakery & Café. The décor is bright and welcoming with an eye-popping palette of pink and orange. The atmosphere is friendly and relaxed, and you can even dine outside on their adorable patio.
The dishes you'll find at Mexico Lindo are typical of what you will find at most Mexican restaurants. Still, they pride themselves on delivering the freshest ingredients in dishes that are made to order. It may take a little longer to get your delicious enchiladas, but you can be sure that they will be as fresh as can be. The owner grew up in Mexico City until the age of 15 when his family moved to Texas, and he wanted to bring the authentic flavors that he grew up with to San Antonio. He tells us, "Everything is cooked to order here. Our kitchen doesn't have much storage space, so we make sure that everything is made from scratch, from our salsas to tortillas, and even the marinade for our meat. ."
Mexico Lindo is open every day for breakfast and lunch and will soon also be open for dinner on Fridays and Saturdays. The restaurant serves traditional Chilaquiles with crispy tortilla strips drizzled with either salsa verde or salsa rojo and with refried beans, perfectly cooked potatoes, and homemade tortillas for breakfast. For those hearty carnivores, the Huevos Rancheros plate can be ordered with Carne Guisada, or you can order some of the most delicious breakfast tacos in any combination that you can dream up.
For lunch, the restaurant serves the full menu and has several standout dishes. For seafood lovers, you have to try their Lemon Pepper Shrimp plate, sautéed with bell peppers, carrots, and onions, and served with rice and a salad. The seared Salmon Salad is also fantastic and makes a perfectly healthy and filling alternative to the heavier Mexican specialties. However, if you must have your enchilada fix, then order the Enchiladas Verdes. The sauce is tangy and flavorful with fresh cotija cheese to add a nice, mild contrast. Mexico Lindo's enchiladas could rival any of the best in town, so challenge yourself to give them a try.
Mexico Lindo is still in the process of acquiring their liquor license, but guests can feel free to bring in their own pitchers of margaritas or set a cooler of Mexican beer on the patio for a relaxing lunch in the sun. The restaurant offers curbside and take-out, and they even have an impressive selection of family-sized options on the menu. You can take home a pound of beef fajitas, 16 oz. portions of charro beans and rice, along with fresh tortillas and salad for only $34.99. At this price, every night can be Taco Tuesday.
Mexico Lindo
555 E. Basse #113
(210) 310-3767
mexidolindorestaurants.com
Hours:
Monday to Saturday 7:00A – 3:00P
Sunday 8:00A – 2:00P
by Meredith Kay
Photography by Al Rendon