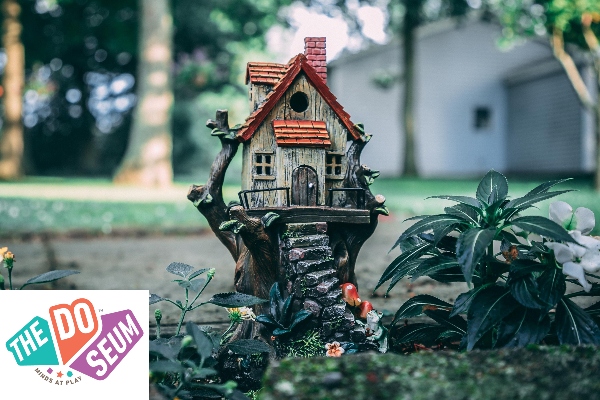 The contest is part of The DoSeum's inaugural Tinkerfest, a day-long festival taking place on November 7 celebrating curiosity, creativity, and making.
The DoSeum invites the community to participate in their first Fairy House Design Contest. The fall season is awash with celebrations that add fantasy, magic, and whimsy to our lives, and children are invited to join in on the fun by creating their very own Fairy House. The contest is in anticipation of the DoSeum's NEW Fairy Village which will feature a new design by Emily Kinder and Robert Wurzbach and will be unveiled on November 7 as part of The DoSeum's inaugural Tinkerfest. The DoSeum encourages children to have fun and create a miniature whimsical environment for fairies, gnomes, and other magical creatures. The contest leads up to Tinkerfest, an all-day event featuring the art of tinkering, making, and creating. During this daylong celebration of curiosity and creativity, guests will explore how things are made and how things work, through exciting make-tivities located throughout The DoSeum. Tinkerfest takes place on November 7 at The DoSeum. The DoSeum will accept contest entries through October 31. Three winners will be selected and each will receive 4 general admission tickets to The DoSeum in addition to a gift card to The DoSeum Store. All entries will be on display in the museum and families are encouraged to tag them using #FairyVillageDoSeum. 
Fairy House Specifications
Fairy Houses can be created using milk cartons, juice boxes, or shoe boxes. If a different base is used please do not exceed the size of a shoebox.
Fairy Houses can utilize any materials—natural or store-bought. Your imagination is your only limit!
All Fairy Houses will be displayed at The DoSeum through November 29th.  If you prefer to pick up your design, please indicate on the form provided to organize a pick-up date and time after the Contest.
Entry forms and more information is at https://www.thedoseum.org/tinkerfest