SALUD! A CULINARY NIGHT AT THE WITTE: THE BUG DINNER
Join the Witte Museum for a tasty and interactive evening program for adults on Aug.12 featuring local chefs and a diverse array of cuisines and topics. Cooking demonstrations for each program will spotlight culturally and seasonally themed menu items. Meet top local chefs, farmers, ranchers and food historians in an intimate setting as they present information, history and stories about the selected menu. Each program will also feature a wine or beer pairing from the finest Texas winemakers and brewers. Classes, from 6:30 to 8:30 p.m., are limited to 60 guests per evening. Reserve for Aug. 12 – The Bug Dinner featuring executive chef Stephen Paprocki; Ernest Lopez, pastry chef, Hotel Eilan; Megan Curry, Bug Vivant; and presenter Karbach Brewery. Another dinner is scheduled for Sept. 9.
Tickets start at $50 per person ($45 for members) and include a souvenir wine glass. For more information or reservations, please call 210-357-1910.
COCKTAILS AND CULTURE AT THE WITTE
Experience the Witte Museum after hours, an evening exclusively for adults 21 and older that mixes cocktails, conversation and innovative museum culture. Evenings will showcase unique experiences and include complimentary beer and wine with food available for purchase. Leave the kids at home, and meet friends or bring a date.
Mark your calendar for Wednesday, Aug. 26, 6:30 – 8:30 p.m. Chill out. Beat the heat, grab a cold one, and learn about the last Ice Age in Texas. For more information or to purchase tickets, call 210-357-1910.
DOG DAYS OF SUMMER
Grab your leash and four-legged friend and head over to the Botanical Garden Aug. 1-2. You and Fido can dine together during lunch at the Carriage House Bistro (check on times and reservations). A $5 fee for Fido and regular gate admission for you will ensure a summer day of fun plus room to roam, all while benefiting Animal Defense League, Animal Care Services, San Antonio Humane Society and San Antonio Botanical Garden. Call 210-207-3250 or go to www.sabot.org to learn more.


CANINE- FRIENDLY SPOT
With a perfect name for a friendly pet store, Wag More Dog Store recently opened at 6338 N. New Braunfels Ave. Open daily, this unique store stocks healthy dog treats, toys, beds, leashes and various items ensuring your furry four-legged friend will be barking for joy. Check out www.wagmoredogstore.com or call 210-824-WAGS (9247) for any particular items, and make your best friend a happy, tail-wagging customer!
HEIGHTS DOG PARK NOW OPEN
The Bark Park of Alamo Heights, a volunteer-maintained dog park, opened to the public in June after years of planning and fundraising. The city agreed in 2013 to lease a flood-prone piece of land near Alamo Heights Boulevard and La Jara Boulevard, close to the Little League ball fields, to a nonprofit group behind the Bark Park of Alamo Heights. The dog park, open from dawn to dusk, contains a perimeter fence, limestone benches, drinking water fountains and dog waste disposal stations. Under the lease agreement, Bark Park of Alamo Heights is responsible for maintaining the park and handling repairs there. Advisory signs adorn the front entrance to the park.
FAMILY ART PLAY AT MCNAY MUSEUM
Explore Richard Duardo: Maestro of Pop, then screenprint a T-shirt, using images of classic cartoon characters. The event will take place on Family Art Play: Pop Prints Sunday, Aug.30, at 1p.m. and 3 p.m. McNay members can reserve space by calling 210-805-1768 by noon the Friday before the activity. Nonmembers may pick up remaining passes the day of the activity. All family programs are free with museum admission. To see more, visit www.mcnayart.org/events/.
THE SMARTEST KIDS IN THE WORLD
The DoSeum will host an Outside the Lunchbox Luncheon on Sept. 10 at The Tobin Center for the Performing Arts featuring keynote speaker Amanda Ripley. She will talk about The Smartest Kids In The World and How They Got That Way. The event supports The DoSeum, San Antonio's museum for kids.  Contact LRobertson@TheDoSeum.org for tables/ tickets.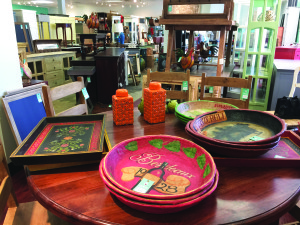 FURNITURE WITH A SOUL
Popular and newly opened boutique furniture store Nadeau, furniture with a soul, has arrived at 999 E. Basse Road, Suite 161. Unique solid wood furniture and home goods are in stock at this Lincoln Heights Shopping Center location that is open seven days a week. Find rustic pieces — cabinets, buffets, coffee tables, dressers, chairs — and solid, sturdy wood furniture with interesting finishes and shapes. And no assembly required! Check out www.furniturewithasoul.com.