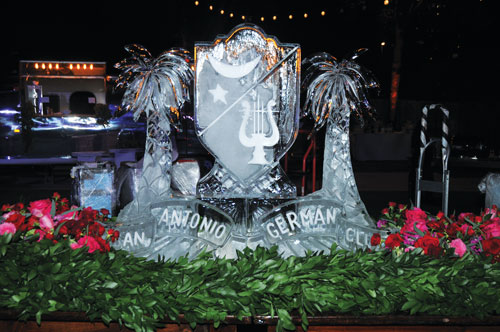 San Antonio German Club
The San Antonio German Club hosted Opening German in honour of the season's debutantes. Christopher Petty is this year's president and his wife Emilie is head sponsor. Sponsors include Christina Ketabchi, Jessica Worth, Gloria Dilley, Corinna Richter, Lindsay Armstrong, Cece Griffin, Amelita Mauzé, Bonnie Muecke, Kim Johnson, Jolie Flavin, Kristin Tips and Ashley Weaver. Chris Hodge is the immediate past president, Blake Stouffer 1st VP and chairman, David Aycock 2nd VP, George Hinchey 3rd VP, Stuart Cavender, Jr. secretary, Sam Bell Steves, III treasurer, Wallace Rogers, IV favors and dinner dance, Andrew Lewis, IV guests and publicity, Robert Cavender, Jr., new members and Fiesta parade, and Cody Courtney debutantes and meetings.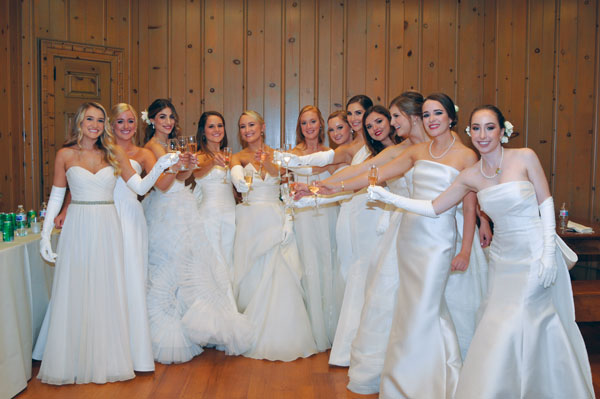 The night belonged to the debs: Alicia Amberson, Margaret Amberson, Hannah Bakke, Samantha Boldt, Caroline Green, Serena Koontz, Mary Krenger, Kelsey Lansdale, Katherine McFadden, Rachel Rosser, Elizabeth Ryder and Alegra Volpe dressed in beautiful white ball gowns.
A few of the many guests included Lisa and Ed Kopplow, Barbara Chumney, Luci Bell, Anna-Laura and Michael Block, Sharon Seal, Lara Thompson, and Bebe Rosser.
Zoo Ball
A Magical Menagerie was this year's theme at the XXXVI Zoobilation Ball, presented by The San Antonio Zoological Society. Chairs Rosa and Roby Latimer with co-chairs Jayme and William Russell and their committee put on a magical evening indeed. CEO Tim Morrow and wife Jennifer along with committee members Dani and Cosmo Guido, Sarah and Kerr Hager, Ashley and Timo Hixon, Sarah Walker, Allegra and Hunter Hawkins, Lauren Newburn, Cameron Redding and Alyse and Webb Sellers (to list a few), and guests including Camille Mandigo, Tracee and JJ Feik, Beth Houser, and Susan Naylor enjoyed a catered dinner by RK Group, auction items and live auction items including, "Happy, Harmonious Hippos Having Highballs in Heavenly Hawaiian Habitat, and Fun Feathered Flamingo Friends in Fine Form Feasting with Fervency.
Grand Western Shindig
Cathy and Frank Burzik chaired the 39th Annual Grand Western Texas Two-Step Shindig benefiting the Mission Road Ministries. She is the retired CEO of KCI, and dedicated to wound care. They are professional and competitive ballroom dancers and travel often and live in Manhattan during the summer months. Together they oversaw an awesome night along with their committee which included Wayne Madsen, Kenneth Oleson, Denise Landon, Jennifer Robelo, Helen Bryan, Deana Prinzing, Maureen O'Donoghue, Anne Moses Ledet, and Amy Bitter Scheiber.
A few dedicated board members include: Jill Van Horn, Dr. Tripp Stuart, Alethea Bugg, Charlotte Milner and Chance Mazurek who oversee Mission Road Ministries – celebrating 71 years of care and service to children and adults with intellectual developmental disabilities.
The night also included dancing with award-winning, professional dance Instructor, Esteban Cardenas, live music by The Always Patsy Cline Band, dessert bar catered by RK, portraits by Overstreet Photography, and a presentation by Unicorn Steppers.
Attendees included president & CEO Toby Summers, board chair Brett Alvheim, vice chair Betsy Baker, Shirley and Don Crews, Katy Corrigan, Rich and Kitty Lange, Kennon Guglielmo, Lisa and Stan Jewett, and Laurie and Kevin McLoughlin.
During its 39 year history, Mission Road Ministries' Grand Western Shindig has raised more than $10.5 million in support of children and adults with intellectual developmental disabilities through its silent and live auctions, table sponsorships and event underwriting.
Rodeo, Cowgirls, BBQ, Golf and a 5K
Dust off your boots–it's rodeo time in SA! Rodeo happenings in January include "The Let's Rodeo Ball" January 19th at Freeman Coliseum. This year's entertainment includes Midland, Neal McCoy and Chilton Vance. If you've been before you know that The RK Group puts on a spread fit for a king. Awesome entertainers, plenty of food and libations with space for two-stepping and schmoozing.
Another sold-out event every year is the Cowgirls Live Forever Scholarship Luncheon and Fashion Show, January 22nd at the Witte. Since its inception, the event has raised $1.8 million for scholarships. The honoree of the luncheon is chosen based on her independence, courage and resilience as a woman whose life exemplifies all the characteristics which preserve our western heritage and help to shape Texas agriculture and the youth of Texas. This year's honoree Janell Kleberg is the chosen honoree for this year's luncheon. The honorary chairman – Tio Kleberg. The event is sold-out, but past honorees and supporters will be in tow! And fashions will focus on rodeo wear! Yee Haw for cowgirls!
Also it wouldn't be the rodeo without the rodeo and musical lineup beginning Feb 7th-tickets go fast. This year's entertainers include Brett Eldridge, Jon Pardi, Lady Antebellum, Eli Young Band, Alabama, Jim Gaffigan, Darius Rucker and more. And of course, Leon the Rodeo Clown will be there. Guess where else you can catch Leon? Leon Coffee, the Pro Rodeo Hall of Famer has been named the Grand Marshall of the 2019 Texas Cavalier's River Parade. This year's theme is Showtime in San Antonio.
Another rodeo fundraiser is: The Cowboy Golf Classic February 19th at the Quarry during the San Antonio Stock Show & Rodeo and pairs PRCA Rodeo contestants, volunteers, and patrons in supporting the Justin Cowboy Crisis Fund and the Pro Rodeo Hall of Fame.
BBQ Anyone?
The San Antonio Stock Show & Rodeo Bar-B-Que Cook-Off, January 25-26, is a championship event sanctioned by the International Barbeque Cookers Association and features a few of the world's most competitive Bar-B-Que teams, live music, family activities, a BBQ trade show, a kid's cook-off, shopping and more. Proceeds from this event benefit the San Antonio Stock Show & Rodeo Scholarship Fund. The San Antonio Stock Show & Rodeo On the Salado is the location for this BBQ you don't want to miss!
Also, get ready for a unique event opportunity for all! The San Antonio Stock Show & Rodeo Stampede, February 2nd, a 5K run/walk, kicks off a full day of activities in beautiful downtown San Antonio. The Stampede takes place along the parade route for the annual Western Heritage Parade & Cattle Drive which features picturesque downtown, covering parts of Houston and Alamo streets along with Hemisfair Park. After partaking in the Stampede, you don't want to miss the Chuck Wagon Breakfast, great entertainment at La Villita and the first ever Vaquero Cook-Off after the parade.
And wouldn't it be a cool idea if everyone had Rodeo medals? Just think about it. For more information about these events, visit www.sarodeo.com
SAVE THE DATE
Saturday, January 19, 2019
Let's Rodeo Ball
JOE & HARRY FREEMAN COLISEUM
6:30 – 11:30PM
Cowboys and cowgirls can kick up their heels at this annual ball benefitting the S.A.L.E. Scholarship Fund. All guests must be over 21.
The dress code for women is Western glitz and sportscoats or jackets for men.
sarodeo.com/about/lets-rodeo-ball-tickets
Tuesday, January 22, 2019
The Cowgirls Live Forever Scholarship Luncheon & Fashion Show
THE MAYS FAMILY EVENT CENTER AT THE WITTE MUSEUM
11:30AM – 1:30PM
sarodeo.com/about/cowgirls-live-forever-scholarship-luncheon-fashion-show
Friday, January 25, 2019
Boots & Badges Casino Bash
THE WITTE MUSEUM MAYS FAMILY CENTER
7:00PM
Their jobs put them in harm's way, and they pay the ultimate sacrifice with their lives. This event has been held since 1973, to honor Law Enforcement Officers and Firefighters by raising money for the families of fallen first responders.
www.100clubsa.org
Saturday, January 26, 2019
The Khaki and Plaid Gala
THE HENRY B. GONZALEZ CENTER
6:00PM
The Khaki & Plaid Gala is one of the largest fundraisers for Hope for the Future. This fun event brings together 1,300 guests that support Catholic school education in San Antonio. Thanks to the generous underwriters, sponsors, silent and live auction donors and event attendees, the Khaki & Plaid Gala helps provide critical funding that is distributed in the form of tuition assistance to families and students.
Saturday, January 31, 2019
Broads, Bags & Bingo
THE SAN ANTONIO GARDEN CENTER
6:00PM
Play bingo, sample delicious hors'd oeuvres, enjoy cocktails from the cash bar and enter the prize raffle. Individual tickets for this
event are $65 or purchase an entire table for eight players for $500. Proceeds from this event benefit the Miss Rodeo Texas Scholarship fund.
To purchase tickets call Billy Harris at 210-844-8704 or Pat Bowen at 210-364-4388.
Saturday, February 9, 2019
The Love Run 5k
THE UT HEALTH SCIENCE CENTER
7703 FLOYD CURL DRIVE, SAN ANTONIO 78229
9:00AM
February is American Heart Month and the nursing students, faculty and staff of the UTHSCSA School of Nursing invite you to join in at this health-focused event. The fee to enter is $25 and a portion of the proceeds from the run will be donated to the American Heart Association.
eventbrite.com/e/3rd-annual-5k-love-run-tickets
Thursday, March 21, 2019
The DoSeum's 4th Birthday Bash
The DOSEUM
6:00PM
Three, four, open the door! Celebrate the Doseum's 4th birthday bash with a cocktail reception outside by Will's stream followed by dinner and a party inside the DoSeum. The attire for this event is cocktail casual and ready to play! Wear shoes that you can run fast and jump high in…..leave the high heels and ties at home.
www.thedoseum.org
Saturday, March 23, 2019
The Happening Gala
Diskoteka Nite 2019
ARTPACE
445 N. MAIN AVENUE
6:00PM
Celebrate the advancement of the fine arts in San Antonio and around the world. Artpace welcomes all friends and supporters to join them for cocktails, dinner and a Disko Bomba party on the Artpace rooftop. Reserve your table early by contacting gala@artpace.org or by calling 210-678-4180.
www.artpace.org
BY LESLIE FOLEY