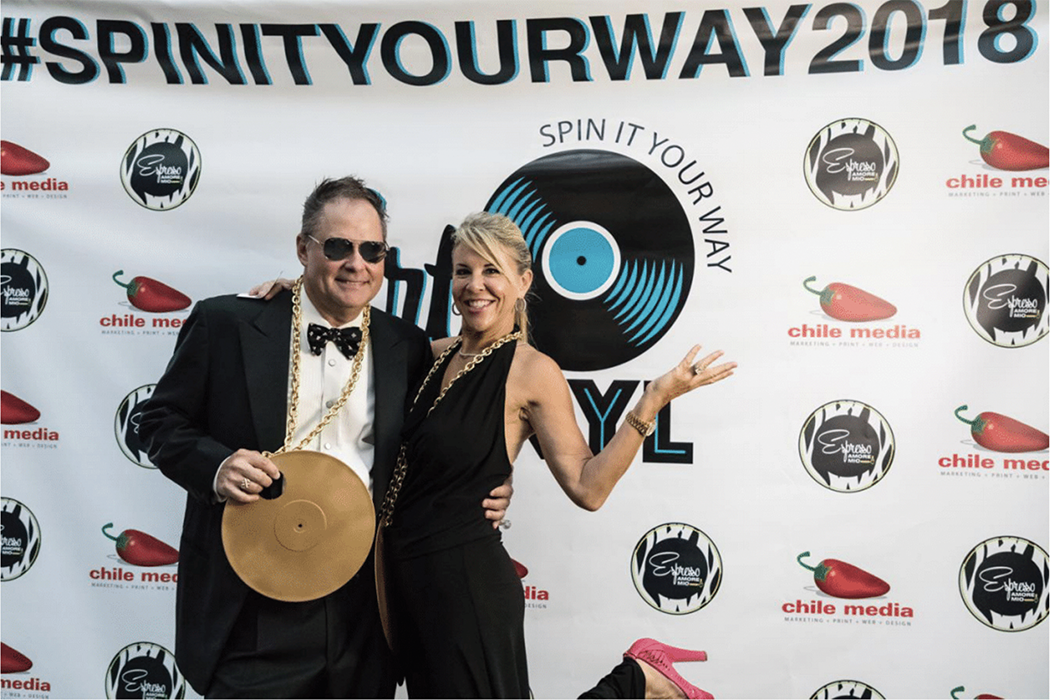 Art Vinyl
The McNay Art Museum hosted Art Vinyl: Spin it Your Way, a new event organized by McNay Contemporary Collectors Forum (MCCF). These one-of-a-kind designs were created by hundreds of artists who designed their creations on vinyl with mediums such as paint, sculpture and collage, among others. All were available for purchase, but the artist was a secret until the purchase was complete.
Each piece sold for $100. Guests purchased art from artists including: Lisa Shackelford, Karen Evans, Duran Arte, Lucy Peveto, Sabra Booth and Bianca Alvarez. Attendees perusing and purchasing included: Mayra Farret, Sherie Johnson, Katie Holland, Monica Estrada Saldana, Karlos Anzoategui, Danny Lerma and James Michael Warner. Guests sipped signature cocktails from the San Antonio Cocktail Conference, savory hors d'oeuvres by Peggy's on the Green and Bohanan's went quickly, and sweets by Chocollazo were enjoyed with Espresso Amore Mio's specialty coffees. DJ René C spun tunes as guests boogied on the custom-designed dance floor – a unique piece of art itself, created by artist Raul Gonzalez.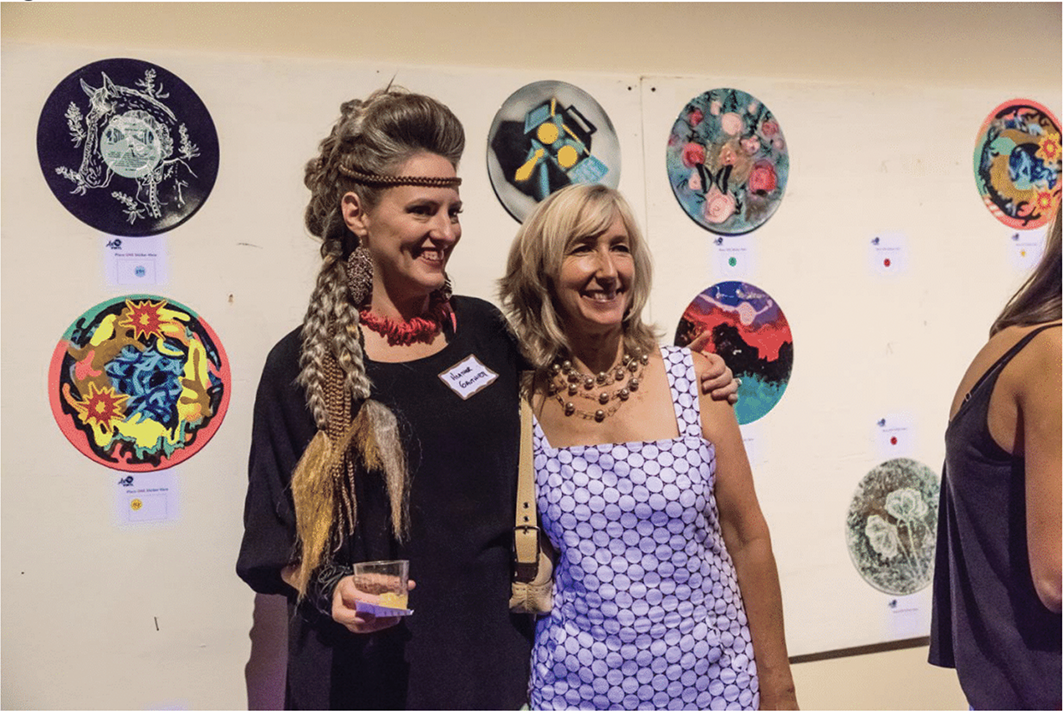 The Ranch Chic Fashion Show
The Ranch Chic Fashion show took place on Sept. 13 at the University of the Incarnate Word Rosenberg Skyroom. Guests enjoyed a show filled with great western attire that can be worn to the 40th Annual Cattle Baron's Gala and were inspired by the stories of the models who were cancer survivors. Guests also participated in a silent auction, raffle, and dinner provided by Don Strange Catering. It was a fabulous event celebrating life while contributing to the fight against cancer.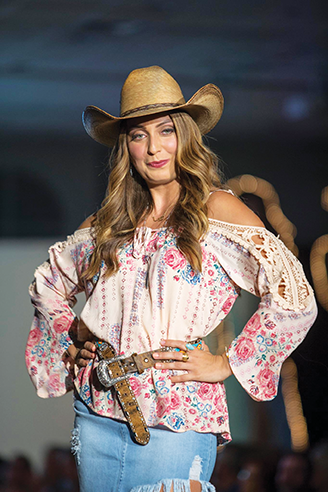 Military-Civilian Clubs Fall Welcome Coffee
Also kicking off the season was the Military-Civilian Club. Morgan's Wonderland was the spot for the fall welcome coffee. Civilian president Becky Ownby Smith greeted guests and newcomers. Club members present included Jeanie Travis, Janet Putman, Mary Wieser and Jimmie Balling. The next meeting will be held at San Antonio Country Club with Corie Boldt, owner of Corie Properties, who will discuss her personal battle with breast cancer during National Breast Cancer Awareness Month.
Other Civilian Club officers include: first vice president Beth Plummer, third vice president Lisa Wolff, disbursing treasurer Julianne Bartlett, recording secretary Virginia Dibrell, corresponding secretary Charlotte Mitchell and parliamentarian Cory Bakke.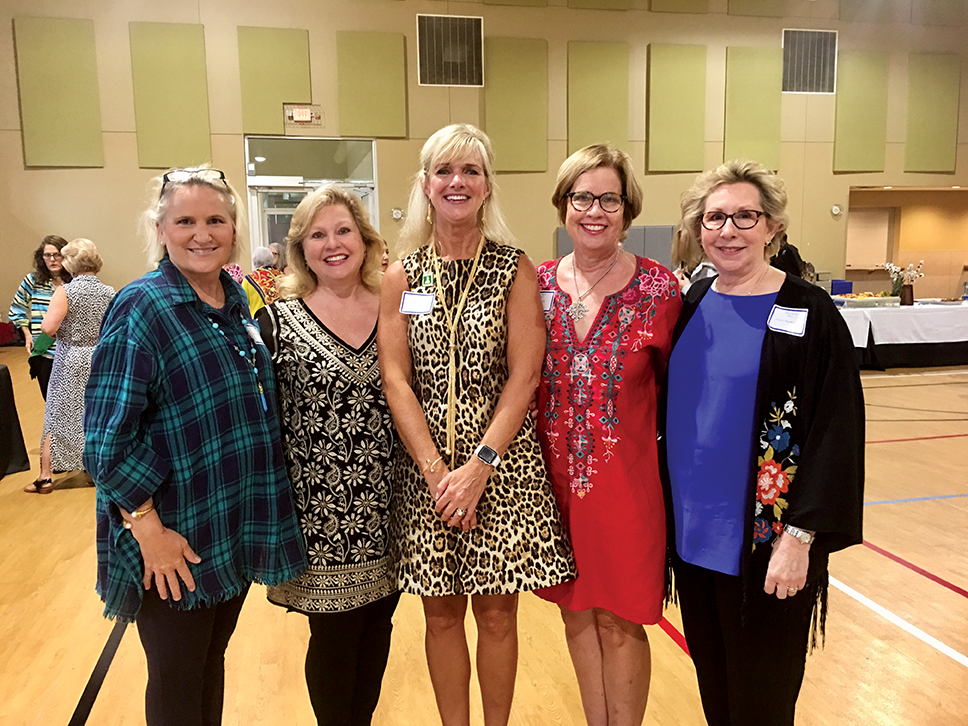 San Antonio Tri Delta Alumnae
Stone Werks Lincoln Heights was the spot for the annual Delta Delta Delta Alumnae kickoff. The "sisters" that atttended included Cyndee Dubinski, Lily Gretzinger, Karen Parks, Teri Wenglein, Kelly Lemke, Judy Kruger, Mary Beth Mosbacker, Amy Hawk, Jeanette Prichard, Christy Hinchey, Emily McMurray, Libby Rokowski, Ann McAlister, Leslie Foley and president Alta Compton, who is returning as president for a second year. Another attendee was realtor Susan Bowman, who will donate a portion of her real estate sales to Delta Delta Delta.
Felder Gallery Celebrates First Anniversary
Robby Felder, native San Antonian, designer and multi-media artist, toasts to the Alamo Heights Felder Gallery's first anniversary, showcasing local, regional and national fine artists across a variety of mediums.
Originally founded in 2004 in Rockport, Texas, by San Antonio natives Larry and Linda Felder, Felder Gallery remained there until their son, Robby Felder, took over ownership and direction of the gallery upon their retirement in 2009 and relocated it to Port Aransas, Texas.
After nine years in Port Aransas, Felder Gallery's new San Antonio location showcases revolving exhibits that include a mix of contemporary representational art, traditional painting, sculpture and pure abstracts. Felder Gallery takes great pride in representing a variety of professional artists, and all artworks adhere to a high level of quality. Felder Gallery is located at 5934 Broadway St Suite 1, and is open Monday through Saturday from 11:00 a.m. to 5:00 p.m.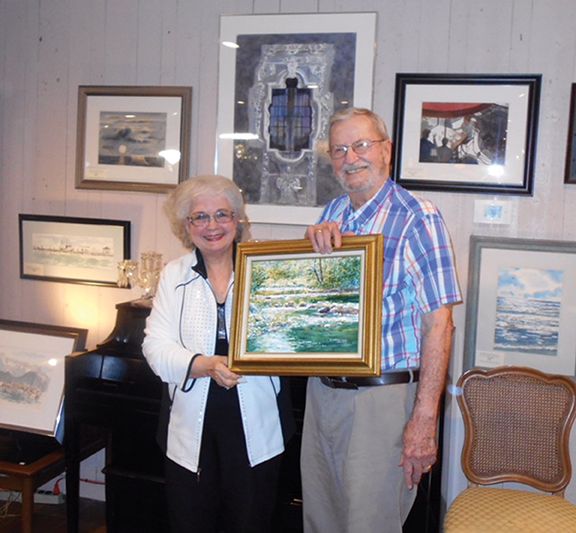 San Antonio Artist Gordon West Featured at Gallery Opening
The seventh in a series featuring the works and collections of local artists, E. Gordon West was given a one man show at the Estate Sale Gallery at Los Patios with a reception on Friday, September 21. The exhibition will continue through October 22.
A long-standing member of the "Watercolor Gang", West is an active member of The Texas Watercolor Society where he earned the prestigious O. George Pinca award. In 1985, he was Artist of the Year of the San Antonio Art League, and has exhibited with Arts for the Parks.
West has been a contributor to the publication "Texas Hill Country," and has received over 60 awards in national exhibitions and has works in the permanent collections of the McNay Art Museum, Texas A&M University, and the University of Louisville where he was honored in an exhibition of his paintings as a Hite Scholar.
By Leslie Foley