Locals Kicked Up Their Heels at the 47th Annual Game Night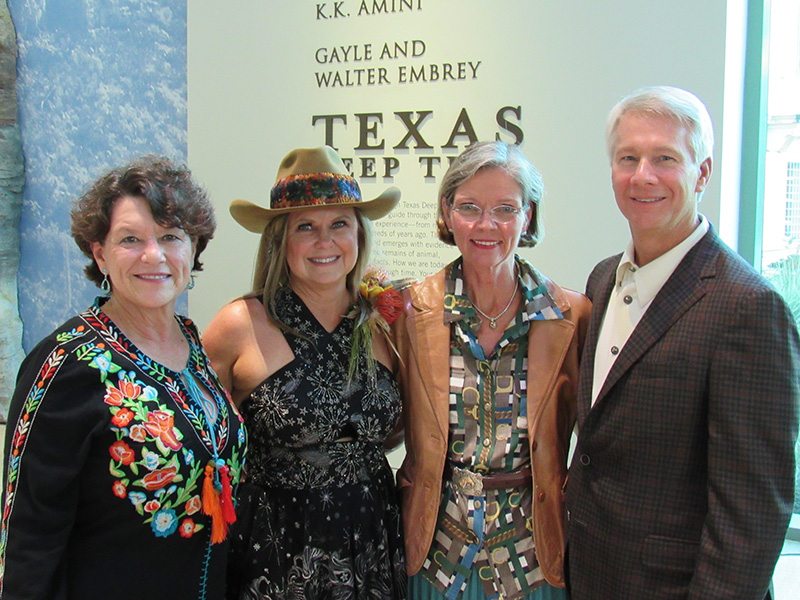 When long-time Witte Museum supporter Susan Naylor signed on to chair the 47th annual Game Night Dinner, she vowed to throw the best one yet. And with a gorgeous night of live country music, one-of-kind auction packages and delicious food, she exceeded everyone's expectations while raising a ton of money for the museum's scholarship programs.
"I've always loved the Witte, and the staff here is so amazing at sharing their knowledge with the kids," Naylor said. "To me, the Witte is Texas. It's so rich with history, all the way back to the dinosaurs."
As more than 1,300 guests arrived Oct. 16, they were greeted by a beautiful rising phoenix made of fresh blooms by Trinity Flowers. From there they enjoyed delicious food spreads, including everything from fried quail eggs to venison enchiladas.
"Game Night is the largest event we throw during the year, and it's a really great night that brings together so many people, all supporting such a great cause," said Katye Brought, communications director for the museum.
When guests weren't busy enjoying the unique feast, there were several outstanding auction items to bid on. Live auction packages included a meet and greet with Aerosmith front man Steven Tyler, a guided hunting trip in Spain and more.
"I love celebrating here at the museum," Naylor said. "It's so wonderful to see so many people come out and show their support."
Honored at this year's VIP event were Peggy Walker and Sam Dawson, who headed up the successful capital campaign that raised $100 million for the expansion of the museum.
As the presentation portion of the event came to a close, guests were ready to kick up their heels as country music star Aaron Lewis took the stage for a live concert.
Money raised from the dinner goes directly to the museum's scholarship and education funds, affording school children who otherwise aren't able the opportunity to visit and learn at the museum. For more information on other upcoming events, log onto www.wittemuseum.org.
Despite Some Rain, Taste Of The Heights Still Shines

Hungry and thirsty patrons got their fill at the Alamo Heights Chamber of Commerce's annual Taste of the Heights.
The event, held Sept. 28 at the Witte Museum, involved several area restaurants and had representation from numerous wineries and beverage-makers such as Ranger Creek Brewing and Distilling and Rebecca Creek Whiskey.
By Christie Cuthbert