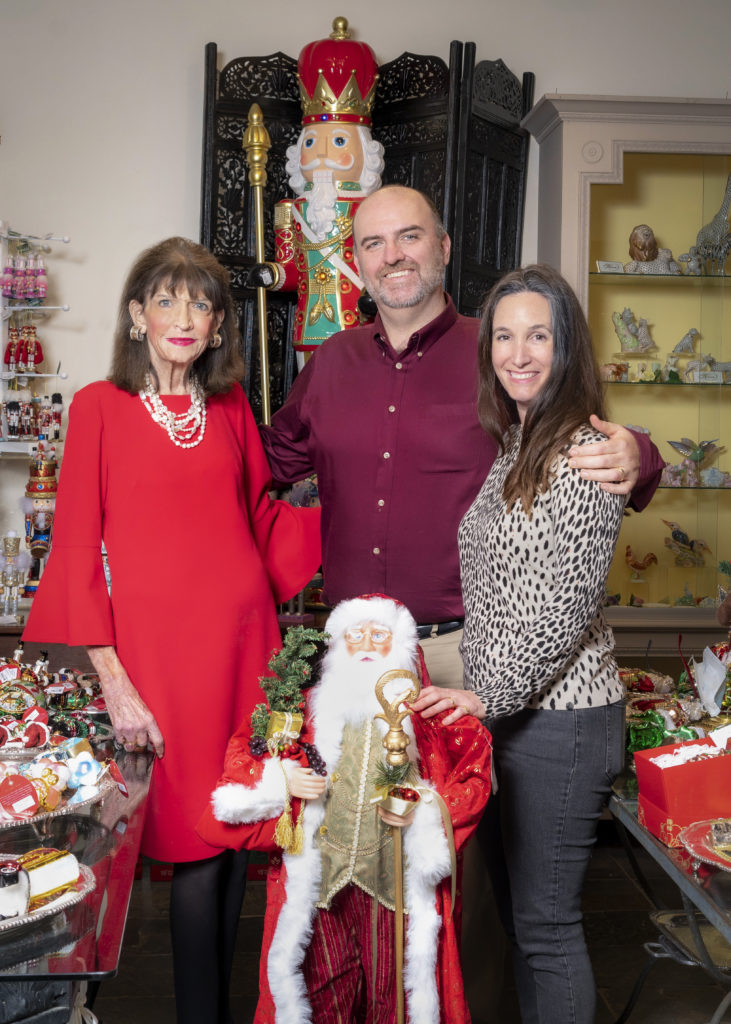 Those looking for a little holiday joy can stroll into 7,000 square feet of pure Christmas magic at Hanley Wood. From the floor to the ceiling, this landmark of an Alamo Heights gift store exudes merriment around every corner.
"We've had people asking for Christmas stuff since August," said owner George Ames. "This year, more than ever, people want to feel that joy of the season earlier. Christmas just makes people happy, and we've seen people buying a lot more for themselves this year because they've had time in their home to assess what they have."
From beautiful Santa ornaments by Mark Roberts to unique nutcrackers by Kurt Adler, Hanley Wood offers festive touches for every home and great gifting opportunities as well. Their "Gifts to Go" campaign offers specially wrapped gifts ready to go throughout the store at an affordable price range between $10-$25.
"It's perfect for someone who needs to run in and grab something quickly for a party they may be going to, or for someone who has like six teachers to buy for but doesn't want to break the bank," Ames said. "We spend all year looking for the perfect items. It's a big part of our season."
In addition to snow globes, reindeer candlestick holders, and platters, Hanley Wood also offers one-of-a-kind handcrafted holiday wreaths by George's mom, Annabell Ames.
"She's an incredibly creative person," George said. "She's always in the store, and these are like her art projects, and she's so good."
When looking for the perfect gift for someone this holiday season, Ames said you couldn't go wrong with a vase.
"We have glass hibiscus vases that range for $40 to $60," he said. "They're beautiful and organic looking and the perfect middle of the road price point. Vases are the perfect gift because they're practical. When you're not using it, it can be slipped easily away in a cabinet. Picture frames are always popular too."
Hanley Wood has been a part of Alamo Heights for 55 years, and the Ames Family took over the business in 1985. George, who was working in journalism in New York City, returned to San Antonio 16 years ago to help modernize the business. He fell in love, married, had kids, and the rest is history.
"I never imagined I'd continue the family business, but I find it really fulfilling," he said. "Our customers are great, and it's wonderful being a part of this community."
Despite many businesses suffering hard times during the 2020 pandemic shutdown, Ames said Hanley Wood has experienced a stellar sales year and is grateful for the support of its longtime customers, many of whom go back for multiple generations.
"The shutdown gave us time to assess practices and inefficiencies in the way the store is run and figure out how to improve how we run operations," George said.
When the gift shop isn't bustling with holiday customers, they also excel in bridal and gift registries. The biggest competition in the past five years hasn't been big-box department stores – it's been the internet.
"When people want to pick out fine crystal or a special set of china, they want that gratification of actually seeing it in person and feeling it," Ames said. "I think our customers like that they can come in and see things in person."
By Christie Cuthbert
Photography by Al Rendon