SMH Biology Students Experience Trip of a Lifetime and Earn Credit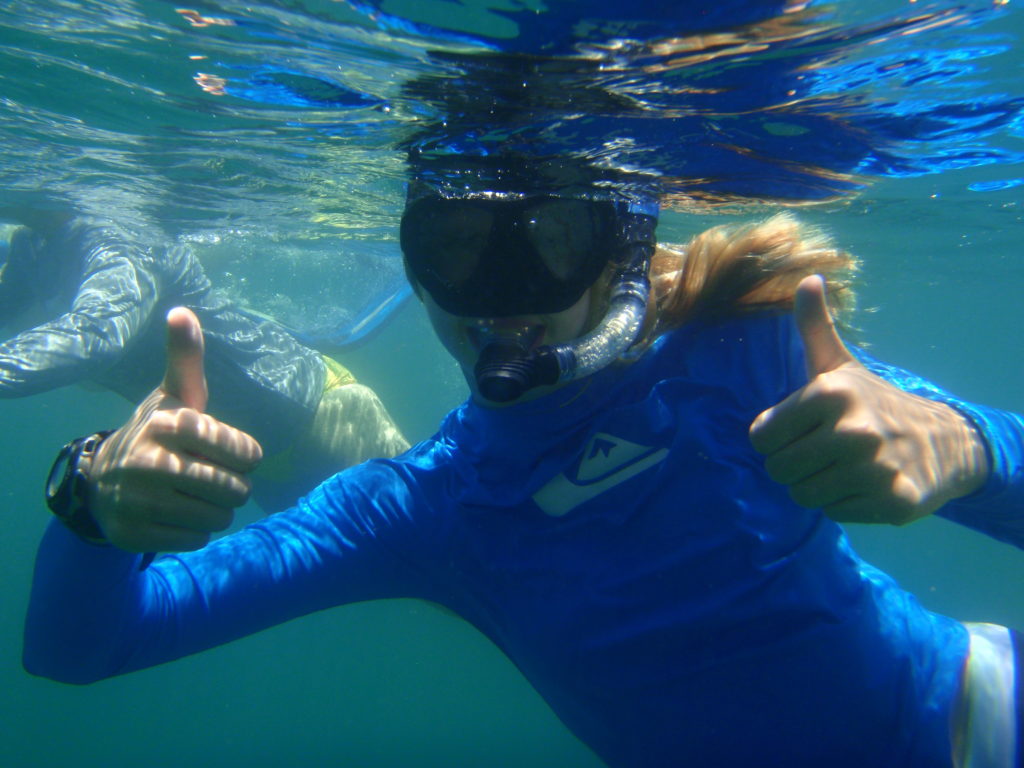 This summer, Saint Mary's Hall (SMH) biology students had the opportunity to participate in the 2021 Marine Science Trip, which led them to the picturesque Big Island of Hawaii. A total of 28 seniors and 13 juniors spent two weeks on the island after completing 80 academic hours of Marine Science as well as four hours of Hawaiian Studies. Not only does the trip, offered every two years, involve enriching, fun activities and excursions, students also receive a semester's worth of Macrobiology credit.
The students stayed in dorms at Hawaii Preparatory Academy in Waimea, Hawaii, while being taught by local Marine Science teachers. They received instruction in the classroom and then headed out to do their labs. Labs consisted of snorkeling/diving to identify coral and fish, fish feeding, marine organisms, identifying dangerous organisms, getting into tidal pools, and examining beaches and waves.
Though scuba dives will not be a part of future trips to Hawaii, this year, 22 of the SMH students who attended the trip are PADI Certified Divers; these students were able to conduct some of their labs during four dive trips. Divers participated in the Manta Ray Night Dive (listed as the #6 dive in the world) while snorkelers experienced a Night Manta Ray Snorkel.
The learning opportunity also involved Hawaiian Studies, including Hawaiian history, myths, and legends; learning the hula, and making leis, taught by a local Hawaiian instructor. The group toured many places on the island, such as Mo'okini Heiau (Hawaiian temple), Hapuna Beach, Waipio Valley Overlook, Laupahoehoe Point, Akaka & Rainbow Falls, and Volcano National Park.
"Having the opportunity to take a Marine Biology course in Hawaii where I could see firsthand the animals that we were studying through the course truly enriched my experience because I was genuinely studying organisms in the field to earn a credit, instead of just taking another class," said Patrick Lang, an SMH junior.
Mule Swimmer Connor Foote Earns Prestigious Dan Cook Award
Connor Foote has been honored with the prestigious Dan Cook Boys Athlete of the Year Award for 2020-2021. Foote, a swimmer with Alamo Heights High School, earned two state gold medals in 2020-2021, taking 1st place at the state level in the 100 Freestyle and 100 Backstroke. Foote was also named State Swimmer of the Meet.
Alamo Heights Athletics finished 2nd overall in the Dan Cook Cup standings and is the top finisher in Class 5A. Congrats to all the Mule athletes, coaches, parents, and our Mule Family for pushing through a year like no other! #MulesUp
The Dan Cook Cup was first awarded in 2002-2003. Named in honor of Dan Cook, the late sportswriter and columnist for the San Antonio Express-News newspaper from 1952 to 2003, the award recognizes the achievements of local area athletes. Cook also served as the sports anchor for KENS-TV from 1956 to 2000. Throughout his career, he celebrated the achievements of area athletes with his news stories.
The winner of the Dan Cook Cup is determined by using a formula like the one used by the University Interscholastic League to determine its annual Lone Star Cup winner.
Points are awarded based on district, regional, and state team finishes and playoff advancement. Only area schools covered by the Express-News are eligible.
Doorbell Surprise Honors Military Mule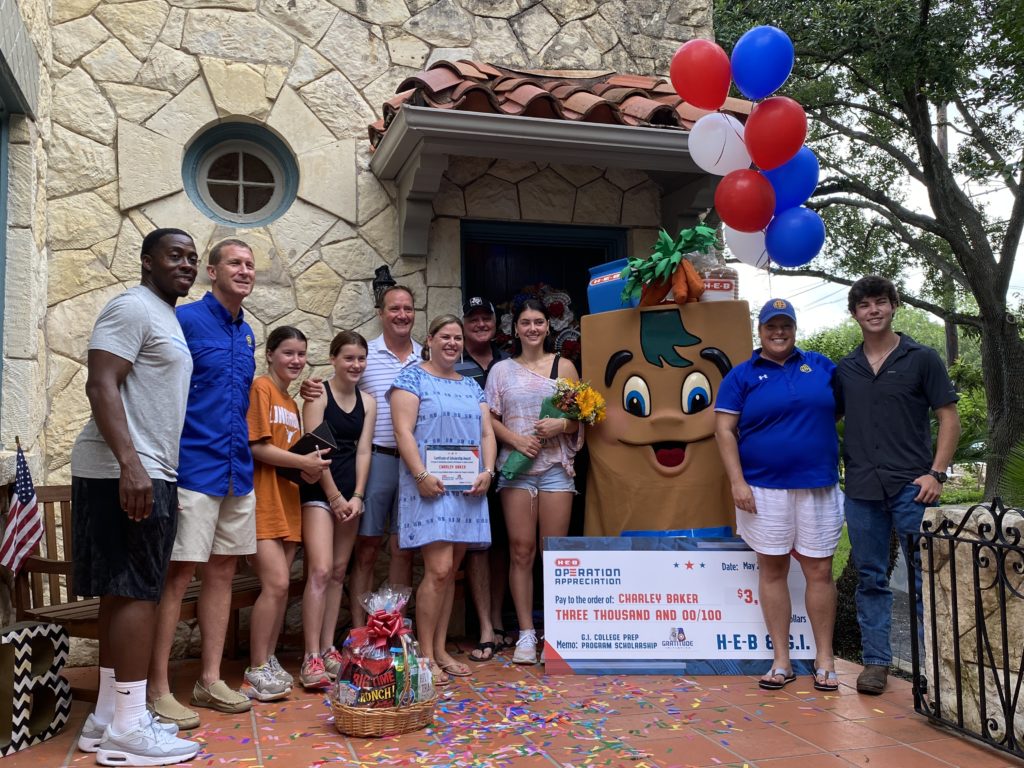 Charley Baker, a junior athlete at Alamo Heights High School, was surprised by HEB and her coaches with a huge honor from the Gratitude Initiative (GI). The program's mission is to provide educational support and college scholarships to the children of our military service members.
HEB is a proud sponsor of the Gratitude Initiative, and they celebrated Charley with a doorbell surprise! She received a $3,000 scholarship, lots of HEB goodies, and will be featured in an HEB commercial that honors the military.
The Gratitude Initiative provides the most comprehensive college and career counseling, test prep, and financial aid counseling program that is available today. Through partnerships with HEB and other organizations, the Gratitude Initiative can provide the College Success Academy free of charge to the families they serve.
To date, 100% of high school graduates in the program have been accepted into one or both of their top 2 college choices, receiving an average financial aid award of $22,678 per year for four years.
AHHS's 2020 Rocket Cleared for Launch
Alamo Heights High School rocketry students were excited to have the opportunity to launch their 2020 rocket at White Sands Missile Range (WSMR) at the end of June. This group of dedicated students completed their build in the summer of 2020, but due to COVID-19, the team was not able to launch their rocket. So, a year later than hoped, the team of now college students was more than ready to embark on their journey to New Mexico and the WSMR.
Congrats to this team of AH-mazing students for completing their rocket, weighing in at 390 pounds, one of the lightest vehicles ever built at AHHS. The team shared that they took the body down from 10 diameters to a trim eight and loaded a payload of a petri dish containing penicillin in the nose cone to test how atmospheric pressure affects it.
The students were beyond excited, and their teacher, Colin Lang, shared just how amazing it was to complete a rocket of this size and capacity in a year of a pandemic. Fittingly, the students have named the rocket the "Lone Survivor" as it was the only rocket to be completed in 2020.
The team departed June 24, with a launch window of June 26-27. Along with only two other Texas high school teams participating in the highest level of SystemsGo rocketry, the team successfully launched their rocket on June 26. Colin Lang, the Rocketry teacher, shared, "The Alamo Heights vehicle had a successful launch off the rail, but at ignition, the fuel grain dropped out of the bottom of the rocket. The vehicle went up to about 500 feet, but with no fuel, it could not travel much further." The crew shared it was an easy recovery that would allow continued learning in 2021.
WeBackTeachers
Alamo Heights ISD extends sincere thanks and appreciation for the backing and support of our Alamo Heights School Foundation. These dedicated community members have developed creative and engaging ways to support the district for 50 years. We are beyond grateful for the volunteerism, time, talent, and support provided by the organization's leadership and membership. Dr. Dana Bashara, Superintendent of Schools, and David Hornberger, AHISD Board Trustee, accepted a $1.1 million check from Heather McFarland, Executive Director and Jason Menzel, Board President, Alamo Heights School Foundation, on behalf of the AHSF and their donors, in support of the district's teachers and educational efforts.
Celebrating 50 AH-Mazing Years
Over the last 50 years, Alamo Heights School Foundation has supported Our Children.
Over the last 50 years, Alamo Heights School Foundation has backed Our Teachers.
Over the last 50 years, Alamo Heights School Foundation has funded Our Schools.
THANK YOU to our Community for establishing Alamo Heights School Foundation 50 years ago.
Over the last 50 years, $11 million has been given to Alamo Heights ISD while building a nearly $9 million endowment to ensure the future success of our children. This year alone, our Community's generosity provided a record-breaking $1.1 million to Alamo Heights ISD.
Join us today! Your donation impacts Our Children, Our Teachers, and Our Schools.
Become a member of Heroes for Heights and back Our Teachers all year long with a monthly gift of $100 or more. Members receive a special Heroes for Heights yard sign and a custom YETI! Or begin giving $50 monthly in honor of our 50 years and receive our standard yard sign after your first donation is received. Visit ahschoolfoundation.org to find more information.
Save the Date: Greater Heights Night & Reunite at Heights
Mark your calendars for AHSF's annual Greater Heights Night and join this AH-mazing celebration of our schools. We will be finally gathering together at The Witte on November 3, 2021, where guests will look forward to a silent auction, a live auction with unique items, Mules Up, and fun surprises along the way.
Are you an Alamo Heights alumnus?
Last year, the Alamo Heights School Foundation welcomed 250 guests to Reunite at Heights, our inaugural Alumni and Hall of Fame Celebration. Join us for this celebration on October 3, 2021, and take a trip down memory lane while hearing from current students and teachers about the great things taking place at Heights.
Afterschool Care is Right at School
Right at School is offering its nationally recognized before-and after-school programs at Alamo Heights ISD. These programs will be hosted every day that school is in session from 7 am until 6 pm. Program options include coverage for days off from school, flexibility in scheduling, and discounts. Learn more or register at: rightatschool.com
Meals for Shields
Alamo Heights ISD continues the Meals for Shields program during the 2021-2022 school year. This program provides a free, nutritious meal to any officer willing to sit down and eat lunch with students while visiting district elementary schools- Howard Early Childhood Center, Cambridge, or Woodridge Elementary Schools.
The program is designed to allow students to see officers as role models, offer students early relationships with police, and let them get to know officers as people. It also helps that more officers on campuses will act as a deterrent, which improves school safety.
"The kids need to know that the officers are their friends. We want to make them feel safe, and we want them to come to us when they have a question or a problem," said one Alamo Heights police officer.
If an officer wants to participate, they must be in uniform when they check in at the front office. After that, they will head to the cafeteria, enter the lunch line with the students and eat with them.
Looking Ahead
2021-2022 Back to School Calendar
Athletic Kick Off Events
August 25, 2021 HS Athletics Kick Off Program, 5:00-7:00 pm
August 26, 2021 JS Athletics Kick Off, 4:30-7:30 pm, Cafeteria/Field
NEW: Online Ticketing for Athletics Events Now Online
AHISD Athletics is happy to share that we can now offer the opportunity for people to buy tickets to our Alamo Heights athletic events online.
Howdy Night & Homecoming Events
October 6, 2021 Howdy Parade, 4:30 pm / Howdy Night, 5:00-7:00 pm
October 8, 2021 Homecoming