#RemoteReadIn
Snowed in? Alamo Heights ISD found creative ways to encourage reading among students and staff during time away from schools. The district launched a Remote Read In, asking students and teachers to share photos of themselves reading remotely during the coldest and most significant snowfall in decades in the San Antonio area and across Texas. Students and staff alike shared their favorite books, what they were currently reading, and their cozy reading spots while snowed in!
Some students shared how their reading of recipes crafted delicious outcomes, while others took reading and applied a little science to discover new knowledge about the snow and ice surrounding us all!
All Hearts and Hands On Deck
It was all hearts and hands on deck as our Alamo Heights ISD Food Service and Transportation Departments were joined by a team of volunteers to help distribute meals to students during the recent snow days! Board members, principals, and more jumped in to provide trucks to deliver meals on snow-covered streets, extra hands to get the meals delivered to qualified students, and lots of blue and gold spirit! Huge thanks to all who joined in to support #ExtraordinaryAHISD! 
Ready for Kindergarten? Register for the Howard Kinder Preview!
The Kinder Preview provides valuable information about AHISD's kindergarten programs and all that our littlest Mules will enjoy during their first year as a student.
Attendees will:
Meet the Principal, Susan Peery
Learn about the Kindergarten Program
Take a peek at a "Day in the Life" video
Virtually Tour a LIVE Kindergarten classroom for your child (You child will jump on the Google Preview with you at this time.)
Share in an opportunity for Q & A
Next steps: Register for the Kinder Preview
Have questions?
Contact Kim Romines: kromines@ahisd.net
Veronica Ochoa: heccenrollment@ahisd.net
Dates for Kinder Preview (Google Meet):
Google Kinder Preview, March 2, 9 am to 10 am
Campus Tour, March 2 & 3, 3:30-4:00 pm
Google Kinder Previews are limited to 40 children and their families, so register early. At the close of the Google Kinder Preview, you will receive the link to register for the Campus Tour. Campus Tours are open to all who are interested but not required. Registration for the Campus Tours are limited to 5-7 families per tour group.
SMH Athletes at the Top of Their Game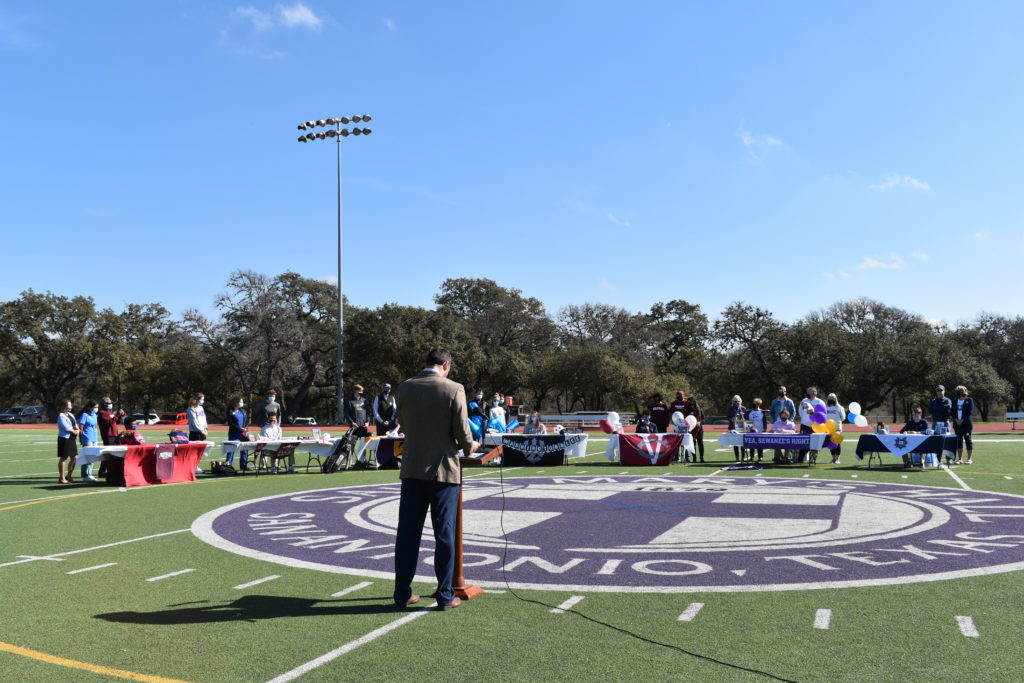 Whether it's the varsity football team advancing to the State Quarterfinals with their first female kicker, the women's varsity soccer team having the leading goal scorer in San Antonio, a coach celebrating 40 years at Saint Mary's Hall (SMH), a men's varsity basketball team ranked #1, or men's and women's swimmers breaking records and winning State Championships, athletics is thriving at SMH. To complement these amazing accomplishments and milestones, eight seniors have officially committed to play on the collegiate level at athletic programs across the nation.
On February 3, SMH held an official Senior Athlete Signing Day to recognize the following eight student-athletes as they formally committed to their choice colleges and universities. These seniors will play on the collegiate level after graduating from SMH.
Quintin Adolphe – track & field, Swarthmore College
Matthew Garcia – golf, University of the Puget Sound
Max Hart – baseball, Williams College
Lindsay Martin – women's lacrosse, Occidental College
Whitney McCormick – soccer, William and Lee
Ricky Reyna – baseball, Vassar College
Luke Thompson – baseball, Sewanee
Nick Wilson will play baseball, University of Dallas
SMH Athletics plays a vital role in students' development, and many of the school's graduates have gone on to play successfully at reputable and prestigious college/university athletic programs throughout the country.
The Circle School Places Second in Future City Regionals
The Circle School is proud to announce that our Future City Team placed second in Regional Competition.
Future City is an international cross-curricular engineering competition that asks middle school students to imagine, research, design, and build cities of the future that showcase their solution to a citywide sustainability issue. Future City prepares student participants to be citizens of today's complex and technical world and to conquer the problems of the future.
The 2020-2021 theme is Living on the Moon, with teams designing futuristic lunar cities and providing examples of how the city will use Moon resources to keep its residents safe and healthy. Circle School students developed a lunar settlement model, Jemison City, named in honor of trailblazing astronaut Mae Jemison, the first Black woman in space. Students led their essay this year with the inspiring words of Mae Jemison: "Never limit yourself because of others' limited imagination; never limit others because of your own limited imagination."
Their design's key features include the innovative location in the subterranean lava tubes, supported by mines on the Moon's surface that gather anorthite. This essential resource is processed into oxygen and elements, including calcium, silicon, and aluminum.
Past teams have won numerous honors in this competition, including placing first in Regionals in 2018-2019 and moving forward to compete in Nationals in Washington, D.C.