CELEBRATING THE CLASS OF 2020 SENIORS
Living in Gratitude
The spring was nothing like any of us could have ever imagined. We've all had to adjust to a different way of life in every aspect of our lives; how we work, how we learn, how we interact with those we care about. It's been full of challenges and opportunities for growth for all of us.
I hope that of the many things we take away from this experience, gratitude for the opportunities we have is at the top of our list. I am grateful for the plan our district put into place for our children, both the typical and neurotypical ones. I am grateful for good health. I am grateful for the dedicated teachers that provided lessons, checked in and cheered us on, students and parents alike, and encouraged us, sharing that we could do this hard work. I am most grateful for the opportunity to have a clearer view of my own children's strengths and their areas for growth. Our kids are capable of (and do) amazing things. I appreciate the wonderful humans my children are, and are becoming. As I look around our community, I see similar strengths and growth.
I am grateful for the way both our students and teachers have embraced this time of challenge to seek and craft opportunities for growth. I want each of them to know that their AH family is proud of them.
—AHISD Parent, Michelle Harrison
---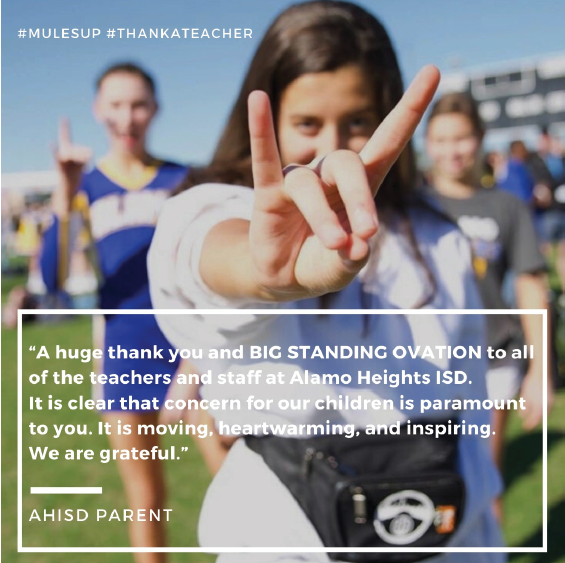 ---
Alamo Heights Junior School and Elementary School graduates from Cambridge and Woodridge
---
St. Luke's Episcopal School Students Excel Latin Exam
Thirteen middle school Latin scholars from St. Luke's Episcopal School won awards for their performance on the 2020 National Latin Exam (NLE). The annual exam, which was administered in early March, tests students over a wide range of topics, including Latin grammar and reading comprehension, mythology, English derivatives, Roman culture and history, and more. Each year over 100,000 students from multiple countries across the globe participate in the NLE. SLES students were ranked in the top percentage of all test-takers.
Congratulations to seventh grade award winners: Gabriel Dittfurth, Ivana Kovalska, Katalina Luna, Ryan Shaw and Grayson Weekley. Eighth grade award winners include: gold medalists Beverly Lindberg, Allison Poulter and Cadence Riggan; and silver medalists Lauren Maverick, Marcus Miller, Mia Miller and Charlotte Stevens.
Three of these students, Ivana Kovalska, Katalina Luna and Allison Poulter, also received one of the highest honors of the National Latin Exam awarded to students who earn perfect scores. For eighth grader Poulter, this marked her second consecutive year achieving a perfect score on the NLE. SLES students have the option to begin a Latin I program in the seventh grade and earn foreign language credit for high school.
---
The Class of 2020 Set to Achieve Greatness Beyond SMH
Though this school year has been a challenging one for our seniors, our Saint Mary's Hall (SMH) graduates are now off on a journey toward success in college and fulfillment in life. While it's always difficult to say farewell, we're excited to see our graduates go out into the world to pursue their destiny of achievement and accomplishment.
In an effort to celebrate our seniors, SMH delivered specially made Class of 2020 signs and delivered one to each senior to place proudly in their yard. On May 20, the school held a parade (practicing safe social distancing) for the graduates. Seniors were invited to drive around the SMH campus for a senior send-off from their beloved Upper School faculty, staff, and coaches. On May 24, a total of 88 seniors graduated in a very special virtual Commencement Ceremony.
These exemplary students earned more than $10.5 million in merit scholarships. The class had a 100 percent acceptance rate and will attend 52 different colleges and programs across the U.S., Canada, and the U.K. Just some of the impressive colleges and universities our graduates will attend include Harvard, Cornell, Dartmouth, Duke, New York University, Georgetown, The University of Texas at Austin, Texas A&M, and Notre Dame.
SMH ensures all graduates are well prepared by familiarizing students to the college admissions process starting in Form 9. With extensive experience and a plethora of resources, the school's dedicated, full-time college counselors helped the Class of 2020 assess their academic and personal strengths, as well as their goals and desires, to identify colleges that match their needs and are a right fit.
The Class of 2020 leave SMH as articulate, confident, and perseverant young adults prepared for the next chapter in their lives. We are so proud of our graduates and look forward to their many successes in college and beyond.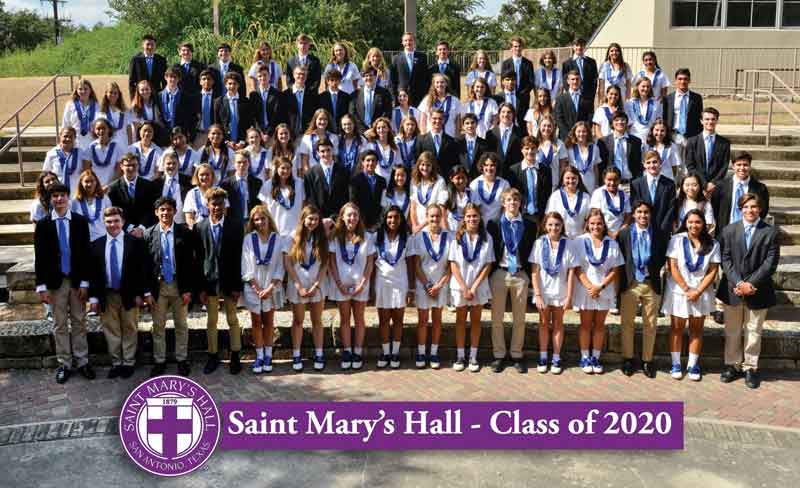 ---
Presidential Award
Alamo Heights High School senior Christopher Lloyd has been named a US Presidential Scholar. One of 5,600 students that submitted the rigorous application, Lloyd was one of 161 students selected for this recognition nationally, and one of only four distinguished in Texas. The application is by invitation only. Students are invited to apply by the head of their state's Department of Education.
Lloyd, an outstanding student in his class, is ranked #2. He has been an active member of the National Honor Society, National Hispanic Honor Society, AH Rocketry , Young Men's Service League , AHHS Tennis Team, AHHS Class Officers, AHHS Student Council, Young Republicans Club, and Young Engineers Club. Honors and awards include; National Hispanic Scholar, Presidential Volunteer Service Award, Rensselaer Medal Recipient, National Spanish Exam Gold Medal, AP Scholar with Distinction, Princeton Book Club Nominee, Young Men's Service League Senior Leadership Award, Mission San Juan Award, Mission Concepcion Award, and the Mission Espada Award.
He has gained valuable work experience alongside his diverse academic and extracurricular activities, working as an intern with the Texas Biomedical Research Institute, co-authoring and publishing an article in the journal Frontiers in Cellular and Infection Microbiology, as well as serving as an AP/GT Chemistry Tutor.
Lloyd will attend Duke University in the fall and plans to study and launch a career in Biomedical Engineering.
The U.S. Presidential Scholars Program is a recognition program. Students chosen as U.S. Presidential Scholars receive an expense-paid trip to Washington, D. C. in June and are presented the U.S. Presidential Scholars medallion at a ceremony sponsored by the White House, in commemoration of their achievements. During their visit to Washington, Scholars have access to important national and international figures, including government officials, educators, authors, musicians, scientists and other accomplished people. Scholars are provided opportunities to: wrestle with issues that concern America and the world; attend recitals, receptions and ceremonies held in their honor; and visit area museums and monuments. But perhaps the greatest benefit to the Scholars, and the one they most often remark on, is the chance to exchange ideas with similarly motivated and accomplished peers, and to forge friendships that last a lifetime.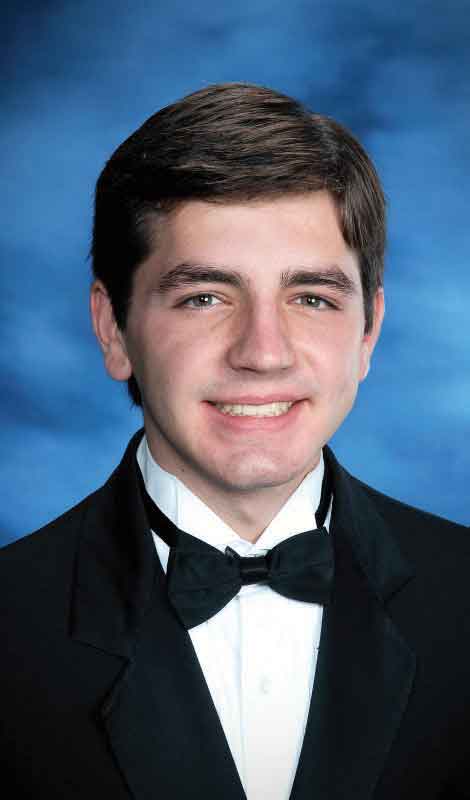 ---
Summer Arts and Culture Sessions with The Circle School
This spring our community has celebrated the transition of our unique school culture and curriculum into an effective distance learning program. This summer, we will build on that success by offering a variety of programs in a distance format for children ages 7-14. Engaging weekly opportunities have been designed for children to learn and explore together with skilled teacher support.
Our long-running summer tradition of Arts and Culture Sessions such as Dr. Seuss Central, Messy Science, DIY Fashion, and Southern Cooking will still be hands-on in this new format! Prior to the start of the session, students will be provided with prepared materials and a home supplies list to be paired with daily virtual instructions, connections and demonstrations. We offer a full menu of choices to inspire every aspiring chef, artist, poet, or engineer to follow their individual passions and interests.
Distance learning has been a different experience for every student and every family this spring. Our teachers bring years of experience encouraging students as individual learners and tailoring instruction to help students develop their skills with one-on-one support along the way. This summer we will also offer weekly academic sessions focused on strengthening core Reading, Writing, and Math skills for kindergarten through 8th grade.
Summer programs at The Circle School will run from June 1-July 31. You are welcome to sign up for one session or for the whole summer!
---
Woodridge Named State and National School of Character
Character.org is pleased to announce that Woodridge Elementary, Alamo Heights ISD, has been named a 2020 National School of Character!
National certification is the highest level of distinction bestowed by Character.org. Schools receiving this designation have demonstrated excellence in establishing a school culture that exemplifies and brings to life The 11 Principles Framework for Schools: A Guide to Cultivating a Culture of Character.
"We are pleased to announce and celebrate the schools and school districts who have earned this national recognition," said Dr. Arthur Schwartz, President of Character. org. "Each of these schools and school districts has put in place a comprehensive approach to help their students understand, care about, and consistently practice the
core values that will enable them to flourish in school, in relationships, in the workplace, and as citizens."
Since its inception, the National Schools of Character program has impacted nearly 3 million students, staff, parents, and community members. The schools and school districts who apply must meet the rigorous standards articulated in Character.org's 11 Principles Framework for Schools. Each school is evaluated by a team of trained educators and includes a site visit to assess how a school's "shared values" are motivating students to do the right thing.
"These schools and school districts serve as an exemplary model for all schools and districts across the nation," adds Lori Soifer, who directs the Schools of Character program.
"The educators at these schools are inspiring their students to treat all people with respect and dignity. They are teaching their students to be honest and trustworthy, to contribute their time and talents to the common good, and when necessary, to show the courage to stand up for what is right."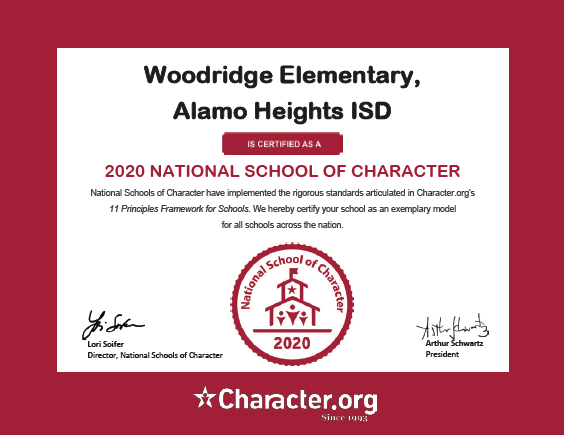 ---
#BetheLightHeights
AHISD celebrated the Class of 2020 in unique and memorable ways leading up to graduation.
Each night during the week of May 18-21, at 8:20 or 20:20 military time, the lights at Harry B. Orem stadium were illuminated for 20 minutes to Shine a Light on our Seniors.
A special Senior Shoutout video was produced and premiered on the district's Facebook page. The video was filmed during cap and gown pickup and featured students sharing messages about their time at Alamo Heights High School, beloved teachers and friends, their club and athletic involvement and why they loved their school.
Seniors threw their Mules Up to celebrate their graduation and to share their loyalty to their blue and gold as they embark on their next journey.