AHISD
Thank you for attending Greater Heights Night 2022! There's truly no place like AHISD and that's because of YOU, our community. Together, we raised a record-breaking $972,000! Thank you for helping us support our children, back our teachers and fund our schools!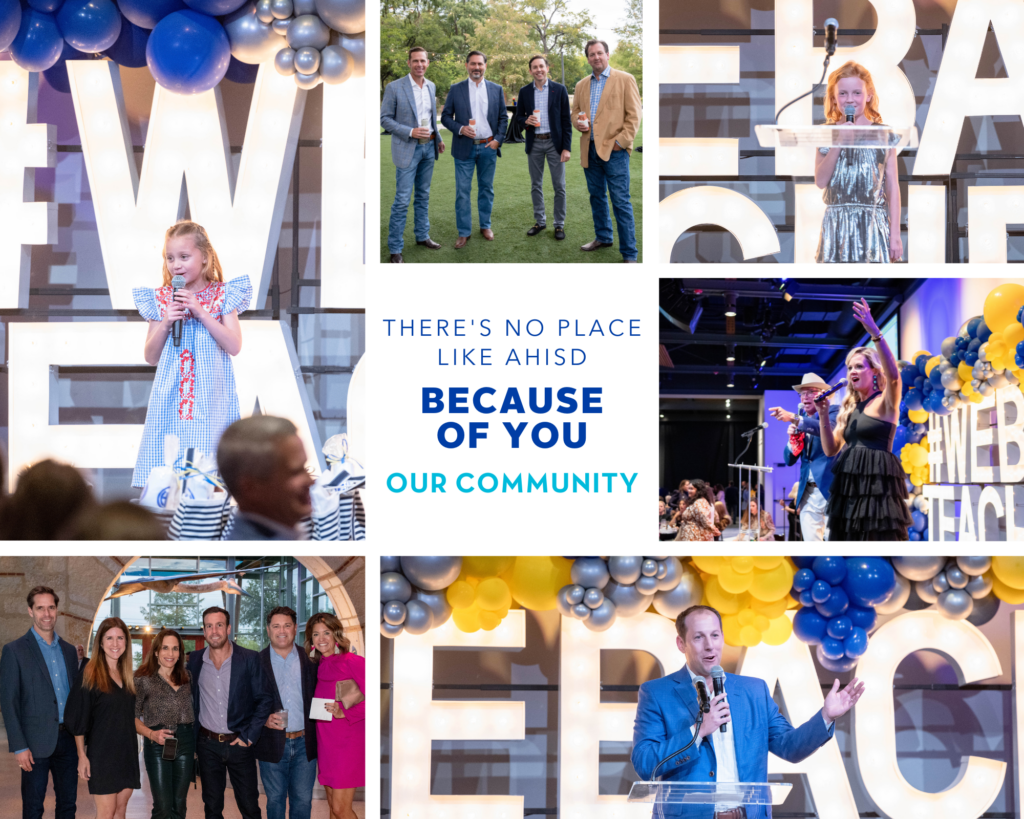 The heart of teaching 
On a Friday morning in early fall, senior Dietric Lozano walks into Patty Cruz's bilingual kindergarten classroom at Howard Early Childhood Center ready for another day of adventure.
Lozano is in the Teach program, and the college dual credit course allows him to spend four mornings a week at Howard. He works with students in small groups, practicing literacy skills and leading assignments, but can also sometimes be found jumping rope and playing outside with the class.
"Dietric has such a calming presence and students love working with him in literacy centers and in small groups," Cruz said. "He is very patient and thoughtful when working with students. Dietric is able to redirect students in a firm but kind way and students respect him for that."
The school is about to celebrate Teddy Bear Picnic, so the task of the day involves an art project. Lozano works with a table of students who are creating teddy bear paintings. He talks to each of them as they ask questions and look to him for guidance on which parts of the teddy bear to paint next.
Lozano grew up in Mexico and Spanish is his first language. He easily converses with his students, and in just a few weeks, has developed relationships with each of them. He's also picked up on an important skill for teachers – adaptability.
"What I've learned is that if you have a game in mind, throw it out the window," Lozano said. "No matter what you plan and what you do, you have to adapt to their needs."
This year, five high school students are in the Teach program, which meets on campus with instructor Jackie Moore on Wednesdays to tackle their college level assignments.
"We offer several classes in the education cluster," said Moore. "Students can start taking courses their freshman year to prepare for a career in this field. AH-mazing teachers are made at Alamo Heights High School!"
Courses offered include Principles of Education and Training; Child Development; Dual Credit Instructional Practice; Dual Credit Special Populations; Instructional Practice (Non-dual credit); and Practicum in Education
Though Lozano is ultimately considering a career in the medical profession, this experience has still been eye opening.
"I have so much respect for teachers," Lozano said. "I do this two hours a day and some days you feel more worn out than others. I don't know how they do it and keep a balance at home. They give so much and have so much patience. It's a profession of love and profession of passion."
AHISD Kinder Preview
Howard Early Childhood Center in Alamo Heights ISD will host Kinder Preview events for new families on the following dates:
January 31, 2023
February 9 & 28, 2023
March 21, 2023
April 13 & 25, 2023
All events are at 9:30 a.m. Come learn why Howard is called the "happiest place on Earth!"
In order to register for kindergarten, children must be five years old by September 1, 2023.
Contact the office at Howard with any questions at 210- 832-5900.
NEISD
It's all fun and games before the bell rings.
Garner Middle School sixth-grader Stephen Surrey loves coming to school.
In fact, he loves coming to school early. That's because he and a couple hundred of his friends get to play before school starts.
"It's fun. We play pick-up games," said Surrey. "I look forward to coming to school now cause I get to have some fun."
When this started, there were just a couple dozen kids playing basketball. Now, so many kids are playing it's hard to tell where one game ends, and another begins.
There are groups of students playing bump-set-spike in the courtyard. Pick-up basketball games are happening under every available hoop. And students are tossing footballs over nets on the tennis courts. They are getting exercise, solving problems, and having fun.
And all of that is helping them in the classroom.
"This is really helping our kids focus," said Principal John Bojescul. "They used just to have to sit in the mornings. Now they are getting to run around and let that energy out in a positive way. The kids love it. The teachers love it."
Surrey admits he didn't always look forward to early mornings at school, but he does now. He says he's calmer in the classroom and ready to learn.
Teachers have noticed a difference in a lot of their students.
"It's definitely calmed them down," said seventh-grade science teacher Julie Rogers. "It's fantastic. Our kids need it. It's giving them something to look forward to. It gets their energy out. It wakes them up. I am having fun with it too."
Finding ways to make positive changes #theNEISDway

How NEISD's ALIR Program is providing lifelong learning opportunities.
"Right now, my goal, driver's license permitting, is to do exactly what I am doing until I am 100, and then I will review the situation."
Mary Bowman will be 96 years old in May.
Don't believe her?
She will happily pull out her driver's license to prove it.
If you ask anyone at North East ISD's Academy of Learning in Retirement (ALIR), they will tell you, "Mary Bowman is a legend." She volunteers a couple of hours a week teaching Zen Painting and Calligraphy classes at the NEISD Community Learning Center. She's been teaching ALIRians for 20 or so years now.
"I believe in sharing. You need passion. My passion in all this teaching I do is to elevate people. What is your gift to everyone — to the world and then follow it."
Bowman found her passion in Japan in the 60s. She spent time learning from Zen painting masters. Since then, she has shared her talents as often as she can. During her Zen painting class on Tuesdays, she shares her expertise as she weaves her way between tables offering pointers and painting philosophy to her students. She comments on the drama created by dark colors, the flow a single painted branch can offer, and where students should sign their artwork. Her only goal is to make each of the dozen or so ladies in the class better at Zen painting.
"The connection of this group is wonderful. We are all good to each other. It's a wonderful atmosphere."
ALIR offers dozens of classes to anyone over the age of 50.
There are Bowman's Zen Painting and Calligraphy classes, a very popular mountain dancing class, and a couple of classes to help retirees get up to speed on using their computers. Since COVID, ALIR has also created a slate of online courses to serve our community who may not be able to attend in-person classes.
"I listen to podcasts about getting older healthily. You've got to keep your mitochondria healthy. You do that by stressing your body a little bit. It's like training—a little push past the regular to keep your body on edge. Our classes can do that. ALIR has a wonderful future because it meets so many needs."
And part of that wonderful future will be because of Mary — if she has anything to say about it.