Wife, Husband and Best Buds Too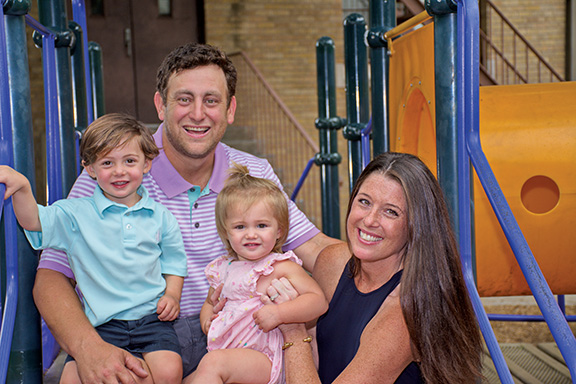 It really is quite moving on those singular occasions when meeting a young wedded couple obviously so in sync with each other and in so many wonderful ways. Why, just being in the rarified presence of such a perfectly attuned twosome can be an uplifting experience that just makes any and all involved feel pretty darn good. Encountering such complete cohesion may not happen often, but when it does, WOW, and we suddenly think, "That's what all marriages should be like!"
Well, if you've had the good fortune to become acquainted with 78209's very well matched Katy and Josh Scates, you know the kind of relationship we're talking about. This delightful duo, whose love for one another is overt, evident and touches on many levels, also share an incredibly deep platonic attachment that goes beyond the norms of husband and wife. In other words, these sweethearts are also each other's uncontested, undisputed, unquestionable and unashamedly best buds too. Now that really is what all marriages should be like! Can you say passionate pals? They sure can.
Katy and Josh both hail from the Houston area. It was primarily employment opportunities that brought them (separately and as strangers) to San Antonio in 2011. But thankfully for this destined-to-be-together, new-to-the-city pair, it wasn't long before friends and family instigated the introduction that would develop into something neither initially anticipated. But that's just how great things can start.
Ironically, upon arrival in the Alamo City, both ended up working for the same energy company, just in different departments in different offices. Josh is a successful landman based in the Pleasanton branch, while Katy is in the accounting department in the San Antonio divisional headquarters. And although they shared an employer, neither knew the other existed until mutual acquaintances brought the pair together. As Josh recalls, "It all started when a couple of mothers, one being Katy's, the other, a friend's, knew we had both recently relocated to SA. I was encouraged to give Katy a call, did, and thankfully she agreed to our getting together."
Their first date (although Katy didn't consider it as such) took them to Floore's Country Store in Helotes, where Mickey and the Motorcars were performing. Amazingly, it turned out that this musical group was, and still is, a favorite of both. As Josh adds, "It was a lucky break having the Motorcars on the marquee because it highlighted our similar interests. We were also 'floored' on that date when we found out we worked for the same company. Who would have guessed?" With those two "coincidences," a good start to the relationship was certainly achieved, and from there, things moved quickly.
Less than a year later, Katy and Josh had seriously bonded. Marriage followed in 2013 with the Scates eventually occupying a modest rent house near the Quarry. Both loved the Heights and knew this was where they wanted to stay and build their lives together. As Katy attests, "Coming from the faster-paced, more urbanized Houston area, 78209's small-town charms proved to be irresistible. We were smitten – with each other and the neighborhood."
Once the decision to stay '09ers was made, the newlyweds were fortunate to be able to purchase the house across the street under very favorable conditions in 2014. Now, several years later, with two little ones, a son and daughter, not to mention several treasured pets, this is where they still reside and plan on doing so for many years to come.
But let's get back to this friendship thing. As was mentioned, Katy and Josh really are "best friends." They continue to discover more common interests and shared personality traits that further enhance their ever deepening, always evolving relationship. Examples include a joint love for the outdoors and especially anything actively water related. Another "like" includes food – Josh has turned into an incredible cook, while Katy and kids, always ravenous because of the family's high-energy lifestyle, can't get enough of his culinary creativity.
But of greater importance are the emotional connections that Josh and Katy share. As Katy relates, "I realize it sounds cliché, but I fall in love with Josh more each day. He is the greatest husband, dad and person I know. He is a joy to be around because he really is my No. 1 bud." Josh feels the same about Katy. As he offers, "With her easy-going personality and sense of adventure, I wish I had known her always. Quite frankly, as close as we are, it feels like I have. We're that good of a fit."
For the Scates, actually finding one's "best friend" has been a godsend that each appreciates profoundly, but marrying that person too? Well, that's just Katy and Josh. We should all be so blessed.
By Ernie Altgelt
Photography by Martin Waddy