El Rey Fido
There's nothing funnier than the woeful look on a dog's face when his human has dressed him up in a costume. He gets that embarrassed expression with the accusing eyes that say, "You think this is cute, but I feel the fool!" He fixes you with a sad, sad stare, waiting for you to release him from this torture.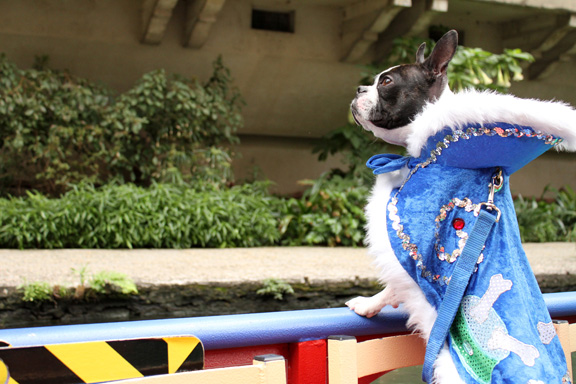 For 15 years, the San Antonio Humane Society has been making fools of dogs for a good cause. Their Fiesta event is the El Rey Fido Coronation, where good-natured canines don the fancy robes of kings and queens, of dukes and duchesses, to raise thousands of dollars to help fellow pets.
"Eighteen contestants entered this year's competition," says the society's Felicia Nino. "And five dogs were chosen." She says contestants enter their pooches and encourage friends, family and supporters to donate and raise money to help that contestant win. The entrant who raises the most becomes "El Rey Fido." Runners-up make up his or her court. Fiesta 2017's winner is a Queen Fido.
Nino says they have raised over $63,000 this year. And every penny is spent exclusively on the care and health of San Antonio Humane Society animals. "We rescue, rehabilitate and save about 5,000 animals a year. It costs about $35 a day to board a dog or cat. We get no money from the Humane Society of the United States. So all of the money is spent locally."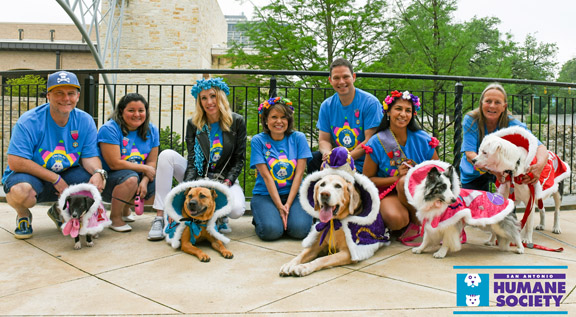 After the court has been chosen, the glittery El Rey Fido Coronation takes place at the Grand Hyatt Hotel downtown. During the coronation, the royal pooches parade their finery afloat a San Antonio river barge. There's nothing more Fiesta-festive than that!
And no decent court of royalty would go around without their own personal Mistress of the Robes, who in this case is Mistress of the Grr-Robes, Cheryl Trevor. She is a professional pet costume designer who excels at making pooches look a little silly. "I came in about the third year, and I've been making the robes for 12 year now," she says. "It is fun, and I love to see the different dogs each year. We've had mastiffs, Great Danes and Chihuahuas. The mastiff required yards of fabric.
"I make the collars stand up high, depending on the size of the dog, using stiff interfacing, and I don't line them so they are not so hot for the dogs. I have a photographer who helps me choose colors, who knows how well they will photograph. Usually the colors are turquoise, royal blue and red, and then I embellish them," she says.
Hand-wrought, painstakingly made appliqués embellish each courtier's robe — for the Dukes and Duchesses of the Perpetual Food Bowl, the Indestructible Chew Toys and the Ever-Present Fire Hydrant. Trevor selects Swarovski crystals and adorns the magnificent collars with white fake fur.
All this for a dog? Especially for dogs, she says. "You can tell that they feel special, and you can really see a difference with these dogs when they put them on. Then they get their pictures taken, and they're very excited about it. Some don't like the crown on their head, but some of them are like, 'I like this crown!'"
She says leash-trained cats have also joined the El Rey Fido court. Grrrr …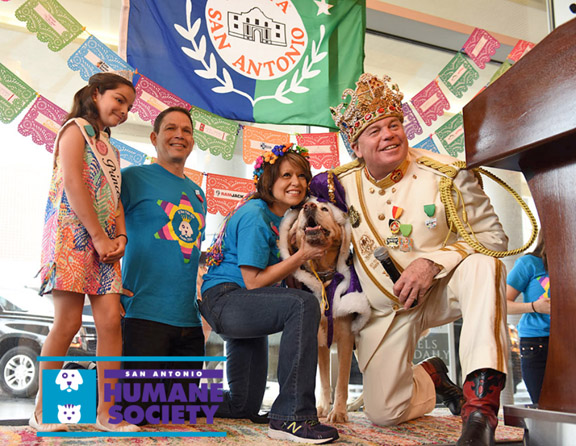 Broadway Oaks Animal Hospital owner Dr. Pat Richardson offers the veterinarian's point of view on costuming pets: "Costumes can't be heavy, because if it's 80 degrees with the humidity here, that becomes 100 degrees. Make sure their abdomen remains uncovered because it's through an animal's stomach area that they dissipate heat." He clips his clients' belly fur in summer to keep them cooler. "And make sure they get all the water they want."
Avoid strings and streamers on costumes because dogs will eat almost anything. Richardson has seen cords that were ingested and then coil, tighten and cut into intestines.
"Avoid, if you can, sequins and ornamental things because those are also something that dogs will eat, especially if it's something that's bugging them," he recommends. Broadway Oaks Animal Hospital is located at 8221 Broadway.
During Fiesta, people dress up their pets, showing them off at fairs, parties and parades. But make sure Fido doesn't get twisted up in his garb or stumble over it.
If he's irritated, snap your photos and take that silly costume off!
Fiesta is April 20 – 30. The El Rey Fido Coronation is April 22, and everyone is welcome.
Woof, woof!
Roxie