Culinaria's Sixth Annual 5K Wine & Beer Run
What's this? A tasty run through the shops at La Cantera on Saturday, March 18, sure to tempt the taste buds and senses — count me in! Culinaria is a not-for-profit organization dedicated to benefiting the San Antonio community and promoting the city as an ideal wine and food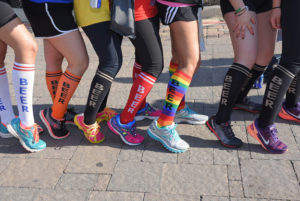 destination. Registration and donation efforts go directly toward Culinaria and its Farm. The main goal of the Culinaria Farm, which opened last fall, is to introduce a center of food education within the San Antonio community. Everything from the building materials to the fruits and vegetables grown will be an example of education and sustainability and an excellent place for children, schools and families to discover where their food comes from. The run offers wine, beer, food, festivities, goodie bags and exercise! And afterward, you can shop the shops. Get moving and sign up at www.culinariasa.org.
2017 Night of Artists
The Briscoe Western Art Museum will host the 2017 art sale and exhibition showcasing more than 200 works of art from 73 of the country's top Western artists.The event kicks off with a preview and artists awards Friday, March 31, followed by the art sale and reception on April 1. Enjoy an open bar, live music and hors d'oeuvres as you meet and greet top artists during opening weekend. It's your opportunity to purchase original artwork on the banks of the historic San Antonio River. All unsold art will be available for purchase by the public from April 2 – May 14. Visit www.briscoemuseum.org.
Sip, Savor and Stay – CommonWealth Coffeehouse & Bakery
Visitors at Hemisfair Park will soon be able to sip coffee and munch on croque monsieurs in Yanaguana Garden with the addition of 78209's "best-kept secret," CommonWealth Coffeehouse & Bakery. Situated at 118 Davis Court near the University of the Incarnate Word, CommonWealth and its team of French bakers and chefs will open their second location in the historic Koehler House near Hemisfair Boulevard. Stop by and bring the family for a pain au chocolat and a cappuccino come late March.
With a vocal loyal following for atmosphere, light fare, locally roasted coffee and French artisanal pastries, CommonWealth was ranked among the city's top spots to grab a bite, according to the San Antonio Express-News' "Top 100: Dining & Drinks 2016."
Paella Challenge
Paella Challenge
Since its inaugural event in 2010, Chef Johnny Hernandez's annual culinary competition has seen support grow from chefs, corporations, and the community. Now in its eighth year, the Corona Paella Challenge is excited to build on the prior year's success by moving the event to Mission County Park, allowing for more attendees, more chefs and even more paella.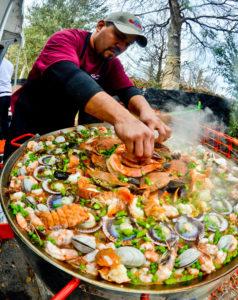 The HEB high school competition began in the third year, and continues this year. Hernandez also recognized that the exponential growth to the professional competition justified incorporating a new category for chefs to compete in: contemporary. "There are as many versions of paella as there are cooks," said Hernandez. So, in addition to variations of authentic Valencia-style paella incorporating saffron, rabbit, and snails, the Paella Challenge has seen everything from dessert paella to sushi paella. "Much of the excitement of the Challenge is experiencing the different interpretations and approaches the chefs have to this traditional dish."
The event is slated for Sunday, March 26. 2017 from 11 am to 4 pm at Mission County Park. For more information on the free parking and all the ticket prices include go to www.paellachallenge.com.
All proceeds go to benefit Kitchen Campus, a non-profit organization with a mission to connect today's youth to culinary opportunities through education and advocacy.
The BRAVE Coalition Foundation Fundraiser
Breast Restoration AdVocacy and Education is the core meaning of Brave. Come join us at our fundraiser on March 21st at the Picknickins restaurant from 5-7pm for a fun evening. Tickets cost $35, and includes an appetizer and a drink. Our keynote speaker will be Dr. Fearmonti, a well known plastic surgeon at Alon Aesthetics, specializing in Breast Reconstruction. We will have a silent auction for a stay at a beautiful place in Cabo, and other raffled items. Join us in supporting this great cause. For more information contact ellie@bravecoalition or call 210-416-9477.
The 11th Annual Fest of Tails Kite Festival and Dog Fair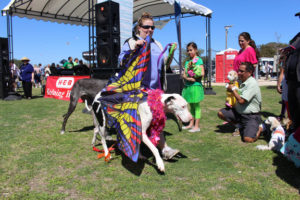 Fest of tails is back — free fun for the entire family, taking place Saturday, March 18, 9 a.m. – 4 p.m. at McAllister Park. Kite and dog enthusiasts and spectators from near and far are welcome. Arrive early to enjoy a hot air balloon ride from 9-11:30 a.m. There will also be contests for the best-dressed pooch, best in show and "most resembles owner" — I wouldn't admit to winning that one! Go to www.saparksfoundation.org for details.
Andrew Morgan wins on Cooks vs. Cons
Andrew Morgan, a local physical therapist and part-time professor of physical therapy at the University of the Incarnate Word and amateur cook, took home the cash prize on COOKS VS. CONS on the Food Network.
The process all started with an online application. There were multiple phone interviews and Skype interviews to ensure that Andrew was able to cook. The episode aired on Jan. 11 on the Food Network."
Since the episode aired, Andrew is working on bottling his ancho-cranberry sauce and possibly investing in a food truck. Stay tuned, and congrats!
By Leslie Foley