COLLECTION HAS DOUBLED, FOOTPRINT ALMOST TRIPLED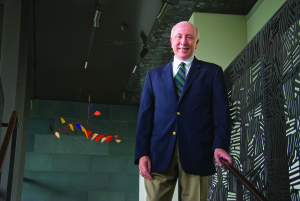 William Chiego, McNay Art Museum's director, has guided the Alamo Heights-area institution since 1991. In that time, McNay's collection and reputation both have expanded, and so has San Antonio's contemporary art scene.
Chiego announced recently he will step down as the head of the McNay on Sept. 30, 2016. Originally from the Northeast, Chiego has appreciated all that the museum and San Antonio have had to offer. "The McNay brought me here. I was fascinated by the collection here and the physical place," he said. "These are beautiful grounds, a beautiful city and a great board of trustees. They gave me an offer I couldn't refuse."
Texas' first modern art museum, the McNay initially put much emphasis on Modern European and American art that reflected Marion Koogler McNay's interest in French painting and Post-Impressionism. During Chiego's tenure, the McNay collection has more than doubled, growing from 9,000 to more than 20,000 works of art, including post-World War II American art, Modern European and American prints and drawings, and the Tobin Collection of Theatre Arts, which involves more than 9,000 theater arts objects focusing, primarily on scene and costume designs.
Under Chiego's leadership, the museum's footprint has nearly tripled to 100,000-plus square feet. Chiego said he knew physical growth of the museum as well as its unique collection was vital not only to the institution but also to the larger community. He led a $51 million capital campaign that ended with the 2008 opening of the Jane and Arthur Stieren Center for Exhibitions. The Stieren Center, designed by French architect Jean-Paul Viguier, added 45,000 square feet to the museum and created gallery space for major exhibitions, a sculpture gallery and garden, a lecture hall and classrooms for the museum's various educational programs. "I think that's our biggest accomplishment. That was the culmination of 10 years of work," Chiego said. "It was really fundamental to our educational mission that this center be built."
The McNay has appointed a transition committee, which will direct the international search for a successor. "The timing of this announcement is to ensure that a succession-planning process will be deliberate and seamless until the best-qualified candidate is secured and a smooth transition follows," said Sarah Harte, president of the McNay's board of trustees. Once he steps down as director next year, Chiego aims to keep working with the McNay while spending more time with his wife and family.
"I plan to keep my hand in things, do more research on the collection, writing and lecturing," he said. "I came up as a curator to begin with. I love talking about and curating objects."
MCNAY'S MASTER PLAN MOVES FORWARD
MUSEUM TO ENLARGE ITS GREEN SPACES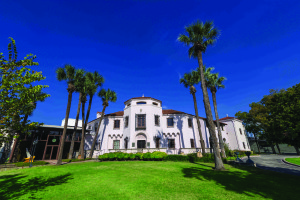 The San Antonio City Council on June 4 approved closing a small part of Rittiman Road in order to connect the McNay Art Museum's main 23-acre property with an adjacent tiny parcel of land on Austin Highway. It's part of the McNay's master plan for growth.
The intersection between Austin Highway and North New Braunfels Avenue will be re-engineered to form proper turning lanes, creating an enhanced view of the museum from the street. "We are grateful to have the first modern art museum in the state located in District 10," District 10 City Councilman Mike Gallagher said in a news release. "This is a great partnership with the city of San Antonio, McNay Art Museum and Texas Department of Transportation, along with the support from the cities of Alamo Heights and Terrell Hills."
In addition, the closure will not occur until after the Texas Department of Transportation makes needed improvements along Austin Highway and North New Braunfels Avenue. The combination of the two properties allows the museum to increase the size of its green spaces and create a larger area for the sculpture garden, city officials said.
According to William Chiego, McNay Art Museum's director, the master plan for the next phase of expansion calls for elements and additions that will help to make better sense of the grounds. "We're trying to make our space more welcoming and accessible. The joining of the two properties will really further open the McNay up to the community," he said. "We're fortunate to have 23 acres. Not many museums and galleries can say that. But we're looking out 20 to 25 years. When you grow as much as we have, you have to provide for gallery space and storage space. You must plan carefully."
BY EDMOND ORTIZ