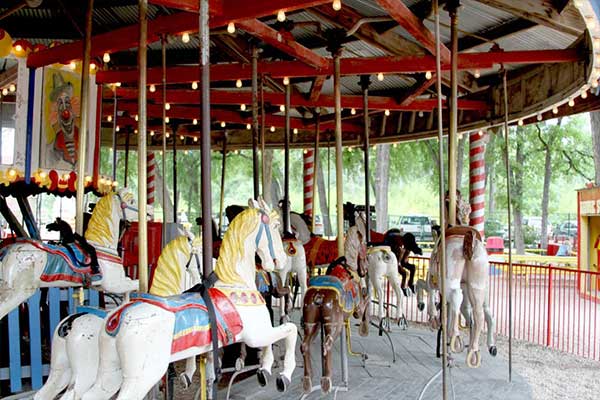 Zoo Agrees to New Kiddie Park Site
Brackenridge Park Conservancy concerned about the Parks original relocation site
The San Antonio Zoo agreed in June to change the planned relocation site for Kiddie Park.
The owners of the historic children's amusement park announced this spring the park would be moved from East Mulberry Avenue to inside the zoo grounds.
But the Brackenridge Park Conservancy was critical of the original relocation site, saying it would create some problems along the San Antonio River.
A June 6 news release stated the zoo and conservancy reached a compromise.
This September, BPC will release a cultural landscape report designed to help all stakeholders begin to see the park from a broader perspective.
Witte's Exhibit Receives an Award
The American Alliance of Museums recently awarded the Silver MUSE Research and Innovation Award to the H-E-B Body Adventure at the Witte Museum. A news release stated the alliance honored the use of POWERpass technology at the Body Adventure, an interactive exhibit that explores how the human body works.The exhibit also emphasizes the benefits of physical fitness and better community health.
San Antonio Adopts Midtown Plan
San Antonio City Council on June 6 approved the Midtown regional plan as part of the SA Tomorrow long-range comprehensive plan.
The Midtown plan affects San Antonio neighborhoods within a 3.7-square-mile area, including Mahncke Park, River Road, and properties on the western edges of Joint Base San Antonio-Fort Sam Houston.
The Midtown regional plan suggests using neighborhood areas, mixed-use areas, and a light industrial area as the best ways to guide future land use.
Neighborhood areas feature primarily low or medium-density residential neighborhoods. Mixed-use areas blend office, retail, service, and recreational spaces.
Shake Shack Opens
Shake Shack, the popular chain of burger-centric restaurants, opened its second San Antonio location at 3003 Broadway and East Mulberry Avenue on June 7.
The 4,000-square-foot Brackenridge Park restaurant features a full menu along with indoor and outdoor seating. The location also donated 5% of sales from its Pie Oh My concrete dessert to the San Antonio Food Bank.
Bless Your Heart Closes
The owners of the Bless Your Heart boutique closed their Sunset Ridge location in early June, but not before holding a clearance sale. The local store had been open for eight years. The original Bless Your Heart in Bracken is still open.
Heights Mourns Deaths of Michael Brenan and William Kiel
Officials in Alamo Heights are mourning the passing of attorney Michael Brenan and former City Councilman William Kiel.
Brenan died on May 7 at age 75.
An Alamo Heights High School graduate, Brenan in recent years worked as city attorney for Alamo Heights for more than 40 years. He had held a similar position in Olmos Park and other area cities.
Brenan also had been a trustee with the Alamo Heights Independent School District between 1975 and 1984 and was a member of numerous local clubs and organizations.
"Mike's breadth of knowledge helped him guide city administrators, city managers, council members and members of the Alamo Heights boards and commissions through decades of decisions," Mayor Bobby Rosenthal said of Brenan.
Kiel, 73, died June 2 after a battle with cancer. He retired after a career as a geoscientist with the energy/petrochemical company, Shell. He served with the Alamo Heights council, and with the city's planning and zoning commission.
Rosenthal said Kiel had been an active city volunteer for more than 13 years, calling him a "great advocate" for Alamo Heights.
"The city will miss the guidance and leadership we received from both Mike and Bill, and their families are in our thoughts," Rosenthal added.
Cities to End Recycling of Glass
Terrell Hills and Alamo Heights residents were notified this spring that the cities would no longer accept glass containers or bottles for recycling. Additionally, neither film wrappers nor plastic bags are being accepted for the city's recycling programs. These items can now be left in the regular trash bin.
Olmos Park is also scaling back what it will accept for recycling. Officials said costs associated with sending glass and other specific items to recyclers have increased.
Updates for Sign Ordinance
The city of Alamo Heights intends to look at its sign ordinance this summer with the possibility of amending a few parts.
The city's community development director, Nina Shealey, briefed the City Council on new sign regulations that the council approved last summer.
Businesses, apartment complexes, and other entities with public signage were given six months to comply with the new rules.
The city recently found more than 40 signage owners in non-compliance. The city issued letters to those properties, telling them to comply by May 31.
According to Shealey, there have been recent discussions on what do with multi-family housing signs, banners, and the review process. Those clarifications will be discussed this summer.
By Edmond Ortiz