---
by: Leslie Foley
---
Streets are torn up, roads are in-need of repair, black tarps are the décor over at Artessa at Quarry Village, and around the corner the Meridian has been undergoing some costly and much-needed update and repairs. Have you noticed some new street signs or that you couldn't get to point A from point B anymore? Just what is going on? I will try to find out.
La Posada Del Rey
Guess who's back in business? LA POSADA DEL REY has re-opened in Carousel Court. Owners Ramiro and Jo Ann Valdez have opened a cozier, more intimate restaurant. Same owners, same chef, and same workers are providing the same food you've known and returned for many times. This Alamo Heights favorite features such best-sellers as enchiladas, fajitas, flautas, bistec ranchero and, of course, the homemade flan and sopapillas. And one other thing to cure my Mexican fix — the La Posada Giant Margarita.
Meridian Apartments
I spoke with Luke Holland, who works in the construction services department at the Lynd Company. He is on site daily at the MERIDIAN APARTMENTS and responsible for overseeing the rehab of all 146 units — a $2.5 million undertaking, including all new flooring, tile, stainless appliances, lighting, hardware, granite countertops, sinks, plumbing fixtures, paint, 2-inch blinds and shower door replacements in each unit. Other upgrades include a newly redesigned clubhouse and fitness center with a yoga room and juice bar.
Exterior improvements include rebranding with a new sign package, landscaping, energy-efficient LED parking garage lighting, pool decking repairs, waterproofing and structural repair. This gated project is right across from the Quarry and Lincoln Heights shopping areas. Targeted completion is set for early 2015.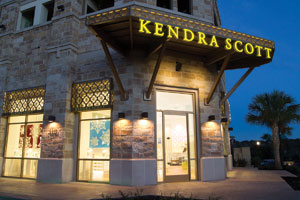 Kendra Scott
KENDRA SCOTT, the Texas-based designer, jeweler to the celebs and fashion magazine favorite, has hung her shingle in the Quarry Village.Austin-based Kendra Scott Jewelry is a multimillion-dollar global brand regularly seen on celebrity A-listers, featured in leading fashion magazines and carried by retailers such as Neiman Marcus and Nordstrom.
Whether you're giving to yourself or as a gift, it's fun to shop and select from statement necklaces, delicate earrings, dazzling bracelets, cocktail rings and more. Guys, don't be left out — there are cufflinks to add the perfect touch.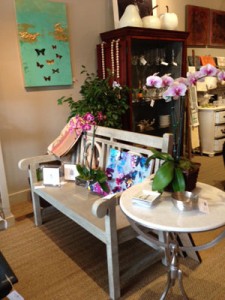 Baker Tatum
Shopping can be lots of fun when you visit BAKER TATUM, a new homeware shop on Broadway in Alamo Heights specializing in flower containers, gorgeous linens and garden party-worthy decorations. You'll find Jon Hart and Nest Candles, exquisite statement pieces, unique furnishings or fabulous linens and napkins.
Make someone happy with a wonderful gift — a unique container filled with orchids, a favorite in the store — or purchase artistic glassware to sit on the coffee table or to dress up a bookshelf. The women behind Baker Tatum are Jody "Baker" Cochran and Nicole "Tatum" Nugent. Together they share a passion for finer things and now will share that passion with you.