The Public Explores Robber Baron Cave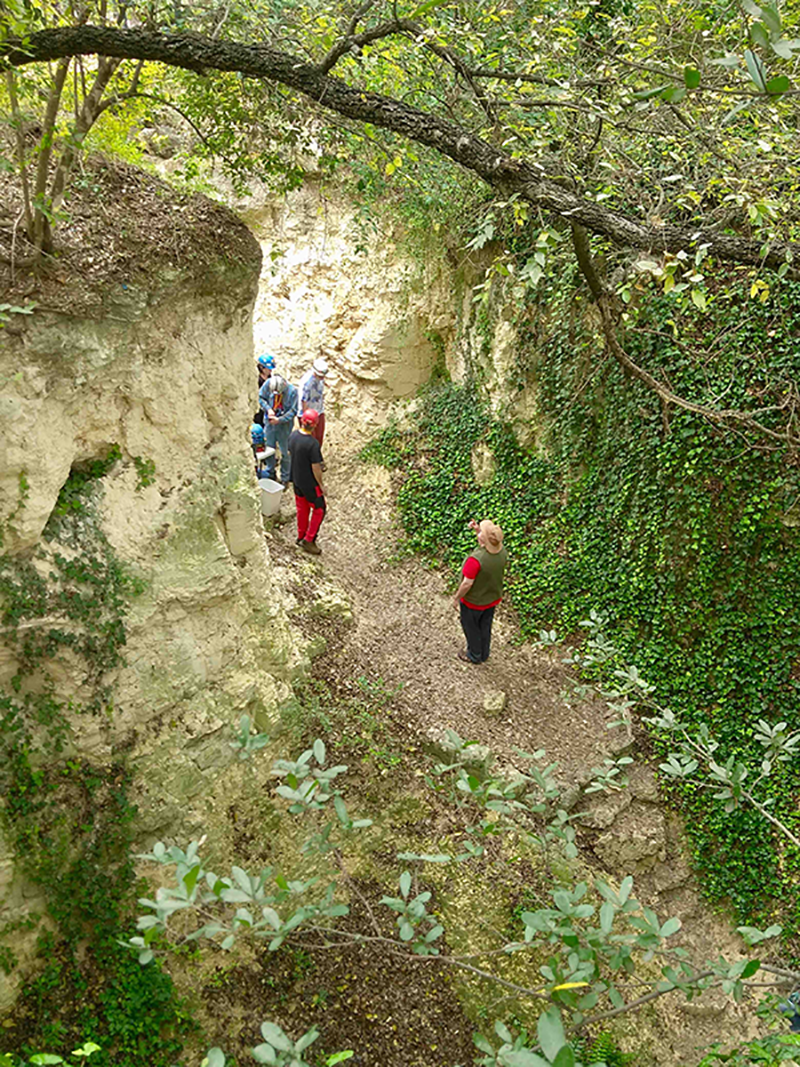 It was not a dark and stormy night, but rather a semi-rainy Saturday afternoon in November.
Robber Baron Cave, whose name comes from mere legend, is typically a quiet, fenced-off private space in the Oak Park/Northwood neighborhood. But for one day, every 18 months or so, the cave — one of the most famous in the San Antonio area — is abuzz with activity.
People of all ages come to check out the cave. Many have explored commercially accessible caves, such as Natural Bridge Caverns and Cascade Caverns.
Others have dived deep into dozens of caves not open to the public, doing research, preserving the local ecology, and/or simply satisfying their curiosity.
It was no different on Nov. 11 when Robber Baron Cave was opened up for a few hours. About 200 people, from neighbors to spelunkers, took advantage of that rare opportunity to check out the lengthiest and second-oldest cave in Texas.
The event began at 9 a.m.; when early afternoon rolled around, unless visitors had logged in advance reservations for a set time, one could expect an average one-hour wait to descend the sinkhole entrance. Visitors of all ages and backgrounds appeared fine with the wait, even eager. "I'm ready and excited," one man was overheard telling organizers.
Visitors who had a set time were treated to a more extensive guided tour by cavers experienced with Robber Baron. Others who walked in had a short, self-guided tour.
Cavers see Robber Baron as one of the most significant of the more than 500 caves known to exist in Bexar County.
It's officially the longest known cave in the county with 5,340 feet of mapped passages. It contains a range of features, including a complex maze of passages, and unique species that exclusively dwell underground and are found nowhere else on Earth.
How About That Name – Robber Baron?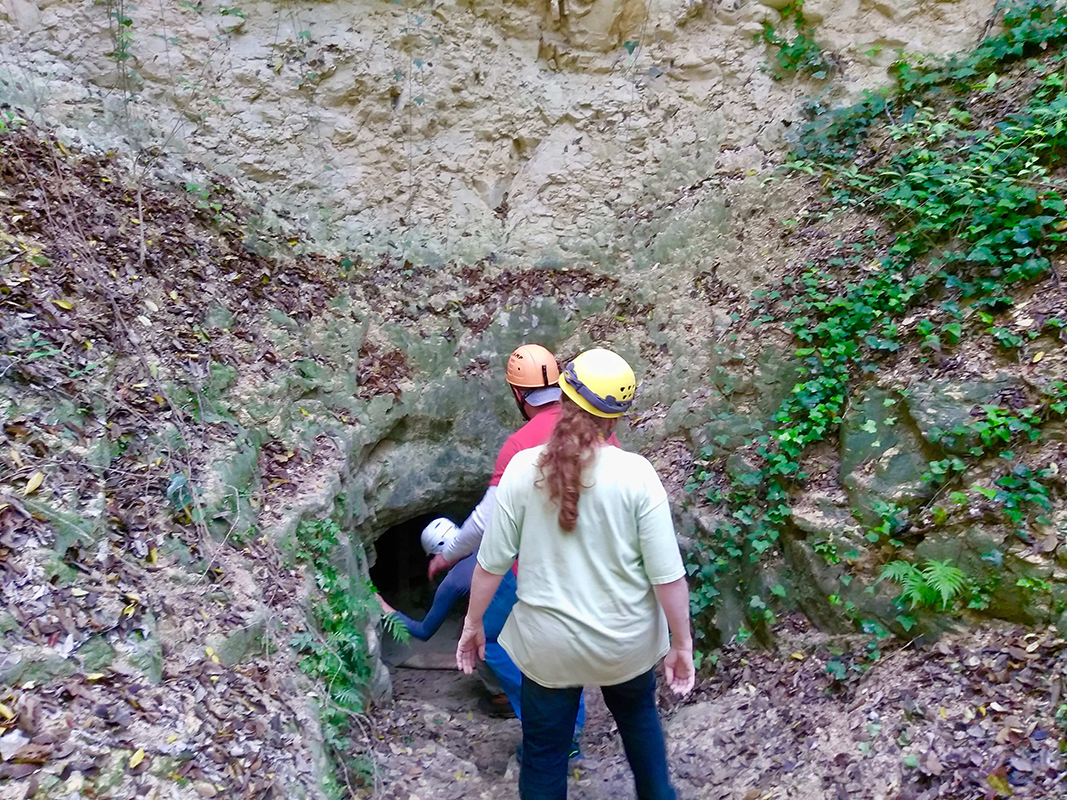 While Natural Bridge Caverns and Cascade Caverns are arguably the most renowned in area, Robber Baron was once opened to the public for the primary purpose of tourist attraction.
Arthur Harp in the mid-1920s opened what had been called Crystal Cave and gave it a provocative name to draw crowds.
Organizers promoted Robber Baron Cave with circulating legends of the time. Some of the stories held that the cave was often visited by bandits traveling with stolen riches.
After Prohibition began, organizers turned the cave into a speakeasy. Remnants of a door to the speakeasy remains on display inside one of the passages. As the Great Depression wore on, organizers closed the cave as a tourist attraction in 1933.
Over the next four decades, people began figuring out ways of protect the cave from vandalism, overly curious youngsters, and the effects of urbanism in the surrounding neighborhood.
Restoration projects took hold there in recent decades, and researchers started to explore and chart the cave's ecological and historical properties. Robber Baron Cave now is under the care of the Texas Cave Management Association as a preserve.
Stewards have turned an overgrown lot into a small park of sorts, removing non-native plants, and eliminating the flow of contaminated water from neighboring streets and homes into the cave.
The preserve features a short trail and bridge above the sinkhole entrance, a couple of picnic tables, and a kiosk that provides information about Robber Baron Cave.
Caving and naturalist organizations, and other civic groups, such as Eagle Scout troops, also have been known to work with TCMA to improve amenities and educational opportunities while maintaining the cave property environment.
TCMA representatives described it as a perfect marriage of cooperation between these organizations and the public sector to preserve Robber Baron Cave and all of its mystique.
Replacement Structure At Retirement Village OK'd
The Alamo Heights City Council on Oct. 23 approved a replacement pool enclosure envelope and a locker room addition at The Village of Incarnate Word.
The existing pool enclosure will be demolished, including two restrooms, pool deck, roof panels and an exterior masonry end-wall. The locker room addition will measure 1,000 square feet and include restrooms, dressing rooms, shower rooms and a custodial/mechanical closet.
The Village, based around the University of Incarnate Word campus, is a Catholic community for senior living.
By Edmond Ortiz