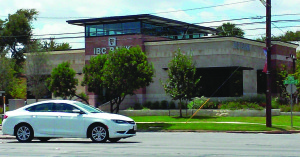 Alamo Heights Leaders Eye Broadway Revitalization as First Step in Growing Area's Development
Alamo Heights' leaders are eyeing ways to lure new businesses to town and keep existing ones around for the long haul. The city is forming long-term strategies toward attracting new businesses and retaining current ones.
"What we're doing is trying to position ourselves for more development on Broadway," said Mayor Louis Cooper.
The mayor addressed the Alamo Heights Chamber of Commerce in early September about how the city can be prepared when an additional 1 million people move in to the San Antonio area over the next 10 to 20 years as projected. "We want to make Alamo Heights not just a thoroughfare, but a destination," Cooper said. The mayor said the key is to bring business and residential development up to the same standards as retail development, not just inside Alamo Heights, but in San Antonio, too. Cooper and other observers agree more businesses and residents are flocking to the Broadway corridor, especially south of Alamo Heights and into downtown San Antonio, thanks to a new children's museum, the Pearl, enhancements at the Witte Museum and the entry of several high-end apartment complexes. While there have been a few new business openings, closures and relocations in and around Alamo Heights, city officials say the area's economy appears to be on par with much of San Antonio's commercial activity. Jason Lutz, community development services director for Alamo Heights, said he has not seen any specific trends that point one way or another when it comes to the performance of commercial or residential real estate in the area.
"A lot of it is the typical ebb and flow reflective of the rest of the economy," he added.
The heart of Alamo Heights is the Broadway corridor, and it is seeing a variety of activity. Cappy's and Cappyccino's restaurants reopened after closing down temporarily following a fire. The Broadway 50/50 reopened last year under new ownership after it, too, sustained fire damage. And Chela's Tacos, an award-winning food truck that got its start near the University of Texas at San Antonio, is opening a brick-and-mortar restaurant at 5231 Broadway. IBC Bank upgraded its Broadway branch with a 3,000-square-foot complex that boasts a bigger area for tellers, space for community events and meetings, more parking, a free-standing ATM and a 900-square-foot drive-through facility. Down the street, CVS Pharmacy demolished the University of the Incarnate Word building at Burr Road and Broadway to make way for a new CVS Pharmacy with a drive-through facility. Office development is even seeing a re-emergence on Broadway. Peloton Commercial Real Estate is developing a two-story 22,000-square-foot office structure at 6333 Broadway.
Aragon Properties is planning a medical office building at 110 Chichester. Perhaps the biggest development anticipated for Broadway is by Austin developer Argyle Residential. It still hopes to build a multi-family apartment complex at Broadway and Austin Highway. Once the subject of controversy, the apartment complex — currently under review by the federal government for floodplain issues — would include some retail space. Supporters of the mid-rise say Argyle's development could be a catalyst for more economic development along Broadway. Smaller-scale yet diverse enterprises are noticing the growth in San Antonio city limits adjacent to Alamo Heights, such as the women's boutique, andie & barbara, at 1836 Nacogdoches Road, and South Texas Radiology Imaging Centers at 1888 Nacogdoches. Like the imaging center, more health care ventures are entering the area, especially with Christus Santa Rosa Hospital – Alamo Heights near the Alamo Quarry Market and a surge of medical and dental providers on West Sunset Road.
North New Braunfels Avenue is also continuing to see steady activity, particularly with a new arrival, Flair Restaurant. This is not to say there haven't been losses in the area. EZ's Brick Oven and Grill has closed locations at the Alamo Quarry Market and on the Northwest Side. Kate Frost-Monroe closed her popular Kate's Frosting Events bakery at 7701 Broadway. Monroe said she wanted to devote more time to family and other ventures. Businesses located in that same building complex have also moved, including Diamontrigue and You're Invited, among others. For Alamo Heights' part, city officials want to make Broadway even more alluring for the right kinds of local business. Such possible strategies for improving Broadway include beautification and narrowing parts of Broadway to allow for more sidewalks.
Cooper said this involves planning and discussions with the city of San Antonio and Bexar County. "We're also looking at our codes to see what else they can do to help with more economic development. Some of the codes are old," he said. Cooper added that some existing buildings on Broadway can only host certain, adequate businesses. Others could be expanded or enhanced to a point to lure specific commercial or office uses.
"We want to find out what would be an incentive for a property owner to go in and build something nicer and better," he said. ""But we also want to ensure the city gets the development it wants and that it can handle."
AH OFFICIALS ANTICIPATE FISCAL REBUILDING IN 2016
The city of Alamo Heights has invested a significant amount of money into infrastructure in the past few years. Such investments have included minor road improvements, updated equipment for the fire department and building a new, elevated water tank. Additionally, this year Alamo Heights saw the grand opening of a larger, modernized municipal complex, funded by a bond that voters approved in 2012. So how does the city follow up all that in the new fiscal year 2016, which just began this month? Aside from basic street maintenance and upkeep with the public safety departments, local officials see 2016 as a year of fiscal rebuilding.
"We've gotten some very good deals with the year's worth of capital improvements accomplished," said Mayor Louis Cooper. "We see fiscal year 2016 as the year to put more money back into our coffers."
That does not mean city leaders are standing idly by. They have an eye to the future, especially when it comes to continued improvement and renewal of the Broadway business district. That is a priority, according to the budget document put together by City Manager Mark Browne and other senior city staff. Cooper added that he and fellow officials look forward to developing long-range plans to enhance Broadway and seek out other ways to lure new business to town and to retain existing businesses. These efforts will include tree beautification and formation of basic commercial design standards.
"Since 90 percent of the city's property values are residential, the city's tax base benefits most from the regular renovation of existing homes and the construction of new homes," Browne wrote in his budget summary. "Property valuations this year continue to be on the upswing, given the 9.08-percent increase in net taxable values for 2014, despite the ongoing economic problems facing the nation and the local economy."
The city has planned to keep the property tax rate at 39 cents per $100 valuation. The city projects the rate producing $4.98 million, or 53 percent of its general fund (daily operating) revenues. Alamo Heights will keep having one of the lowest municipal tax rates in the San Antonio area. Alamo Heights projects total general fund revenue of $9.47 million, and overall income of $14.1 million, for the new fiscal year. The city also has scheduled $14.6 million in operating expenses for FY 2016. Public safety represents a top priority for the city with 60 percent of the general fund budget being allocated to the police and fire/EMS departments. A one-time improvement of $33,283 is scheduled for the purchase of police department equipment. The general fund budget includes a $200,000 transfer to the capital replacement fund. The street maintenance fund has scheduled projects for $241,000. In the last two years, the city has completed more than $1.6 million in street projects as planned in the 20-year road maintenance program.
The utility fund budget includes $300,000 for installation of new service connections related to new main installation to address the water and wastewater separation compliance mandated by Texas Commission on Environmental Quality. The city will provide a 2-percent cost-of-living adjustment for employees. The city also plans to keep working with other agencies to address regional drainage issues, especially those that exist in the Broadway/North New Braunfels/Austin Highway area.
"Storm water management is a regional issue that most often requires regional resources to fund improvements," Browne wrote in his budget summary. "This is especially true for Broadway and North New Braunfels, as continued development to the north of Alamo Heights has contributed significantly to the increased flow rates along these rights of way." Overall, the city is in good financial shape, the mayor said.
"This new budget is good for citizens. The reserves are healthy," he added.
BY EDMOND ORTIZ