The National Merit® Scholarship Program is an academic competition for recognition
and scholarships that initially screens approximately 1.5 million high school students each
year. Some 50,000 with the highest scores in critical reading, mathematics and writing skills
qualify for recognition in the National Merit® Scholarship Program.
Alamo Heights High School students who have been recognized and honored for their academic
achievements by the National Merit Scholarship Program include:
NATIONAL MERIT SEMI-FINALIST STUDENTS
Joshua Armstrong, Jacob Roth, West Bakke, Benedikt Scheifele, Naomi Pringle.
NATIONAL MERIT COMMENDED STUDENTS
Katherine Barry, Alexander Barnes, Averie Bartlett, Cristina Murillo, Connor Pfeiffer, Taylor
Puhl, Hiatt Becker, Rachel Rascoe, Christa Bunce, Jack Roberts, Margaret Fitch, Corbin
Snow, Anne Gergen, David Spezia-Lindner, Aiyin Graeber, Colin Stone, Lane Kirstein,
Joseph Williams, Mitchell Meissner.
NATIONAL HISPANIC SCHOLARS
Sofia Altamirano, Merium Morell, Simon Barnett, Cristina Murillo, Aria Cabello, Jacob Roth,
Isabella Garcia, Wesley Sparr, Adam Luna, Ashley Vasquez.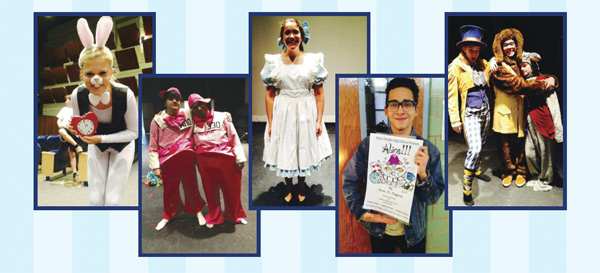 Alice
The Alamo Heights High School Theater Department hosted a huge tea party
as a kick-off for its 2013-2014 season. Students performed a creative interpretation
of the children's classic, Alice in Wonderland, titled Alice, an adaptation by Dennis
M. Maganza, on Oct. 19-21.
The show told the story of Alice with an ensemble cast playing a variety of
roles. The script, written to allow imagination on the part of both the audience and
actors, provided an opportunity for student creativity and interpretation. The show
was a great way for students to get to know their new theater teacher, Charlcy
Nichols, who recently joined the fine arts team.
The talents of the technical team and those on stage were evident by the enthusiastic
audience reaction. Every detail of the experience was created by students,
including the promotional poster developed by artist and actor Oscar Escamilla.
The cast included Kirsten Jacobson, Maggie Mullins, Emily Killinger, Kylee
Nienstedt, Annie Harris, Ellery Vaughan, Katie White, Paul Homberg, Maria
Batchinsky, Chrizney Roth, Sam Winters-Smith, Liv Chai, Oscar Escamilla,
Michael Nicholas, Cally Decherd, Margaret Poore, Madeline Dean, Miguel Martinez
and Daniel Collins.
Crew members were Kyle Richardson, Caspin Jones, Matilda Gonzalez,
Camilla Bass, Caleb Meyers, Abby Valdez, Chance Orton, Abby Hubbard, Lilia
Rowland, Rachel Huber, Lorelei Diener, Kira Casares, Ashton Word, CJ Scheick,
Natalie Temple and Genevieve Scott.