A PERFECT MARITAL BLEND OF THE NEAR AND FAR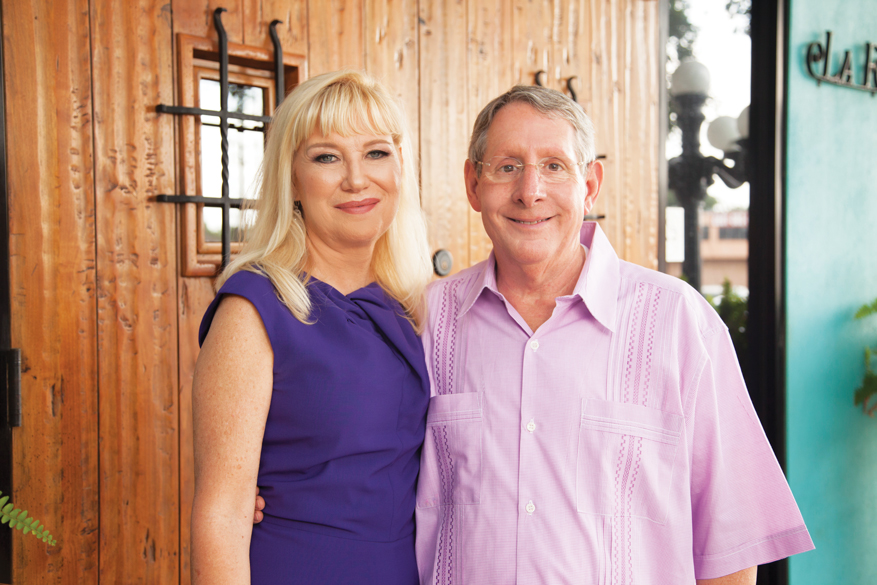 Different backgrounds can truly make for special pairings. With 78209's deeply rooted population and the long-term relationships that inevitably develop within such a closely knit community, it's refreshing to meet a happily married couple that represent a diverse blending of the near and far. And that's exactly what Tracie and Jimmy Hasslocher embody – she with her deep North Carolina military base roots and Jimmy's lifelong Alamo Heights pedigree. It's quite a geographical and biographical stretch, but one that these two soul mates make as natural as adding a splash of Carolina's famous pepper sauce to that tasty Frontier burger!
While Jimmy and his extended family have always been well known throughout the ZIP code and greater San Antonio, thanks to their hometown status as respected business people with multiple community involvements, it wasn't until 1983 that Tracie, a gutsy newbie with few established connections, relocated to the area. It was work that brought the independent daughter of a Marine master gunnery sergeant across half the country to re-establish herself as a working paralegal for a local law firm. But with her came her love of basketball, swimming, horseback riding, bowling and, especially, the beach.
As the outdoorsy Tracie recalls, "I grew up a 'Marine Corps brat' in a neighborhood populated by other senior Marine NCOs like Dad and their families. We lived close to Camp Lejeune, and there were always fun activities for the kids to do. It was a great childhood, where I was exposed to people from all over the country – kind of a 'national community.' It taught me to respect differences." Tracie loved her North Carolina home, but after receiving her paralegal certificate followed by the job offer in San Antonio, she boldly soldiered up and marched west.
After 17 years in the legal biz, Tracie (thanks in part to her upbringing allowing her to be a natural salesperson) decided to try her hand at real estate. In 2005, the newly licensed Realtor® and now broker opened her own business and has been excelling in that area (with multiple commercial and residential listings) ever since. Today the thriving concern, after the wedding vows, operates under the name Hasslocher Boutique Realty, LLC. Currently, she's also working on acquiring her master's degree in real estate, which she should have completed by December of this year.
Jimmy, the homegrown member of the team, is well known locally for many things. First and foremost, he is the president and COO of Hasslocher Enterprises, the company he grew up working for that was founded by his late father and famous for its Jim's Restaurants chain. Recently the firm bought, relocated and reopened Alamo Heights' venerable La Fonda Mexican restaurant as well as resurrecting the much-missed Frontier Hamburger eatery, too. These actions alone make Jimmy something of an '09 hero to the vast "blue and gold" population who grew up feasting on spicy "regular Mexican plates" and smoky, chili-covered "Charburgers" at both venues. As he fondly remembers, "I was also raised on Jim's, La Fonda and Frontier food. I love being in a position now where I can preserve and protect these local culinary icons — and increase our company's bottom line as well." Your order, please!
Beyond his lifetime successfully working within the restaurant industry, Jimmy has been very involved in many community activities, including his impressive five-term tenure as a San Antonio city councilman and mayor pro-tem. He (and Tracie) have many other worthwhile public and business affiliations that leave one wondering if they have any time for anything else (See sidebar). But based on the fact that they're usually together and always laughing and smiling, this non-stop husband and wife somehow, some way, definitely "make it all click."
When queried about their lives as a couple beyond business or community-related commitments, both agree their pairing was a "definite win-win." Initially meeting through an on-line matchmaking service, they dated for three and a half years before blissfully tying the knot in 2006. Since then, this similar but equally independent twosome totally enhance each other's capabilities and accomplishments in work and play situations. As Tracie and Jimmy unanimously relate, "We're great sounding boards for each other and jointly tackle problems large and small together. We're a team, and it shows in everything we do. Mutual respect has a lot to do with it too."
So whether they're encountered together at a Spurs game, concert, on the golf course or strolling the neighborhood, anywhere, near or far, it'll be pretty obvious that this special pair deliciously mesh like that splash of Carolina hot sauce on that savory Frontier burger. Um, um good!
ALWAYS A FULL PLATE FOR THE HASSLOCHERS
What follows is a short list of Tracie and Jimmy's current and recent affiliations. Their total involvements over the years would fill a book but, you'll get the picture.
TRACIE:
• Vice chairman of Governmental Affairs at the San Antonio Board of Realtors
• Lifetime member of the San Antonio Rodeo and Livestock Exposition
• Member of the Texas Association of Realtors and National Association of Realtors
• Past board member of CASA
JIMMY:
• Member and vice president of the Texas Restaurant Association
• Alamo Area Council of Governments board member
• President of the Bexar Metro 9-1-1 Network District
• State board member of the Texas Parks and Wildlife, Operation Game Thief
• Lifetime trustee of Boysville of Texas
BY ERNIE ALTGELT
PHOTOGRAPHY BY ELIZABETH WARBURTON