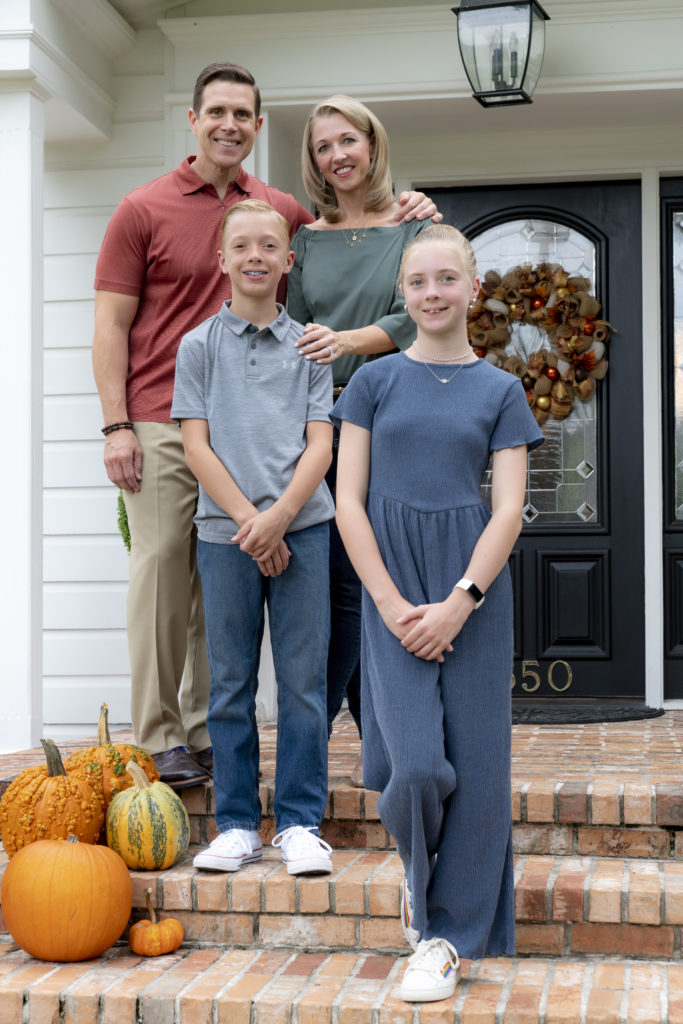 The Chancellor Team for the Win
By Meredith Kay
Photography by Al Rendon
They say that it takes a village to raise a child, but for one Alamo Heights family, love and teamwork work in tandem to tackle the challenges of raising a family in this hard-working household. David and Aubrey Chancellor were meant for each other, and it shows. They were both born and raised in San Antonio and will tell you that there is nowhere else that they would rather live. 
David attended Lee High School and graduated from Trinity University. He is best known for his career as the lead sports anchor on WOAI-TV for nearly 25 years. He has traveled extensively covering the Spurs and other high-profile sporting events, but as his children were getting older, he decided to take his career in a different direction, and in 2018 he joined the team anchoring the morning news show, News 4 San Antonio Today. David states that "It isn't much fun to wake up at 2:30 in the morning every day, but I never miss a practice or a game, and that's what really matters to me. My family is everything."
David is married to former news reporter Aubrey Mika. The two met at WOAI-TV in 2006. Aubrey went to MacArthur High School and earned her degree at Southwest Texas State University, now Texas State University, where she competed on the tennis team. Aubrey says that David caught her attention from day one, and he eventually captured her heart. The pair went on their first date between Christmas and New Year's in 2006, and they were married in December 2007. David smiles when he recalls what made him fall in love with Aubrey, "We could sit and talk for hours and hours. We just fit, and we make a great team."
Aubrey left WOAI-TV after four years as a reporter when her son, Luke (now 11), was born. She says, "I wanted to be there for my son. As a new mother, I didn't want to be knocking on doors and surprising strangers at ten o'clock at night, so I stayed home to support David and raise my children. Their daughter, Emery (10), was born just a year later, rounding out their beautiful family. Today, Aubrey works as the Executive Director of Communications for North East Independent School District. She loves being a part of the team that gets to tell the story of how education in San Antonio is shaping young lives and our communities.
She says that her days are never dull. Where she was once on the media side, asking the questions, now she is on the other side of the microphone, answering questions, managing crisis situations, and educating the public about important issues facing students and the school district. Her schedule allows her to get Luke and Emery to school every day, and then David takes over in the afternoons, picking up the kids and taking them to practice or sporting events. Luke is an avid basketball player and plays for the San Antonio Toros, and Emery swims and takes hip-hop dance lessons. Their life is hectic, but together, the Chancellors make it work.
Growing up in San Antonio, both David and Aubrey feel strong ties to their community. They have lived in their current home for over four years, but they have called Alamo Heights home for many years. David describes Alamo Heights as a small town within a big city and says, "You can count on people in the community because you've known them for so long. Everyone looks out for one another, and you can trust your neighbors to be there for your children. Our kids have grown up with each other, and we all cheer for each other, celebrating together."
Weekends for the Chancellors are filled with basketball tournaments and swim meets, and life is very busy, just as it is for most families. Still, every summer for the past six or seven years, the Chancellors have enjoyed spending a week in Seaside, Florida. It has become their home away from home, and they look forward to vacationing with friends in a place that has become a family tradition. It's a chance to reconnect as a family and unwind from the hectic pace of life in San Antonio. 
It is this time together that strengthens the bonds of this beautiful family and allows them to tackle challenges together. David and Aubrey consider themselves to be truly blessed in their lives together, and they are grateful for the support of a community that comes together for one another.