San Antonio's Rodeo Man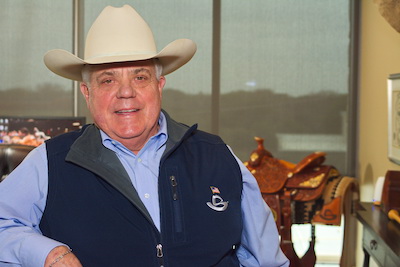 Most times, bull riding, team roping and bronc busting are subjects that we urbanized '09ers just don't spend a lot of time thinking about. Heck, the majority of us in the neighborhood are born and bred city slickers and are as far removed from the ranch as dudes can get. But, come each February something wonderful seems to occur that radically reorients our "Mulish" thoughts to a somewhat Westerly direction. Can you say the San Antonio Stock Show and Rodeo? Yep, thanks to this annual bovine/equine/ ovine/porcine (and other) extravaganza, herds of Heightsters happily become cowboy-crazy-conscious and literally, think of nothing else – at least for a few frenzied weeks that is.
But for one of our very own, thinking about riding, roping and wrangling hasn't just been a February affair, it's been his "numero uno," day-in, day-out focus for almost three decades and, a partial concern for twenty years before that. Meet '09's Keith Martin, rodeo man extraordinaire. Thanks in large part to his innovative (and tireless) contributions throughout the greater part of his adult life, the San Antonio Stock Show and Rodeo (SASSR) has evolved into the incredible, multi-day, attraction that we all look forward to each year and, more importantly, enjoy so much when it arrives.
Before moving into the neighborhood in 1976, Keith originally hailed from the small Texas town of Lytle, a few miles southwest of the Alamo City. His family was involved in cattle ranching and, as a youngster, he was always around livestock regularly participating in various 4-H and FFA agricultural programs. His first "remembered" exposure to the San Antonio Stock Show came at the tender age of nine when, as an FFA member, he showed a sheep he raised at the exposition. (As a three-year-old, his mother brought him to San Antonio's very first rodeo performance in 1949, but recollections are decidedly dim of that visit.) Regarding that second attendance however, "My sheep was bought for $900.00 by the owner of Lone Star Beer. I was marvelously rich, but when I found out I wouldn't be bringing my 'pet' back home, tears flowed." Keith survived the loss but, he never forgot the excitement he experienced – or the $900.00.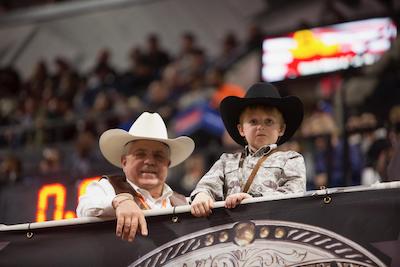 "As the rodeo grew in scope (attendance, number of performances, attractions, etc.), I also grew to know all of the complicated ins and outs of annually staging an event with so many parts – two-legged, four-legged and otherwise."
His adult involvement came when, as a recent graduate from Trinity University, Keith was hired as a commercial loan officer responsible for agricultural loans by the Frost Bank. In that role, his boss, the late Tom Frost, asked him to "engage with the community." With his rural background, volunteering for the event and the good causes it represented seemed natural. That was in 1969 and he loved every minute helping stage an exciting and beneficial event that, not realizing it at the time, would eventually become his personal passion.
Over the next 20 years, Keith, while still with the bank, became more and more involved with the Stock Show and Rodeo, becoming a life member in 1973, elected to the show's board of directors in 1977 and then, in 1984, being elected to the executive committee, where he served as its vice-president and treasurer. About this time he remembers, "As the rodeo grew in scope (attendance, number of performances, attractions, etc.), I also grew to know all of the complicated ins and outs of annually staging an event with so many parts – two-legged, four-legged and otherwise." Most importantly for the Rodeo and especially its charitable aims, with his extensive financial background, business savvy and organizational skills coupled with his determined, but also warm and outgoing personality, he proved to be amazingly good in helping to "round up" all of the parts into one wonderfully successful whole. As a natural result of his efforts, by 1989, Keith ascended to the presidency of the organization's executive committee and, after his retirement from the Frost Bank in 1990, transitioned into the SASSR's full-time executive director – its first! In 2000, further recognizing his exceptional leadership (overseeing numerous permanent staffers, hired help, up to 6,000 "treasured" volunteers and especially, massive projects like the transition into the AT&T Center), he was additionally honored when he became the CEO while still maintaining his standing as executive director, positions he would continue to fill until his much deserved retirement late last year.
Lastly, most of us know the greater Stock Show and Rodeo (including the carnival, vendors, musical acts, competitions, etc.) for its fun and excitement. But, what many may not realize is that its primary function isn't bull riding or mutton busting, but has always been raising funds for education. And, with Keith as the "trail boss," the money generated for generations of young Texans has been impressive during his long tenure. From the smaller sums realized through the sale of prize livestock at those earlier expositions (think about Keith's $900.00) to today's mega-bucks ($198 million donated so far, $12 million committed for 2018) coming from an expanding number of generous, supportive sources, the true beneficiaries haven't just been the attendees or the prize money-winning professional cowboys but, as he proudly attests, "those thousands of deserving kids who look towards the Rodeo as an ongoing source for educational funding." Appropriately, after handing over the reins of the entire operation in 2018, Keith will remain involved maintaining the lead position administering this most important aspect of the Rodeo as its Executive Director and CEO of the SASSR Educational Foundation and, it couldn't be in better hands! To offer support or for additional information, go to: www.sarodeo.com/about/educational-partners
So, as the Stock Show and Rodeo Exposition again opens it gates to "cowboys and cowgirls" from all zip codes, think about (and thank) Keith Martin, San Antonio's rodeo man. A lot of the area's youth sure do. Now, how about some peanuts with that beer?
By Ernie Altgelt
Photography by Martin Waddy