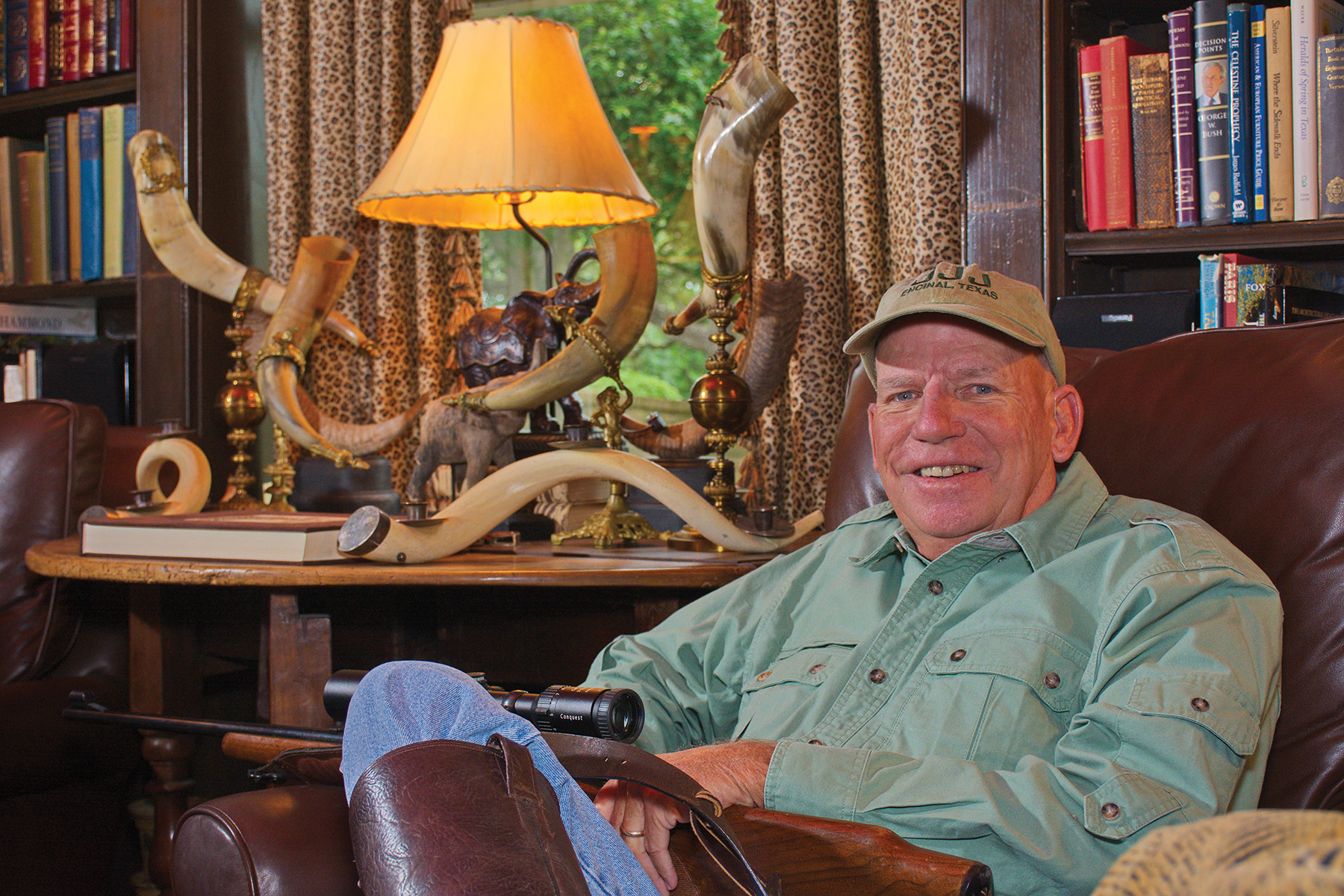 With hunting season at hand, it's hard not to be impressed with 78209's John Saunders, Jr. Always a seeker, this extremely accomplished and respected native son of the neighborhood has proven to be a natural (in multiple fields) where the pursuit for the wary is simply all part of the game. Often requiring demanding effort coupled with a keen sense of the quarry, success can be elusive, but, after a review of this deadeye's backwoods bio, you'll discover Saunders truly is one man who seems up to the challenges and more than able to "bring home the bacon" (or venison, dove, elk, trout, etc.) while always having a blast doing it!
That pretty much describes Saunders. Professionally, appropriately enough, he's a very accomplished international exploration and development oilman always in search of the next productive field. More to the point of this profile, our focus will target his lifelong devotion to the great outdoors and the many sporting opportunities offered. Whatever Saunders aims at, he generally hits, and that's been especially true when in the bush.
Since early childhood, Saunders has and continues to actively participate during the various species' authorized seasons chasing, as he stated, "White Tail deer, Mule deer, dove, quail, duck, geese, turkey, sheep, fresh and saltwater game fish, and other feral ferocities." (Wild pig included but, generally, not exotics.) As he further attested, "While the actual process is often tedium rewarded with pure exhilaration, of equal importance, none of the meat is ever wasted. It gets eaten." Besides the thrills and the resulting chow, the biggest motivation that keeps him annually locked and loaded is undoubtedly all of the good times he's managed to hunt up along the way, primarily through the sharing of these experiences with his many, equally hooked friends and family members. "To me, camaraderie is a big part of what the sport is really all about," Saunders said.
Hunting was always a family thing in the Saunders' Terrell Hills household. His maternal grandfather, Slim, and father, John, Sr., were both avid and nurturing hunters. As a result, Saunders was given his first firearm at age six – a Daisy lever-action BB gun. Much to his mother's chagrin, he proved to be quite capable roaming nearby vacant lots while depleting the locally invasive sparrow populations. With no formal training, just some guidance from his father and grandfather, Saunders quickly demonstrated his knack for tenaciously chasing and targeting – rain or shine, hot or cold. With a number of family-owned area ranches to exercise his talents on, he only got better as time passed. It was while Saunders was just eight years old that he took his first White Tail deer – a fat, little Spike.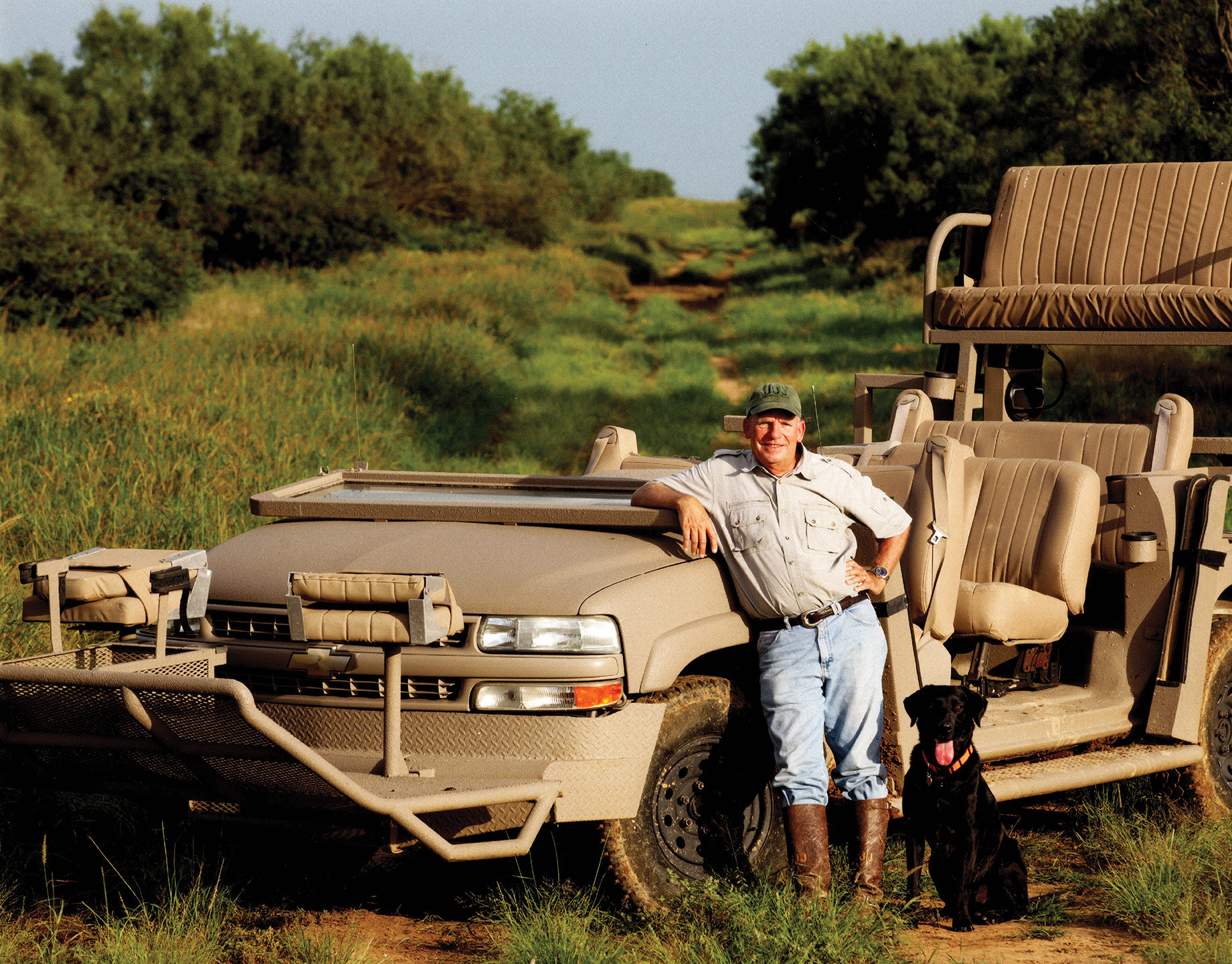 "It was a very chilly day but while sighting in and trying to stay calm, the cold disappeared," he recalled. "I'll never forget the feeling of that first kill." One year later, Saunders bagged an impressive nine-pointer on the same ranch. Many more bucks would fall to the dedicated youth over the ensuing seasons, on family property and at other locales.
Following his formative boyhood spent ranging throughout the Hill Country, South and West Texas, Saunders continued to hunt at every opportunity (pretty much year 'round) and in almost any often arduous geographical and climatic condition. Besides myriad, locally-sourced deer, dove, quail and turkey, he has been to tropical Africa on safari on three different occasions.
Other distant hunting trips included forays into the rugged Yukon and Northwest Territories where testy Stone's and Dall's sheep were taken. Saunders even keeps a large, 35-foot-deep sea boat in Mexico for going after sailfish and marlin in the open Pacific.
When considering all of the stalking adventures he's enjoyed, internationally or otherwise, Saunders most treasured experiences (many of which are chronicled in his beautifully-written and illustrated book, San Antonio Man Tells Tall Tale) will always be those achieved when hunting with his family and many close, like-minded friends, especially on his South Texas ranches. Blessed with his loving wife of 40 years, Laurie, and three now-grown children who love hunting and fishing as well, today's expanding Saunders clan happily spends a lot of wonderful quality time together doing what Texans have been doing forever – pursuing game. Even Saunders' three grandchildren have inherited Grandpa's "hunting fever." His six-year-old granddaughter just killed her first buck last year.
"It's definitely something generationally in our blood," Saunders admitted. "We really think everyone should give it a shot, too!"
By Ernie Altgelt
Photography by Martin Waddy