Two Halves Equaling a "Whole"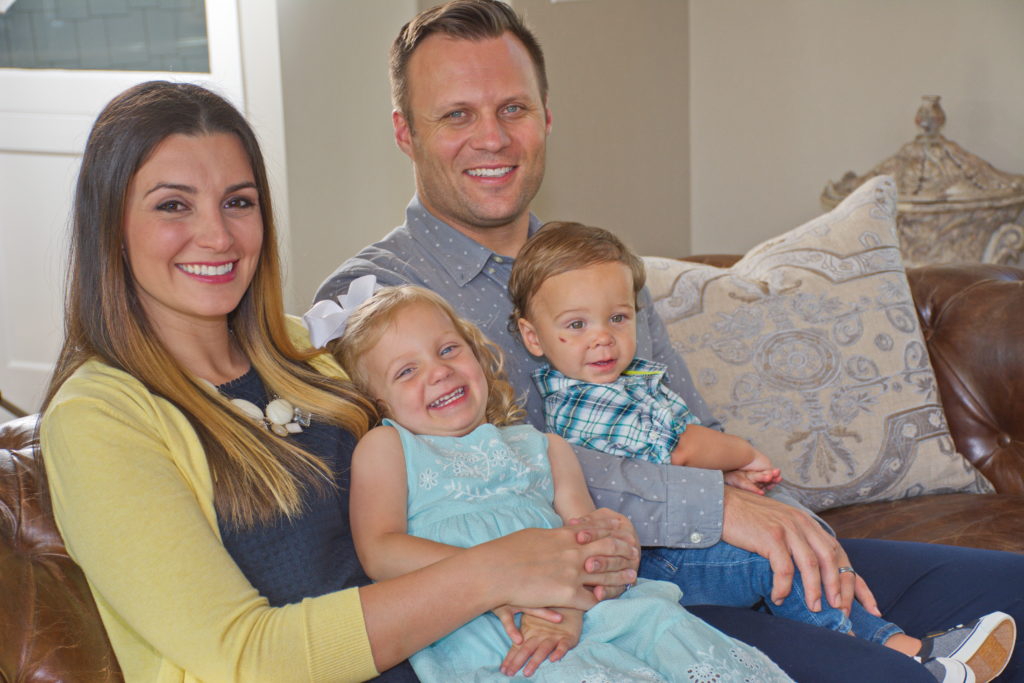 For perfectly paired husband and wife Drs. Steve and Jennifer Hole, two halves certainly do make for a "whole!" Yep, these admitted "opposites" truly enjoy one of those special (and enviable) relationships in which, by just being together,they achieve a totality that's quite endearing. Why, it just might be posited that in their delightful case, one plus one actually does equal one. Don't believe it? You do the math. Anyway, when taken together, this cuckoo-crazy-for-each-other couple demonstrate a completeness that's really cool! But that's not the "Hole" story, so please read on.
Jen, although born in Del Rio, has pretty much been a lifelong '09er. Her grandfather, an Army man, after receiving orders, moved the family here decades ago, and as she attests, "We just never left." And although her college-level education moved her briefly around the state, she would always consider the Alamo Heights area "home." Steve, on the other hand, is a West Coaster hailing from Orinda, Calif., near San Francisco. And it was the Army that first brought this young career-military man to the Alamo City, where, thankfully for both, they met.
That meeting took place in July of 2009 at an area restaurant where Jen, always emphatically "outgoing, dramatic and spur-of-the-moment," was successfully working as a server. She had just completed her first year of dental school at the Baylor College of Dentistry in Dallas and was home for the summer earning some much-needed cash for the upcoming semester. The very "down-to-earth, logical and level-headed" Steve, a recent West Point grad, was briefly on assignment at Fort Sam Houston, taking a leadership course before his planned return to the University of Southern California, where he was enrolled within its medical school.
The new lieutenant, with a group of other military medicos, stopped in at the restaurant for dinner. And while Jen wasn't their waitress, she overheard a member of Steve's party, a dentist, discussing root canals. Intrigued (and never a shy one), Jennifer initiated a conversation with that particular doctor about the dentistry biz. After a few minutes, however, her interest and the conversation shifted toward the "intriguing quiet guy" at the table – Steve! She admits to having had an immediate attraction to "this somewhat low-key but very handsome man," and before their chat ended, she actually asked him out.
As Jen smilingly recalls, "Since I couldn't get him to ask me for a date, I took charge, and happily, he agreed to our getting together two days later for Mexican food." From there, in spite of (or maybe because of) their contrasting personalities, the relationship warmed over several more dates before their unavoidable separation with Jennifer heading back to school in Big D and Steve off to USC in California.
But as a sincere Steve openly confesses, "I also became quickly smitten by this bold beauty, and as a result, by December of that year, I had asked Jen to fly out to the coast to meet my folks." A year later, the "destined though differing duo" had picked a wedding date after traditionalist Steve, on bended knee, proposed on the grounds of our very own McNay Museum. Their Hill Country ceremony would coincide with both of their graduations in June of 2012. By May, the newlyweds, now more bonded than ever, had moved into their pretty new home in the Oak Park area of Alamo Heights, which is where they still reside today.
Although they were deeply in love, with Steve's ongoing military commitments, Jen's new livelihood as a licensed dentist and now with two children (daughter Riley and son Everett), life has had and continues to have its challenges. The now Capt. Steven Hole, in his fourth year of residency as a diagnostic radiologist stationed at the San Antonio Military Medical Center, hopes the Alamo City will remain his duty station for the duration of his career. Prior to this, however, he spent 2013 through 2015 on assignment at Fort Hood as a flight surgeon, including a five-month deployment to Afghanistan.
During all of this "away" time, Jennifer ably kept things going at home and at her work. An awed and appreciative Steve attests, "While I was gone, my wife had to do it all – the mothering, doing the domestic chores and then fulfilling the demands inherent in a full-time dental practice. Wow!" Of that time, Jennifer suggests that "Steve was the true hero. He's like my rock that can stolidly face any situation and make the best of it. And although the separation was hard, because of that attitude, he makes anything doable." Both agree it was their combined personal strengths that saw them through that time and will continue to ensure their future familial success.
Thankfully, with Steve back in SA, things have settled down a bit. But as Jennifer suggests, "Life within the active Hole household may always be somewhat of a balancing act with my 'let's do this' spontaneity and Steve's 'wait a second' rationality, and that's just fine, because together, everything always seems to turn out OK." With satisfying (albeit active) professional lives, beautiful (albeit active) children and especially the uniqueness of each other's emotional attributes that, when joined, really do make for an amazing "whole," Jennifer and Steve truly seem to have it all. And that, good reader, is the "Hole" truth and nothing but!
By Ernie Altgelt
Photography by Martin Waddy